Bible Verses about 'Was'
«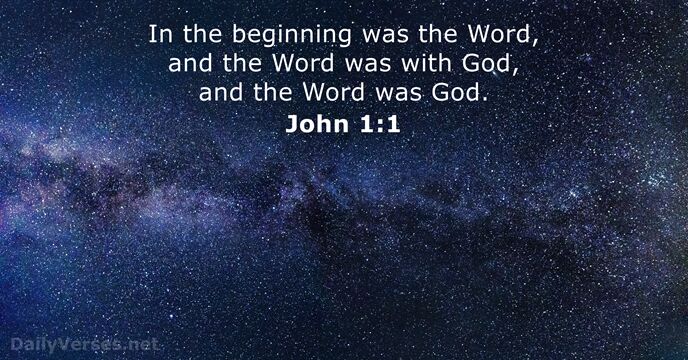 »
In the beginning was the Word, and the Word was with God, and the Word was God.

All things were made by him; and without him was not any thing made that was made.

Peter therefore was kept in prison: but prayer was made without ceasing of the church unto God for him.

But he was wounded for our transgressions,
he was bruised for our iniquities:
the chastisement of our peace was upon him;
and with his stripes we are healed.

And God said, Let there be light: and there was light.

Now the birth of Jesus Christ was on this wise: When as his mother Mary was espoused to Joseph, before they came together, she was found with child of the Holy Ghost.

I cried unto him with my mouth,
and he was extolled with my tongue.

In the beginning God created the heaven and the earth. And the earth was without form, and void; and darkness was upon the face of the deep. And the Spirit of God moved upon the face of the waters.

Through faith also Sara herself received strength to conceive seed, and was delivered of a child when she was past age, because she judged him faithful who had promised.

Let this mind be in you, which was also in Christ Jesus.

The L

ord

our God be with us, as he was with our fathers: let him not leave us, nor forsake us.
I am sought of them that asked not for me;
I am found of them that sought me not:
I said, Behold me, behold me,
unto a nation that was not called by my name.

For the Son of man is come to seek and to save that which was lost.

And the same John had his raiment of camel's hair, and a leathern girdle about his loins; and his meat was locusts and wild honey.

So then after the Lord had spoken unto them, he was received up into heaven, and sat on the right hand of God.

And when he had spoken these things, while they beheld, he was taken up; and a cloud received him out of their sight.

But Peter said, Ananias, why hath Satan filled thine heart to lie to the Holy Ghost, and to keep back part of the price of the land? Whiles it remained, was it not thine own? and after it was sold, was it not in thine own power? why hast thou conceived this thing in thine heart? thou hast not lied unto men, but unto God.

This is the stone which was set at nought of you builders, which is become the head of the corner.

I am Alpha and Omega, the beginning and the ending, saith the Lord, which is, and which was, and which is to come, the Almighty.

He is despised and rejected of men;
a man of sorrows, and acquainted with grief:
and we hid as it were our faces from him;
he was despised, and we esteemed him not.
And without controversy great is the mystery of godliness:
God was manifest in the flesh,
justified in the Spirit,
seen of angels,
preached unto the Gentiles,
believed on in the world,
received up into glory.

And Jesus being full of the Holy Ghost returned from Jordan, and was led by the Spirit into the wilderness, Being forty days tempted of the devil. And in those days he did eat nothing: and when they were ended, he afterward hungered.

And so it was, that, while they were there, the days were accomplished that she should be delivered. And she brought forth her firstborn son, and wrapped him in swaddling clothes, and laid him in a manger; because there was no room for them in the inn.

So we fasted and besought our God for this: and he was intreated of us.

And he saith unto them, Be not affrighted: Ye seek Jesus of Nazareth, which was crucified: he is risen; he is not here: behold the place where they laid him.
Read more...
And they said, Believe on the Lord Jesus Christ, and thou shalt be saved, and thy house.
Personal Bible reading plan
Create an account to configure your Bible reading plan and you will see your progress and the next chapter to read here!
Read more...