Bible Verses about 'Was'
«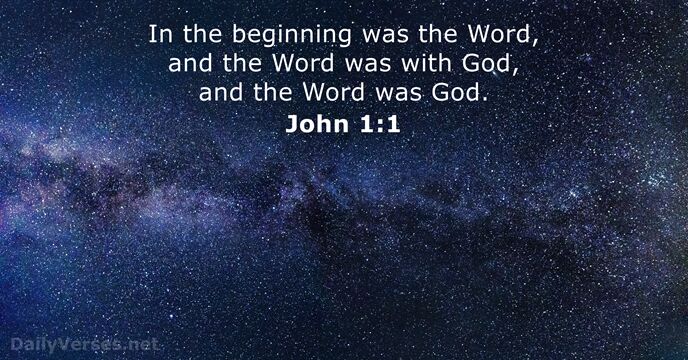 »
In the beginning was the Word, and the Word was with God, and the Word was God.

No princípio, era o Verbo, e o Verbo estava com Deus, e o Verbo era Deus.

All things were made by him; and without him was not any thing made that was made.

Todas as coisas foram feitas por ele, e sem ele nada do que foi feito se fez.

Peter therefore was kept in prison: but prayer was made without ceasing of the church unto God for him.

Pedro, pois, era guardado na prisão; mas a igreja fazia contínua oração por ele a Deus.

But he was wounded for our transgressions, he was bruised for our iniquities: the chastisement of our peace was upon him; and with his stripes we are healed.

Mas ele foi ferido pelas nossas transgressões e moído pelas nossas iniquidades; o castigo que nos traz a paz estava sobre ele, e, pelas suas pisaduras, fomos sarados.

And God said, Let there be light: and there was light.

E disse Deus: Haja luz. E houve luz.

Now the birth of Jesus Christ was on this wise: When as his mother Mary was espoused to Joseph, before they came together, she was found with child of the Holy Ghost.

Ora, o nascimento de Jesus Cristo foi assim: Estando Maria, sua mãe, desposada com José, antes de se ajuntarem, achou-se ter concebido do Espírito Santo.

I cried unto him with my mouth, and he was extolled with my tongue.

A ele clamei com a minha boca, e ele foi exaltado pela minha língua.

What and if ye shall see the Son of man ascend up where he was before?

Que seria, pois, se vísseis subir o Filho do Homem para onde primeiro estava?

In the beginning God created the heaven and the earth. And the earth was without form, and void; and darkness was upon the face of the deep. And the Spirit of God moved upon the face of the waters.

No princípio, criou Deus os céus e a terra. E a terra era sem forma e vazia; e havia trevas sobre a face do abismo; e o Espírito de Deus se movia sobre a face das águas.

Through faith also Sara herself received strength to conceive seed, and was delivered of a child when she was past age, because she judged him faithful who had promised.

Pela fé, também a mesma Sara recebeu a virtude de conceber e deu à luz já fora da idade; porquanto teve por fiel aquele que lho tinha prometido.

Let this mind be in you, which was also in Christ Jesus.

De sorte que haja em vós o mesmo sentimento que houve também em Cristo Jesus.
The L

ord

our God be with us, as he was with our fathers: let him not leave us, nor forsake us.
O S

enhor

, nosso Deus, seja conosco, como foi com nossos pais; não nos desampare e não nos deixe.

I am sought of them that asked not for me; I am found of them that sought me not: I said, Behold me, behold me, unto a nation that was not called by my name.

Fui buscado pelos que não perguntavam por mim; fui achado por aqueles que me não buscavam; a um povo que se não chamava do meu nome eu disse: Eis-me aqui.

For the Son of man is come to seek and to save that which was lost.

Porque o Filho do Homem veio buscar e salvar o que se havia perdido.

And the same John had his raiment of camel's hair, and a leathern girdle about his loins; and his meat was locusts and wild honey.

E este João tinha a sua veste de pelos de camelo e um cinto de couro em torno de seus lombos e alimentava-se de gafanhotos e de mel silvestre.

So then after the Lord had spoken unto them, he was received up into heaven, and sat on the right hand of God.

Ora, o Senhor, depois de lhes ter falado, foi recebido no céu e assentou-se à direita de Deus.

And when he had spoken these things, while they beheld, he was taken up; and a cloud received him out of their sight.

E, quando dizia isto, vendo-o eles, foi elevado às alturas, e uma nuvem o recebeu, ocultando-o a seus olhos.

But Peter said, Ananias, why hath Satan filled thine heart to lie to the Holy Ghost, and to keep back part of the price of the land? Whiles it remained, was it not thine own? and after it was sold, was it not in thine own power? why hast thou conceived this thing in thine heart? thou hast not lied unto men, but unto God.

Disse, então, Pedro: Ananias, por que encheu Satanás o teu coração, para que mentisses ao Espírito Santo e retivesses parte do preço da herdade? Guardando-a, não ficava para ti? E, vendida, não estava em teu poder? Por que formaste este desígnio em teu coração? Não mentiste aos homens, mas a Deus.

This is the stone which was set at nought of you builders, which is become the head of the corner.

Ele é a pedra que foi rejeitada por vós, os edificadores, a qual foi posta por cabeça de esquina.

I am Alpha and Omega, the beginning and the ending, saith the Lord, which is, and which was, and which is to come, the Almighty.

Eu sou o Alfa e o Ômega, o Princípio e o Fim, diz o Senhor, que é, e que era, e que há de vir, o Todo-Poderoso.

He is despised and rejected of men; a man of sorrows, and acquainted with grief: and we hid as it were our faces from him; he was despised, and we esteemed him not.

Era desprezado e o mais indigno entre os homens, homem de dores, experimentado nos trabalhos e, como um de quem os homens escondiam o rosto, era desprezado, e não fizemos dele caso algum.

And without controversy great is the mystery of godliness: God was manifest in the flesh, justified in the Spirit, seen of angels, preached unto the Gentiles, believed on in the world, received up into glory.

E, sem dúvida alguma, grande é o mistério da piedade: Aquele que se manifestou em carne foi justificado em espírito, visto dos anjos, pregado aos gentios, crido no mundo e recebido acima, na glória.

And Jesus being full of the Holy Ghost returned from Jordan, and was led by the Spirit into the wilderness, Being forty days tempted of the devil. And in those days he did eat nothing: and when they were ended, he afterward hungered.

E Jesus, cheio do Espírito Santo, voltou do Jordão e foi levado pelo Espírito ao deserto. E quarenta dias foi tentado pelo diabo, e, naqueles dias, não comeu coisa alguma, e, terminados eles, teve fome.

And so it was, that, while they were there, the days were accomplished that she should be delivered. And she brought forth her firstborn son, and wrapped him in swaddling clothes, and laid him in a manger; because there was no room for them in the inn.

E aconteceu que, estando eles ali, se cumpriram os dias em que ela havia de dar à luz. E deu à luz o seu filho primogênito, e envolveu-o em panos, e deitou-o numa manjedoura, porque não havia lugar para eles na estalagem.

So we fasted and besought our God for this: and he was intreated of us.

Nós, pois, jejuamos e pedimos isso ao nosso Deus, e moveu-se pelas nossas orações.
Beware of false prophets, which come to you in sheep's clothing, but inwardly they are ravening wolves.
Personal Bible reading plan
Create an account to configure your Bible reading plan and you will see your progress and the next chapter to read here!
Read more...