Bible Verses about 'Why'
«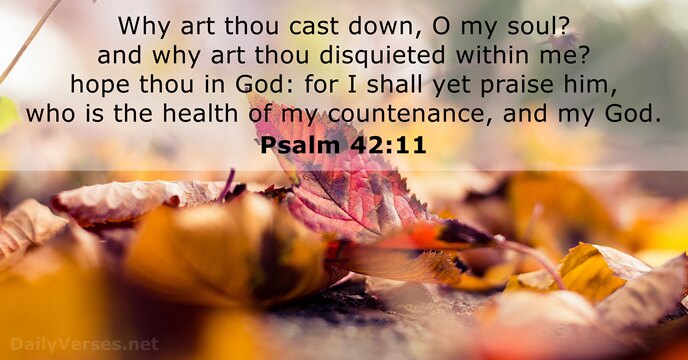 »
Why art thou cast down, O my soul? and why art thou disquieted within me? hope thou in God: for I shall yet praise him, who is the health of my countenance, and my God.

Por que estás abatida, ó minha alma, e por que te perturbas dentro de mim? Espera em Deus, pois ainda o louvarei. Ele é a salvação da minha face e o meu Deus.

And I fell unto the ground, and heard a voice saying unto me, Saul, Saul, why persecutest thou me?

E caí por terra e ouvi uma voz que me dizia: Saulo, Saulo, por que me persegues?

I made a covenant with mine eyes; why then should I think upon a maid?

Fiz concerto com os meus olhos; como, pois, os fixaria numa virgem?

And why beholdest thou the mote that is in thy brother's eye, but considerest not the beam that is in thine own eye?

E por que reparas tu no argueiro que está no olho do teu irmão e não vês a trave que está no teu olho?

And now why tarriest thou? arise, and be baptized, and wash away thy sins, calling on the name of the Lord.

E, agora, por que te deténs? Levanta-te, e batiza-te, e lava os teus pecados, invocando o nome do Senhor.

But Peter said, Ananias, why hath Satan filled thine heart to lie to the Holy Ghost, and to keep back part of the price of the land? Whiles it remained, was it not thine own? and after it was sold, was it not in thine own power? why hast thou conceived this thing in thine heart? thou hast not lied unto men, but unto God.

Disse, então, Pedro: Ananias, por que encheu Satanás o teu coração, para que mentisses ao Espírito Santo e retivesses parte do preço da herdade? Guardando-a, não ficava para ti? E, vendida, não estava em teu poder? Por que formaste este desígnio em teu coração? Não mentiste aos homens, mas a Deus.

Say not thou, What is the cause that the former days were better than these? for thou dost not enquire wisely concerning this.

Nunca digas: Por que foram os dias passados melhores do que estes? Porque nunca com sabedoria isso perguntarias.

And while they looked stedfastly toward heaven as he went up, behold, two men stood by them in white apparel; Which also said, Ye men of Galilee, why stand ye gazing up into heaven? this same Jesus, which is taken up from you into heaven, shall so come in like manner as ye have seen him go into heaven.

E, estando com os olhos fitos no céu, enquanto ele subia, eis que junto deles se puseram dois varões vestidos de branco, os quais lhes disseram: Varões galileus, por que estais olhando para o céu? Esse Jesus, que dentre vós foi recebido em cima no céu, há de vir assim como para o céu o vistes ir.

And it came to pass, that he went through the corn fields on the sabbath day; and his disciples began, as they went, to pluck the ears of corn. And the Pharisees said unto him, Behold, why do they on the sabbath day that which is not lawful? And he said unto them, Have ye never read what David did, when he had need, and was an hungred, he, and they that were with him? How he went into the house of God in the days of Abiathar the high priest, and did eat the shewbread, which is not lawful to eat but for the priests, and gave also to them which were with him? And he said unto them, The sabbath was made for man, and not man for the sabbath: Therefore the Son of man is Lord also of the sabbath.

E aconteceu que, passando ele num sábado pelas searas, os seus discípulos, caminhando, começaram a colher espigas. E os fariseus lhe disseram: Vês? Por que fazem no sábado o que não é lícito? Mas ele disse-lhes: Nunca lestes o que fez Davi, quando estava em necessidade e teve fome, ele e os que com ele estavam? Como entrou na Casa de Deus, no tempo de Abiatar, sumo sacerdote, e comeu os pães da proposição, dos quais não era lícito comer senão aos sacerdotes, dando também aos que com ele estavam? E disse-lhes: O sábado foi feito por causa do homem, e não o homem, por causa do sábado. Assim, o Filho do Homem até do sábado é senhor.

For for this cause pay ye tribute also: for they are God's ministers, attending continually upon this very thing.

Por esta razão também pagais tributos, porque são ministros de Deus, atendendo sempre a isto mesmo.

Therefore I take pleasure in infirmities, in reproaches, in necessities, in persecutions, in distresses for Christ's sake: for when I am weak, then am I strong.

Pelo que sinto prazer nas fraquezas, nas injúrias, nas necessidades, nas perseguições, nas angústias, por amor de Cristo. Porque, quando estou fraco, então, sou forte.

Behold, what manner of love the Father hath bestowed upon us, that we should be called the sons of God: therefore the world knoweth us not, because it knew him not.

Vede quão grande amor nos tem concedido o Pai: que fôssemos chamados filhos de Deus. Por isso, o mundo não nos conhece, porque não conhece a ele.

Are not five sparrows sold for two farthings, and not one of them is forgotten before God? But even the very hairs of your head are all numbered. Fear not therefore: ye are of more value than many sparrows.

Não se vendem cinco passarinhos por dois ceitis? E nenhum deles está esquecido diante de Deus. E até os cabelos da vossa cabeça estão todos contados. Não temais, pois; mais valeis vós do que muitos passarinhos.

And the rib, which the L

ord

God had taken from man, made he a woman, and brought her unto the man. And Adam said, This is now bone of my bones, and flesh of my flesh: she shall be called Woman, because she was taken out of Man. Therefore shall a man leave his father and his mother, and shall cleave unto his wife: and they shall be one flesh.
E da costela que o S

enhor

Deus tomou do homem formou uma mulher; e trouxe-a a Adão. E disse Adão: Esta é agora osso dos meus ossos e carne da minha carne; esta será chamada varoa, porquanto do varão foi tomada. Portanto, deixará o varão o seu pai e a sua mãe e apegar-se-á à sua mulher, e serão ambos uma carne.
And though I have the gift of prophecy, and understand all mysteries, and all knowledge; and though I have all faith, so that I could remove mountains, and have not charity, I am nothing.
Personal Bible reading plan
Create an account to configure your Bible reading plan and you will see your progress and the next chapter to read here!
Read more...