Bible Verses about 'Why'
«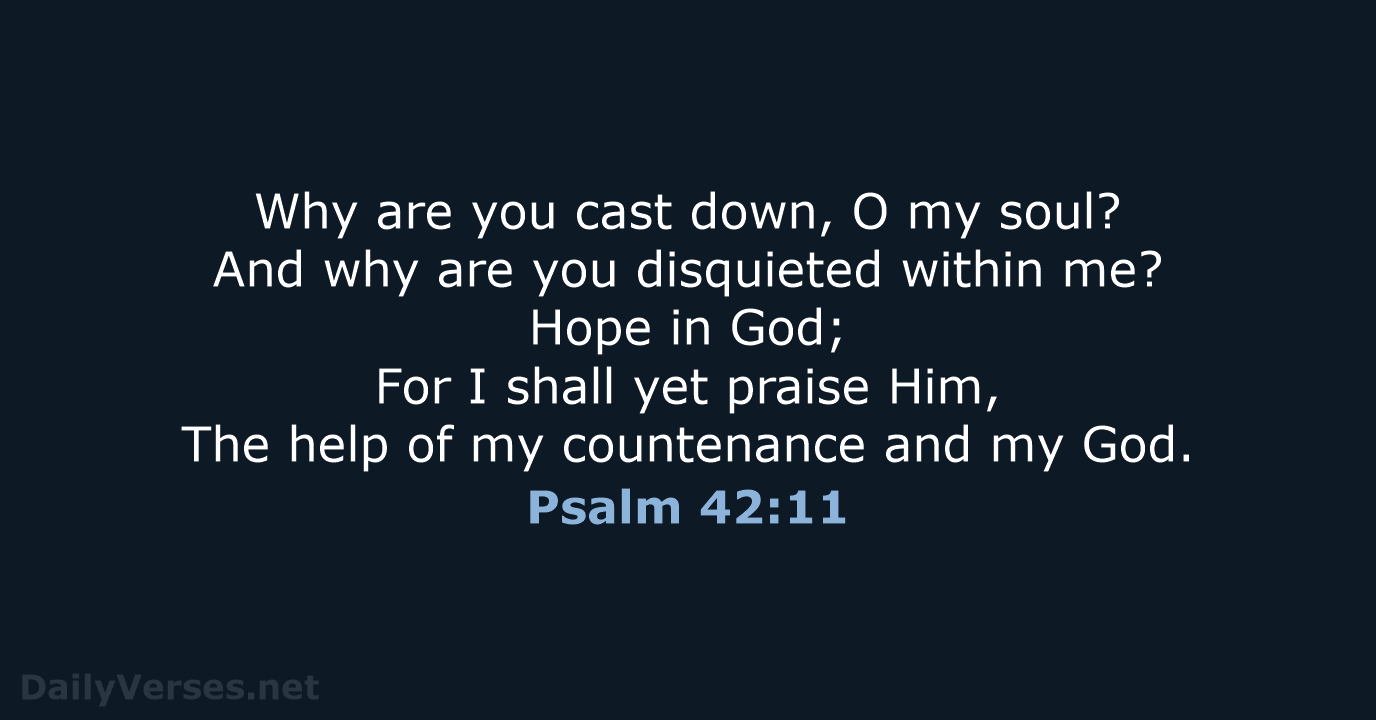 »
Why are you cast down, O my soul?
And why are you disquieted within me?
Hope in God;
For I shall yet praise Him,
The help of my countenance and my God.

And I fell to the ground and heard a voice saying to me, 'Saul, Saul, why are you persecuting Me?'

And why do you look at the speck in your brother's eye, but do not consider the plank in your own eye?

And now why are you waiting? Arise and be baptized, and wash away your sins, calling on the name of the Lord.

Do not say,
"Why were the former days better than these?"
For you do not inquire wisely concerning this.
I have made a covenant with my eyes;
Why then should I look upon a young woman?
But Peter said, "Ananias, why has Satan filled your heart to lie to the Holy Spirit and keep back part of the price of the land for yourself? While it remained, was it not your own? And after it was sold, was it not in your own control? Why have you conceived this thing in your heart? You have not lied to men but to God."
And while they looked steadfastly toward heaven as He went up, behold, two men stood by them in white apparel, who also said, "Men of Galilee, why do you stand gazing up into heaven? This same Jesus, who was taken up from you into heaven, will so come in like manner as you saw Him go into heaven."
Now it happened that He went through the grainfields on the Sabbath; and as they went His disciples began to pluck the heads of grain. And the Pharisees said to Him, "Look, why do they do what is not lawful on the Sabbath?"
But He said to them, "Have you never read what David did when he was in need and hungry, he and those with him: how he went into the house of God in the days of Abiathar the high priest, and ate the showbread, which is not lawful to eat except for the priests, and also gave some to those who were with him?"
And He said to them, "The Sabbath was made for man, and not man for the Sabbath. Therefore the Son of Man is also Lord of the Sabbath."
I, even I, am He who comforts you.
Who are you that you should be afraid
Of a man who will die,
And of the son of a man who will be made like grass?

Therefore I take pleasure in infirmities, in reproaches, in needs, in persecutions, in distresses, for Christ's sake. For when I am weak, then I am strong.

For because of this you also pay taxes, for they are God's ministers attending continually to this very thing.

The L

ord

is my light and my salvation;
Whom shall I fear?
The L

ord

is the strength of my life;
Of whom shall I be afraid?
Let my mouth be filled with Your praise
And with Your glory all the day.

Behold what manner of love the Father has bestowed on us, that we should be called children of God! Therefore the world does not know us, because it did not know Him.

Are not five sparrows sold for two copper coins? And not one of them is forgotten before God. But the very hairs of your head are all numbered. Do not fear therefore; you are of more value than many sparrows.

So then, those who are in the flesh cannot please God.

Then the rib which the L

ord

God had taken from man He made into a woman, and He brought her to the man.
And Adam said:
"This is now bone of my bones
And flesh of my flesh;
She shall be called Woman,
Because she was taken out of Man."
Therefore a man shall leave his father and mother and be joined to his wife, and they shall become one flesh.

And if you do good to those who do good to you, what credit is that to you? For even sinners do the same.

Therefore we do not lose heart. Even though our outward man is perishing, yet the inward man is being renewed day by day.
In God (I will praise His word),
In God I have put my trust;
I will not fear.
What can flesh do to me?
"Now, therefore," says the L

ord

,
"Turn to Me with all your heart,
With fasting, with weeping, and with mourning."

Do not think that I came to destroy the Law or the Prophets. I did not come to destroy but to fulfill.

Therefore I say to you, do not worry about your life, what you will eat or what you will drink; nor about your body, what you will put on. Is not life more than food and the body more than clothing?

Therefore I say to you, do not worry about your life, what you will eat; nor about the body, what you will put on. Life is more than food, and the body is more than clothing.
Jesus answered them, "Most assuredly, I say to you, whoever commits sin is a slave of sin."
Personal Bible reading plan
Create an account to configure your Bible reading plan and you will see your progress and the next chapter to read here!
Read more...