28 Bible Verses about 'Wisdom'
«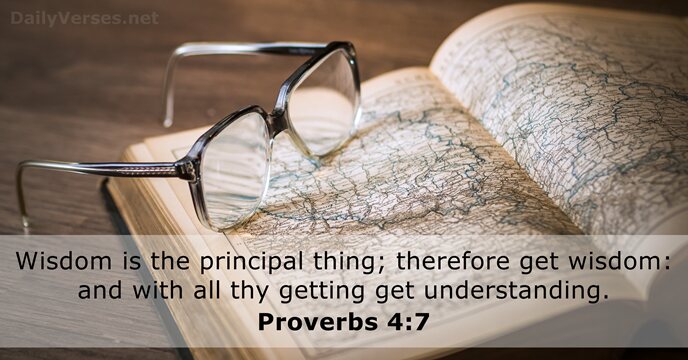 »
Wisdom is the principal thing; therefore get wisdom: and with all thy getting get understanding.

Hanki viisautta, se on aarteista kallein, hanki ymmärrystä, sijoita kaikki varasi siihen.

So teach us to number our days, that we may apply our hearts unto wisdom.

Opeta meille, miten lyhyt on aikamme, että saisimme viisaan sydämen.

When pride cometh, then cometh shame: but with the lowly is wisdom.

Missä on ylpeys, sinne tulee häpeä, nöyrien kumppani on viisaus.

Happy is the man that findeth wisdom, and the man that getteth understanding.

Onnellinen se, joka on löytänyt viisauden, se, joka on tavoittanut tiedon.

I have taught thee in the way of wisdom; I have led thee in right paths.

Minä opetan sinulle viisauden polun, opastan sinut oikealle tielle.

Only by pride cometh contention: but with the well advised is wisdom.

Ylimielisyydestä koituu vain riitaa, viisas se, joka neuvoja kuulee.

For the L

ord

giveth wisdom: out of his mouth cometh knowledge and understanding.

Sillä viisaus tulee Herralta, hän antaa tiedon ja ymmärryksen.

Get wisdom, get understanding: forget it not; neither decline from the words of my mouth.

Hanki viisautta, hanki ymmärrystä, älä unohda sitä, mitä sinulle sanon, älä käännä sille selkääsi.

For in much wisdom is much grief: and he that increaseth knowledge increaseth sorrow.

Sillä missä on paljon viisautta, siellä on paljon huolta, ja joka tietoa lisää, lisää tuskaa.

The fear of the L

ord

is the beginning of knowledge: but fools despise wisdom and instruction.

Herran pelko on tiedon perusta, vain hullu halveksii viisautta ja opetusta.

How much better is it to get wisdom than gold! and to get understanding rather to be chosen than silver!

Hanki viisautta, se on parempaa kuin kulta, hanki ymmärrystä, se on kalliimpaa kuin hopea.

The fear of the L

ord

is the beginning of wisdom: and the knowledge of the holy is understanding.

Herran pelko on viisauden alku, Pyhän tunteminen on ymmärryksen perusta.

He that getteth wisdom loveth his own soul: he that keepeth understanding shall find good.

Itseään auttaa, joka ymmärrystään lisää, onnen saa, joka harkiten toimii.

The fear of the L

ord

is the instruction of wisdom; and before honour is humility.

Herran pelko on viisauden koulu, kunnian tie käy nöyryyden kautta.

If any of you lack wisdom, let him ask of God, that giveth to all men liberally, and upbraideth not; and it shall be given him.

Jos kuitenkin joltakulta teistä puuttuu viisautta, pyytäköön sitä Jumalalta. Hän on saava pyytämänsä, sillä Jumala antaa auliisti kaikille, ketään soimaamatta.

Who is a wise man and endued with knowledge among you? let him shew out of a good conversation his works with meekness of wisdom.

Kuka teistä on viisas ja ymmärtäväinen? Esittäköön hän osoitukseksi hyvästä vaelluksesta tekonsa, sävyisästi, niin kuin viisas tekee.

He layeth up sound wisdom for the righteous: he is a buckler to them that walk uprightly.

Hän auttaa oikeamieliset menestykseen, kilven tavoin hän on vilpittömien suojana.

Labour not to be rich: cease from thine own wisdom.

Älä rehki rikastuaksesi, älä tuhlaa ajatuksiasi siihen.

O the depth of the riches both of the wisdom and knowledge of God! how unsearchable are his judgments, and his ways past finding out!

Kuinka ääretön onkaan Jumalan rikkaus, kuinka syvä hänen viisautensa ja tietonsa! Kuinka tutkimattomat ovat hänen tuomionsa ja jäljittämättömät hänen tiensä!

So shall the knowledge of wisdom be unto thy soul: when thou hast found it, then there shall be a reward, and thy expectation shall not be cut off.

Yhtä lailla on viisaus sinulle hyväksi: kun löydät sen, sinulla on tulevaisuus, toivosi ei raukea tyhjiin.

The fear of the L

ord

is the beginning of wisdom: a good understanding have all they that do his commandments: his praise endureth for ever.

Herran pelko on viisauden alku, viisas se, joka hänen tahtonsa täyttää. Kaikukoon Herran ylistys ajasta aikaan!

That the God of our Lord Jesus Christ, the Father of glory, may give unto you the spirit of wisdom and revelation in the knowledge of him.

Minä rukoilen, että Herramme Jeesuksen Kristuksen Jumala, kirkkauden Isä, antaisi teille viisauden ja näkemisen hengen, niin että oppisitte tuntemaan hänet.

But the wisdom that is from above is first pure, then peaceable, gentle, and easy to be intreated, full of mercy and good fruits, without partiality, and without hypocrisy.

Mutta ylhäältä tuleva viisaus on puhdasta ja pyhää, ja niin se myös rakentaa rauhaa, se on lempeää ja sopuisaa, täynnä armahtavaisuutta ja hyviä hedelmiä, se on tasapuolista ja teeskentelemätöntä.

Let the word of Christ dwell in you richly in all wisdom; teaching and admonishing one another in psalms and hymns and spiritual songs, singing with grace in your hearts to the Lord.

Antakaa Kristuksen sanan asua runsaana keskuudessanne. Opettakaa ja neuvokaa toisianne kaikella viisaudella ja laulakaa kiitollisin mielin Jumalalle psalmeja, ylistysvirsiä ja hengellisiä lauluja.

I thank thee, and praise thee, O thou God of my fathers, who hast given me wisdom and might, and hast made known unto me now what we desired of thee: for thou hast now made known unto us the king's matter.

Sinua, isieni Jumala, minä kiitän ja ylistän, sillä sinä olet antanut minulle viisautta ja voimaa ja nyt olet ilmoittanut minulle sen, mitä sinulta pyysimme, olet ilmoittanut meille, mitä vastata kuninkaalle.
Forasmuch then as Christ hath suffered for us in the flesh, arm yourselves likewise with the same mind: for he that hath suffered in the flesh hath ceased from sin.
Thy word is a lamp unto my feet,
and a light unto my path.
Read more
Forasmuch then as Christ hath suffered for us in the flesh, arm yourselves likewise with the same mind: for he that hath suffered in the flesh hath ceased from sin.
Personal Bible reading plan
Create an account to configure your Bible reading plan and you will see your progress and the next chapter to read here!
Read more...