«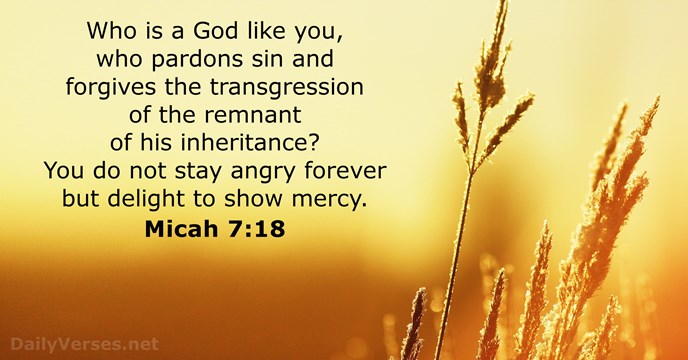 »
Who is a God like you, who pardons sin and forgives the transgression of the remnant of his inheritance? You do not stay angry forever but delight to show mercy.

Welke god is als U? U vergeeft ons alle slechte dingen die we hebben gedaan. U denkt niet langer aan alles waarin uw volk U ongehoorzaam is geweest. U blijft niet voor eeuwig boos. Want U bent vriendelijk en liefdevol.

You desire but do not have, so you kill. You covet but you cannot get what you want, so you quarrel and fight. You do not have because you do not ask God.

Jullie willen van alles, maar jullie hebben niets. Jullie haten elkaar en zijn jaloers op elkaar, maar krijgen nog steeds niet wat jullie willen hebben. Jullie doen vreselijk je best om van alles te bereiken. Maar jullie bereiken niets, omdat jullie niet bidden.

He is the atoning sacrifice for our sins, and not only for ours but also for the sins of the whole world.

Hij nam de straf op Zich voor al onze ongehoorzaamheid. En niet alleen voor die van óns, maar voor die van álle mensen. Daardoor zijn we niet langer schuldig.

But he was pierced for our transgressions, he was crushed for our iniquities; the punishment that brought us peace was on him, and by his wounds we are healed.

Híj werd mishandeld vanwege ónze ongehoorzaamheid aan God. Híj werd geslagen omdat wíj zoveel slechte dingen deden. Híj kreeg de straf, zodat wíj vrede met God zouden kunnen hebben. Zíjn lichaam werd stukgeslagen met de zweep, zodat wíj genezing zouden kunnen krijgen van onze ziekten.

If anyone sins and does what is forbidden in any of the L

ord

's commands, even though they do not know it, they are guilty and will be held responsible.

Als iemand per ongeluk iets doet wat Ik verboden heb, dan is hij toch schuldig.

In him we have redemption through his blood, the forgiveness of sins, in accordance with the riches of God's grace.

Want door het bloed van zijn Zoon heeft Hij ons gered. Door zijn bloed kon Hij ons vergeven dat we Hem ongehoorzaam waren. Hij deed dat niet omdat we dat verdiend hadden, maar omdat Hij zoveel van ons houdt.

The name of the righteous is used in blessings, but the name of the wicked will rot.

Aan goede mensen denken de anderen met dankbaarheid terug. Maar slechte mensen zijn al snel vergeten.

A wicked person earns deceptive wages, but the one who sows righteousness reaps a sure reward.

Wat een slecht mens verdient met zijn slechtheid, zal weer verdwijnen. Maar de beloning van een goed mens blijft bestaan.

Whoever keeps commandments keeps their life, but whoever shows contempt for their ways will die.

Als je je aan de wet van God houdt, bewaar je je leven. Maar als je je er niets van aantrekt, zul je sterven.

This is love: not that we loved God, but that he loved us and sent his Son as an atoning sacrifice for our sins.

De liefde waar ik het over heb is niet ónze liefde voor God, maar Gods liefde voor óns. Omdat Hij zoveel van ons houdt, stuurde Hij zijn Zoon. Zijn Zoon gaf zijn leven als offer, waardoor wij vergeving voor onze ongehoorzaamheid konden krijgen.

Righteousness exalts a nation, but sin condemns any people.

Een rechtvaardig volk wordt geëerd. Maar als een volk onrechtvaardig is, is dat een schande.

I have not come to call the righteous, but sinners to repentance.

Ik ben niet gekomen om goede mensen te roepen, maar om slechte mensen te zeggen dat ze moeten gaan leven zoals God het wil.

When anyone becomes aware that they are guilty in any of these matters, they must confess in what way they have sinned.

Als iemand één van deze dingen heeft gedaan, moet hij zeggen wat hij voor verkeerds gedaan heeft.

I have hidden your word in my heart that I might not sin against you.

Ik bewaar uw woord in mijn hart, zodat ik niet verkeerd tegen U zal doen.

All who sin apart from the law will also perish apart from the law, and all who sin under the law will be judged by the law.

De niet-Joodse volken kennen de wet van Mozes niet. Daarom zullen zij zonder deze wet veroordeeld worden als ze slechte dingen doen. De Joden kennen de wet van Mozes wel. Daarom zullen zij volgens deze wet veroordeeld worden als ze slechte dingen doen.

You are the salt of the earth. But if the salt loses its saltiness, how can it be made salty again? It is no longer good for anything, except to be thrown out and trampled underfoot.

Jezus zei tegen zijn leerlingen: "Jullie zijn het zout voor de wereld. Maar als het zout niet meer zout is, waarmee kun je het dan nog zout maken? Het is nergens meer voor te gebruiken. Je kan het alleen nog maar weggooien. Het wordt vertrapt door de mensen."

I have swept away your offenses like a cloud, your sins like the morning mist. Return to me, for I have redeemed you.

Ik blaas al je ongehoorzaamheid weg als mist, als een wolk. Kom weer bij Mij terug, want Ik heb je gered.

Blessed is the one whose transgressions are forgiven, whose sins are covered.

Het is heerlijk als de Heer je heeft vergeven wat je verkeerd hebt gedaan. Het is heerlijk als God je heeft vergeven dat je Hem ongehoorzaam bent geweest.

But if a wicked person turns away from all the sins they have committed and keeps all my decrees and does what is just and right, that person will surely live; they will not die.

Maar stel dat een slecht mens spijt heeft van alle slechte dingen die hij heeft gedaan. Stel dat hij zich voortaan aan mijn wetten en leefregels houdt en leeft zoals Ik het wil – dan zal hij blijven leven. Hij zal niet sterven.

I tell you that in the same way there will be more rejoicing in heaven over one sinner who repents than over ninety-nine righteous persons who do not need to repent.

Ik zeg jullie dat op dezelfde manier de hemel blij zal zijn over één slecht mens die gaat leven zoals God het wil. Ze zullen daar in de hemel blijer over zijn, dan over 99 goede mensen die het niet nodig hebben om te veranderen en weer te gaan leven zoals God het wil.

Everyone who sins breaks the law; in fact, sin is lawlessness.

Als iemand ongehoorzaam is aan God, houdt hij zich niet aan de wet van God. Ongehoorzaamheid aan God is hetzelfde als ongehoorzaamheid aan de wet.

Therefore, since Christ suffered in his body, arm yourselves also with the same attitude, because whoever suffers in the body is done with sin.

Christus heeft dus als mens voor ons geleden. Daarom moeten jullie zelf ook bereid zijn om net als Hij te lijden. Want als je in dit leven hebt geleden, doe je niet meer mee met het kwaad.

As far as the east is from the west, so far has he removed our transgressions from us.

Hij tilt onze ongehoorzaamheid van ons af en zo ver als het oosten is van het westen, zó ver werpt Hij die bij ons vandaan.

This is the message we have heard from him and declare to you: God is light; in him there is no darkness at all.

Dit is de boodschap die we van Hem hebben gehoord en die we aan jullie bekend maken: God is licht. Er is in Hem helemaal geen duisternis.

When I kept silent, my bones wasted away through my groaning all day long.

Eerst zweeg ik tegen God over de dingen die ik verkeerd had gedaan. Maar ik kon er niet meer tegen. De hele dag schreeuwde ik het uit.
Yet to all who did receive him, to those who believed in his name, he gave the right to become children of God.
Personal Bible reading plan
Create an account to configure your Bible reading plan and you will see your progress and the next chapter to read here!
Read more...