Bible Verses about Speaking
«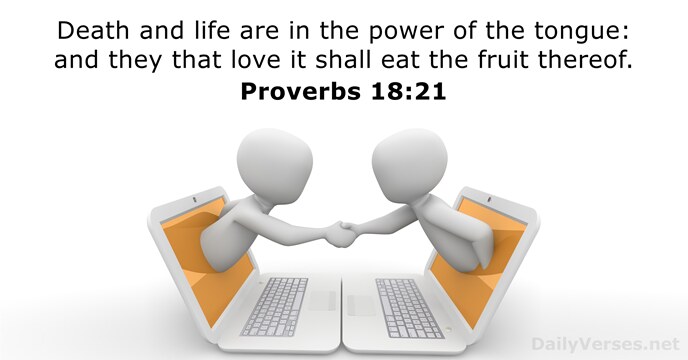 »
Death and life are in the power of the tongue: and they that love it shall eat the fruit thereof.

Die Zunge hat Macht über Leben und Tod; wer sie gut nutzt, genießt ihre Frucht.

A good man out of the good treasure of his heart bringeth forth that which is good; and an evil man out of the evil treasure of his heart bringeth forth that which is evil: for of the abundance of the heart his mouth speaketh.

Ein guter Mensch bringt Gutes hervor, weil er in seinem Herzen gut ist. Ein böser Mensch bringt Böses hervor, weil sein Herz mit Bösem erfüllt ist. Dein Reden ist von dem bestimmt, was in deinem Herzen ist.

Let no corrupt communication proceed out of your mouth, but that which is good to the use of edifying, that it may minister grace unto the hearers.

Lasst kein hässliches Wort über eure Lippen kommen, sondern habt da, wo es nötig ist, ein gutes Wort, das weiterhilft und allen wohltut.

He that keepeth his mouth keepeth his life: but he that openeth wide his lips shall have destruction.

Wer den Mund hält, bewahrt sein Leben, wer ihn aufreißt, dem droht Verderben.

Not rendering evil for evil, or railing for railing: but contrariwise blessing; knowing that ye are thereunto called, that ye should inherit a blessing.

Vergeltet Böses nicht mit Bösem und Schimpfwort nicht mit Schimpfwort, sondern entgegnet gute segnende Worte! Denn Gott hat euch berufen, Segen zu erben.

A wholesome tongue is a tree of life: but perverseness therein is a breach in the spirit.

Ein freundliches Wort ist wie ein Lebensbaum, eine falsche Zunge bricht den Lebensmut.

Even a fool, when he holdeth his peace, is counted wise: and he that shutteth his lips is esteemed a man of understanding.

Selbst ein Dummkopf gilt als weise, wenn er schweigt, als verständig, wenn er seine Lippen schließt.

But I say unto you, That every idle word that men shall speak, they shall give account thereof in the day of judgment.

Ich sage euch: Am Tag des Gerichts werden die Menschen Rechenschaft über jedes nutzlose Wort ablegen müssen, das sie gesagt haben.

Wherefore, my beloved brethren, let every man be swift to hear, slow to speak, slow to wrath.

Denkt daran, liebe Geschwister: "Jeder Mensch sei schnell zum Hören bereit - zum Reden und zum Zorn, da lasse er sich Zeit."

In the multitude of words there wanteth not sin: but he that refraineth his lips is wise.

Wo viele Worte sind, geht es ohne Sünde nicht ab, doch wer die Zunge im Zaum hält, ist klug.

Open thy mouth for the dumb in the cause of all such as are appointed to destruction.

Sprich du für die Sprachlosen! Tritt du für die Schwachen und ihren Rechtsanspruch ein!

A man hath joy by the answer of his mouth: and a word spoken in due season, how good is it!

Jeden freut es, wenn er Antwort geben kann; wie gut ist ein Wort zur richtigen Zeit!

My little children, let us not love in word, neither in tongue; but in deed and in truth.

Meine Kinder, unsere Liebe darf nicht nur in schönen Worten bestehen; unser Tun muss ein echter Beweis dafür sein.

A soft answer turneth away wrath: but grievous words stir up anger.

Eine sanfte Antwort besänftigt den Zorn, doch ein kränkendes Wort heizt ihn an.

For in many things we offend all. If any man offend not in word, the same is a perfect man, and able also to bridle the whole body.

Denn wir alle machen oft Fehler. Wer beim Reden keine Fehler macht, der ist ein vollkommener Mann und kann auch seinen Körper im Zaum halten.

A talebearer revealeth secrets: but he that is of a faithful spirit concealeth the matter.

Wer als Verleumder umherzieht, gibt Anvertrautes preis, doch ein Zuverlässiger hält die Sache geheim.

The words of a wise man's mouth are gracious; but the lips of a fool will swallow up himself.

Einen Weisen machen seine Worte beliebt, einen Dummkopf kosten sie den Kopf.

Moreover if thy brother shall trespass against thee, go and tell him his fault between thee and him alone: if he shall hear thee, thou hast gained thy brother.

Wenn dein Bruder sündigt, dann geh zu ihm und stell ihn unter vier Augen zur Rede. Wenn er mit sich reden lässt, hast du deinen Bruder zurückgewonnen.

Let my mouth be filled with thy praise and with thy honour all the day.

Mein Mund ist voll von deinem Lob, von deinem Ruhm den ganzen Tag.

Therefore whatsoever ye have spoken in darkness shall be heard in the light; and that which ye have spoken in the ear in closets shall be proclaimed upon the housetops.

Deshalb lasst euch warnen: Alles, was ihr im Dunkeln sagt, wird am hellen Tag zu hören sein; und was ihr hinter verschlossenen Türen flüstert, wird man von den Dachterrassen rufen.

But when ye pray, use not vain repetitions, as the heathen do: for they think that they shall be heard for their much speaking.

Beim Beten sollt ihr nicht plappern wie die Menschen, die Gott nicht kennen. Sie denken, dass sie erhört werden, wenn sie viele Worte machen.

Likewise the Spirit also helpeth our infirmities: for we know not what we should pray for as we ought: but the Spirit itself maketh intercession for us with groanings which cannot be uttered.

In gleicher Weise nimmt der Geist Gottes sich auch unserer Schwachheit an, denn wir wissen nicht, wie man richtig beten soll. Er tritt mit einem Seufzen für uns ein, das man nicht in Worte fassen kann.

That if thou shalt confess with thy mouth the Lord Jesus, and shalt believe in thine heart that God hath raised him from the dead, thou shalt be saved.

Wenn du mit deinem Mund bekennst, dass Jesus der Herr ist, und in deinem Herzen glaubst, dass Gott ihn aus den Toten auferweckt hat, wirst du gerettet werden.

Without counsel purposes are disappointed: but in the multitude of counsellors they are established.

Wo es an Beratung fehlt, da scheitern die Pläne, wo viele Ratgeber sind, da gibt es Erfolg.

O give thanks unto the L

ord

; call upon his name: make known his deeds among the people.

Lobt Jahwe! Ruft aus seinen Namen, macht den Völkern seine Taten bekannt!
Now I Nebuchadnezzar praise and extol and honour the King of heaven, all whose works are truth, and his ways judgment: and those that walk in pride he is able to abase.
That he would grant you, according to the riches of his glory, to be strengthened with might by his Spirit in the inner man; That Christ may dwell in your hearts by faith; that ye, being rooted and grounded in love.
Read more
Now I Nebuchadnezzar praise and extol and honour the King of heaven, all whose works are truth, and his ways judgment: and those that walk in pride he is able to abase.
Personal Bible reading plan
Create an account to configure your Bible reading plan and you will see your progress and the next chapter to read here!
Read more...