Bible Verses about Speaking
«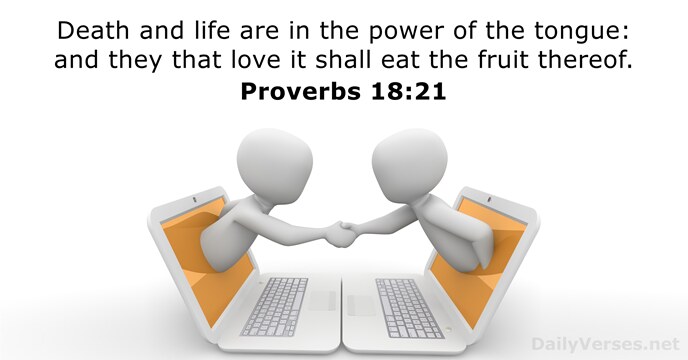 »
Death and life are in the power of the tongue: and they that love it shall eat the fruit thereof.

La muerte y la vida están en poder de la lengua; el que la ama, comerá de sus frutos.

A good man out of the good treasure of his heart bringeth forth that which is good; and an evil man out of the evil treasure of his heart bringeth forth that which is evil: for of the abundance of the heart his mouth speaketh.

El hombre bueno, del buen tesoro de su corazón saca lo bueno; y el hombre malo, del mal tesoro de su corazón saca lo malo, porque de la abundancia del corazón habla la boca.

Let no corrupt communication proceed out of your mouth, but that which is good to the use of edifying, that it may minister grace unto the hearers.

Ninguna palabra corrompida salga de vuestra boca, sino la que sea buena para la necesaria edificación, a fin de dar gracia a los oyentes.

He that keepeth his mouth keepeth his life: but he that openeth wide his lips shall have destruction.

El que guarda su boca guarda su vida, pero el que mucho abre sus labios acaba en desastre.

Not rendering evil for evil, or railing for railing: but contrariwise blessing; knowing that ye are thereunto called, that ye should inherit a blessing.

No devolváis mal por mal, ni maldición por maldición, sino por el contrario, bendiciendo, sabiendo que fuisteis llamados a heredar bendición.

A wholesome tongue is a tree of life: but perverseness therein is a breach in the spirit.

La lengua apacible es árbol de vida, pero la perversidad de ella es quebrantamiento de espíritu.

Even a fool, when he holdeth his peace, is counted wise: and he that shutteth his lips is esteemed a man of understanding.

Aun el necio, cuando calla, es tenido por sabio; el que cierra sus labios es inteligente.

But I say unto you, That every idle word that men shall speak, they shall give account thereof in the day of judgment.

Pero yo os digo que de toda palabra ociosa que hablen los hombres, de ella darán cuenta en el día del juicio.

Wherefore, my beloved brethren, let every man be swift to hear, slow to speak, slow to wrath.

Por esto, mis amados hermanos, todo hombre sea pronto para oír, tardo para hablar, tardo para airarse.

In the multitude of words there wanteth not sin: but he that refraineth his lips is wise.

En las muchas palabras no falta pecado; el que refrena sus labios es prudente.

Open thy mouth for the dumb in the cause of all such as are appointed to destruction.

Abre tu boca en favor del mudo en el juicio de todos los desvalidos.

A man hath joy by the answer of his mouth: and a word spoken in due season, how good is it!

El hombre se alegra con la respuesta de su boca; la palabra a su tiempo, ¡cuán buena es!

My little children, let us not love in word, neither in tongue; but in deed and in truth.

Hijitos míos, no amemos de palabra ni de lengua, sino de hecho y en verdad.

A soft answer turneth away wrath: but grievous words stir up anger.

La respuesta suave aplaca la ira, pero la palabra áspera hace subir el furor.

For in many things we offend all. If any man offend not in word, the same is a perfect man, and able also to bridle the whole body.

Todos ofendemos muchas veces. Si alguno no ofende de palabra, es una persona perfecta, capaz también de refrenar todo el cuerpo.

A talebearer revealeth secrets: but he that is of a faithful spirit concealeth the matter.

El que anda con chismes revela el secreto; el de espíritu fiel lo guarda íntegro.

The words of a wise man's mouth are gracious; but the lips of a fool will swallow up himself.

Las palabras del sabio están llenas de gracia, mas los labios del necio causan su propia ruina.

Moreover if thy brother shall trespass against thee, go and tell him his fault between thee and him alone: if he shall hear thee, thou hast gained thy brother.

Por tanto, si tu hermano peca contra ti, ve y repréndelo estando tú y él solos; si te oye, has ganado a tu hermano.

Let my mouth be filled with thy praise and with thy honour all the day.

Sea llena mi boca de tu alabanza, de tu gloria todo el día.

Therefore whatsoever ye have spoken in darkness shall be heard in the light; and that which ye have spoken in the ear in closets shall be proclaimed upon the housetops.

Por tanto, todo lo que habéis dicho en tinieblas, a la luz se oirá; y lo que habéis hablado al oído en los aposentos, se proclamará en las azoteas.

But when ye pray, use not vain repetitions, as the heathen do: for they think that they shall be heard for their much speaking.

Y al orar no uséis vanas repeticiones, como los gentiles, que piensan que por su palabrería serán oídos.

Likewise the Spirit also helpeth our infirmities: for we know not what we should pray for as we ought: but the Spirit itself maketh intercession for us with groanings which cannot be uttered.

De igual manera, el Espíritu nos ayuda en nuestra debilidad, pues qué hemos de pedir como conviene, no lo sabemos, pero el Espíritu mismo intercede por nosotros con gemidos indecibles.

That if thou shalt confess with thy mouth the Lord Jesus, and shalt believe in thine heart that God hath raised him from the dead, thou shalt be saved.

Si confiesas con tu boca que Jesús es el Señor y crees en tu corazón que Dios lo levantó de entre los muertos, serás salvo.

Without counsel purposes are disappointed: but in the multitude of counsellors they are established.

Los pensamientos se frustran donde falta el consejo, pero se afirman con los muchos consejeros.

O give thanks unto the L

ord

; call upon his name: make known his deeds among the people.

¡Alabad a Jehová, invocad su nombre, dad a conocer sus obras entre los pueblos!
He will not suffer thy foot to be moved:
he that keepeth thee will not slumber.
Therefore I say unto you, What things soever ye desire, when ye pray, believe that ye receive them, and ye shall have them.
Read more
He will not suffer thy foot to be moved: he that keepeth thee will not slumber.
Personal Bible reading plan
Create an account to configure your Bible reading plan and you will see your progress and the next chapter to read here!
Read more...