Bible Verses about the Word of God
«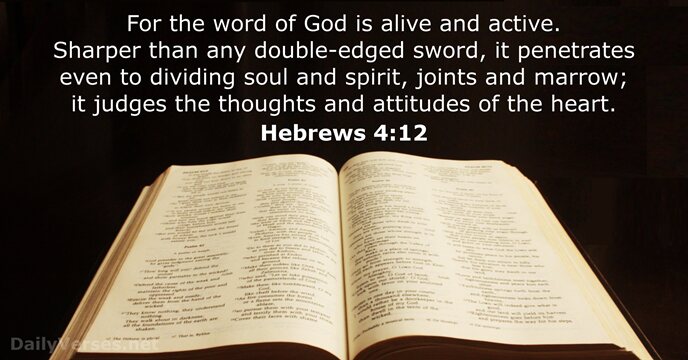 »
For the word of God is alive and active. Sharper than any double-edged sword, it penetrates even to dividing soul and spirit, joints and marrow; it judges the thoughts and attitudes of the heart.

Want het woord van God is vol leven en kracht. En het is scherper dan het scherpste zwaard. Het dringt zó diep in ons door, dat het ziel en geest van elkaar kan scheiden. Het laat ons zien wat er in ons is, al zit het nóg zo diep verborgen. Het brengt onze diepst verborgen gedachten en plannen aan het licht.

All Scripture is God-breathed and is useful for teaching, rebuking, correcting and training in righteousness, so that the servant of God may be thoroughly equipped for every good work.

Alles wat God daarin heeft laten opschrijven, is nuttig. Het kan de mensen iets leren, hen beschermen tegen verkeerd onderwijs over het geloof en hen opvoeden tot een leven zoals God het wil. Zo kunnen de mensen hun geloof ontwikkelen tot een volwassen geloof. Dan zullen ze geschikt zijn voor elke taak.

Your word is a lamp for my feet, a light on my path.

Uw woord leidt mij. Het is als een lamp voor mijn voeten, een licht op mijn pad.

Do not merely listen to the word, and so deceive yourselves. Do what it says.

Lúister niet alleen naar het woord, maar dóe het ook. Als je alleen luistert en er niets mee doet, houd je jezelf voor de gek.

How can a young person stay on the path of purity? By living according to your word.

Hoe kan een jong mens zuiver leven? Door te leven volgens uw woord.

He replied, "Blessed rather are those who hear the word of God and obey it."

Maar Jezus zei: "Wat heerlijk is het als mensen Gods woorden horen en ze ook doen!"

The grass withers and the flowers fall, but the word of our God endures forever.

Het gras verdroogt, de bloem valt af, maar het woord van God blijft voor eeuwig.

As for God, his way is perfect: The L

ord

's word is flawless; he shields all who take refuge in him.

Wat God doet is volmaakt. Wat Hij zegt is altijd te vertrouwen. Hij beschermt iedereen die naar Hem toe komt voor hulp.

Therefore everyone who hears these words of mine and puts them into practice is like a wise man who built his house on the rock.

Jezus zei tegen zijn leerlingen: "Lúister niet alleen naar wat Ik zeg, maar dóe het ook. Dan lijk je op een verstandig man die zijn huis op rotsgrond bouwde."

Heaven and earth will pass away, but my words will never pass away.

De hemel en de aarde zullen ophouden te bestaan. Maar mijn woorden zullen altijd blijven.

Do everything without grumbling or arguing, so that you may become blameless and pure, "children of God without fault in a warped and crooked generation." Then you will shine among them like stars in the sky as you hold firmly to the word of life.

Doe alles zonder mopperen of klagen. Zorg ervoor dat niemand iets slechts van jullie kan zeggen. Wees echte kinderen van God op wie niets valt aan te merken. Want dan zullen jullie als stralende sterren zijn, die opvallen tussen de slechte en ongehoorzame mensen van deze tijd. Blijf gehoorzaam aan het woord dat leven geeft.

The unfolding of your words gives light; it gives understanding to the simple.

Uw woorden verspreiden licht. Ze geven wijsheid aan eenvoudige mensen.

Jesus answered, "It is written: 'Man shall not live on bread alone, but on every word that comes from the mouth of God.'"

Maar Jezus antwoordde: "In de Boeken staat: 'Je kan niet alleen van brood leven. Alles wat God zegt, heb je óók nodig om te leven.' "

In the beginning was the Word, and the Word was with God, and the Word was God.

In het begin was het Woord er. Het Woord was bij God, en het Woord was God Zelf.

For the word of the L

ord

is right and true; he is faithful in all he does.

Want wat de Heer zegt, is te vertrouwen. Aan alles wat Hij doet, is te zien dat Hij trouw is.

Whoever believes in me, as Scripture has said, rivers of living water will flow from within them.

Als je in Mij gelooft, zullen stromen van water dat leven geeft uit je binnenste stromen! Want dat is beloofd in de Boeken!

In God, whose word I praise— in God I trust and am not afraid. What can mere mortals do to me?

Ik vertrouw op U, mijn God, en ik prijs uw woord. Omdat ik op U vertrouw, hoef ik voor niemand bang te zijn. Wat zou een mens mij kunnen doen?

Like newborn babies, crave pure spiritual milk, so that by it you may grow up in your salvation.

Verlang naar het zuivere woord van Gods waarheid, net zoals pasgeboren baby's verlangen naar pure, onverdunde melk. Want daardoor zullen jullie opgroeien.

For the L

ord

gives wisdom; from his mouth come knowledge and understanding.

Want de Heer geeft wijsheid. Alles wat Hij zegt, is wijs en verstandig.

To the Jews who had believed him, Jesus said, "If you hold to my teaching, you are really my disciples. Then you will know the truth, and the truth will set you free."

Jezus zei tegen de Joden die in Hem geloofden: "Als jullie blijven geloven wat Ik zeg en doen wat Ik zeg, zijn jullie echte leerlingen van Mij. Dan zullen jullie de waarheid gaan begrijpen, en de waarheid zal jullie vrijmaken."

Therefore, get rid of all moral filth and the evil that is so prevalent and humbly accept the word planted in you, which can save you.

Doe dus niets meer wat ook maar een béétje verkeerd of slecht is. Luister liever goed naar het woord van God dat in jullie hart is gezaaid en wortels heeft gekregen. Want door het woord van God worden jullie gered.

You make your saving help my shield, and your right hand sustains me; your help has made me great. You provide a broad path for my feet, so that my ankles do not give way.

U beschermde me als een schild en U hielp mij. Dankzij uw goedheid ben ik machtig geworden. U heeft de weg voor mij gebaand. Ik kon gaan zonder te struikelen.

He humbled you, causing you to hunger and then feeding you with manna, which neither you nor your ancestors had known, to teach you that man does not live on bread alone but on every word that comes from the mouth of the L

ord

.

Hij wilde dat jullie ontzag voor Hem zouden leren hebben. Daarom liet Hij jullie honger lijden. Toen gaf Hij jullie manna, iets wat jullie en jullie voorouders nog nooit hadden gezien. Want Hij wilde dat jullie zouden begrijpen dat een mens niet alleen van brood leeft. Een mens leeft óók van elk woord dat God spreekt.

The Word became flesh and made his dwelling among us. We have seen his glory, the glory of the one and only Son, who came from the Father, full of grace and truth.

Het Woord werd een mens en Hij heeft bij ons gewoond. We hebben gezien hoe geweldig en machtig Hij is: Hij, Gods enige Zoon, met dezelfde macht als de Vader, liefdevol, vriendelijk, en vol van waarheid.

The Son is the radiance of God's glory and the exact representation of his being, sustaining all things by his powerful word. After he had provided purification for sins, he sat down at the right hand of the Majesty in heaven.

De Zoon is de 'afbeelding' van God Zelf. In Hem zien we wie God is. In Hem zien we de macht en majesteit van God en het karakter van God. De Zoon zorgt ervoor dat alle dingen bestaan. Want alle dingen bestaan door zijn woord dat één en al kracht is. Eerst heeft de Zoon ervoor gezorgd dat de mensen vergeving konden krijgen voor al hun ongehoorzaamheid aan God. Daarna is Hij naar de hemel gegaan. Daar zit Hij nu naast God op de troon.
Start children off on the way they should go, and even when they are old they will not turn from it.
Personal Bible reading plan
Create an account to configure your Bible reading plan and you will see your progress and the next chapter to read here!
Read more...