«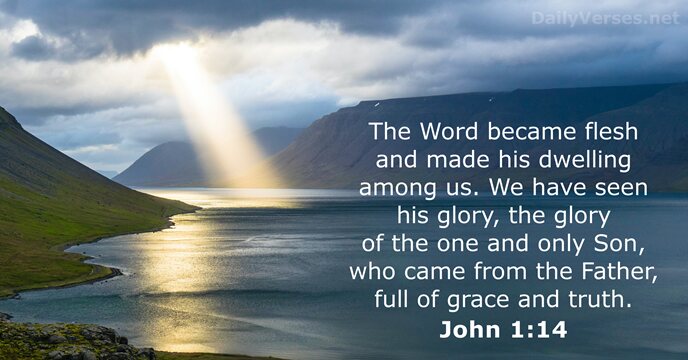 »
The Word became flesh and made his dwelling among us. We have seen his glory, the glory of the one and only Son, who came from the Father, full of grace and truth.

So is my word that goes out from my mouth:
It will not return to me empty,
but will accomplish what I desire
and achieve the purpose for which I sent it.

If you remain in me and my words remain in you, ask whatever you wish, and it will be done for you.

Every word of God is flawless;
he is a shield to those who take refuge in him.
My son, pay attention to what I say;
turn your ear to my words.
Do not let them out of your sight,
keep them within your heart.

Let the message of Christ dwell among you richly as you teach and admonish one another with all wisdom through psalms, hymns, and songs from the Spirit, singing to God with gratitude in your hearts.

I have hidden your word in my heart
that I might not sin against you.
As for God, his way is perfect:
The L

ord

's word is flawless;
he shields all who take refuge in him.
All your words are true;
all your righteous laws are eternal.

As Scripture says, "Anyone who believes in him will never be put to shame."

I wait for the L

ord

, my whole being waits,
and in his word I put my hope.

For you have been born again, not of perishable seed, but of imperishable, through the living and enduring word of God.

The law of the L

ord

is perfect,
refreshing the soul.
The statutes of the L

ord

are trustworthy,
making wise the simple.

The one who calls you is faithful, and he will do it.

The seed falling among the thorns refers to someone who hears the word, but the worries of this life and the deceitfulness of wealth choke the word, making it unfruitful.

Therefore say to them, 'This is what the Sovereign L

ord

says: None of my words will be delayed any longer; whatever I say will be fulfilled, declares the Sovereign L

ord

.'
Get wisdom, get understanding;
do not forget my words or turn away from them.
He sent out his word and healed them;
he rescued them from the grave.
Listen, my son, accept what I say,
and the years of your life will be many.

You are already clean because of the word I have spoken to you.

For truly I tell you, until heaven and earth disappear, not the smallest letter, not the least stroke of a pen, will by any means disappear from the Law until everything is accomplished.

I have not departed from the commands of his lips;
I have treasured the words of his mouth more than my daily bread.

Jesus answered, "My teaching is not my own. It comes from the one who sent me."

Those who accepted his message were baptized, and about three thousand were added to their number that day.

Here is a trustworthy saying:
If we died with him,
we will also live with him.
Each of us should please our neighbors for their good, to build them up.
Personal Bible reading plan
Create an account to configure your Bible reading plan and you will see your progress and the next chapter to read here!
Read more...