Bible Verses about Truth
«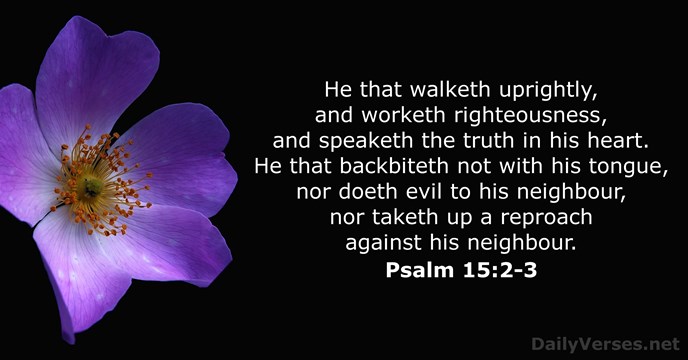 »
He that walketh uprightly, and worketh righteousness, and speaketh the truth in his heart. He that backbiteth not with his tongue, nor doeth evil to his neighbour, nor taketh up a reproach against his neighbour.

Mensen die eerlijk leven, mensen die doen wat goed is en zeggen wat waar is. Ze spreken geen kwaad over anderen. Ze behandelen iedereen goed, en ze beledigen niemand.

My little children, let us not love in word, neither in tongue; but in deed and in truth.

Vrienden, we moeten anderen laten merken dat we van hen houden. Niet door mooie woorden, maar door daden die Gods waarheid laten zien.

If we say that we have fellowship with him, and walk in darkness, we lie, and do not the truth.

Stel dat we zeggen dat we met God verbonden zijn, maar intussen blijven we leven in de duisternis. Dan liegen we, en leven we niet volgens Gods waarheid.

I have no greater joy than to hear that my children walk in truth.

Als ik hoor dat mijn leerlingen volgens Gods waarheid leven, geeft mij dat veel vreugde. Niets geeft mij meer vreugde dan dat!

Then said Jesus to those Jews which believed on him, If ye continue in my word, then are ye my disciples indeed; And ye shall know the truth, and the truth shall make you free.

Jezus zei tegen de Joden die in hem geloofden: 'Mijn boodschap moet in jullie hart zijn. Alleen dan zijn jullie echt mijn leerlingen. Dan zullen jullie de waarheid kennen, en daardoor zullen jullie bevrijd worden.'

Finally, brethren, whatsoever things are true, whatsoever things are honest, whatsoever things are just, whatsoever things are pure, whatsoever things are lovely, whatsoever things are of good report; if there be any virtue, and if there be any praise, think on these things.

Vrienden, tot slot wil ik zeggen waar jullie je mee bezig moeten houden. Houd je bezig met alles wat waar is, alles wat respect verdient, alles wat goed is en zuiver, alles wat het waard is om van te houden en alles wat eer verdient. Dat betekent in het kort: doe wat goed is en waarvoor je respect krijgt.

But speaking the truth in love, may grow up into him in all things, which is the head, even Christ.

Laten we trouw zijn aan de waarheid, en van elkaar houden. Want op die manier gaan we steeds meer op Christus lijken. Hij is het hoofd van de kerk.

Jesus saith unto him, I am the way, the truth, and the life: no man cometh unto the Father, but by me.

Jezus zei: 'Ik ben de weg. Bij mij is de waarheid, en bij mij is het leven. Je kunt alleen bij de Vader komen als je in mij gelooft.'

Study to shew thyself approved unto God, a workman that needeth not to be ashamed, rightly dividing the word of truth.

Doe je best om een betrouwbare dienaar van God te zijn. Zorg dat je je niet hoeft te schamen voor je werk. Vertel altijd eerlijk over de waarheid.

The lips of the righteous know what is acceptable: but the mouth of the wicked speaketh frowardness.

Goede mensen zeggen altijd de juiste dingen, maar slechte mensen vertellen alleen maar leugens.

Lead me in thy truth, and teach me: for thou art the God of my salvation; on thee do I wait all the day.

Leer me om trouw te zijn aan u, zeg me wat ik moet doen. Want u bent mijn God, u bent mijn redder. Ik hoop op uw hulp, elke dag weer.

Keep thy tongue from evil, and thy lips from speaking guile.

Vertel dan geen leugens over anderen. Zeg geen dingen die niet waar zijn.

Now faith is the substance of things hoped for, the evidence of things not seen.

Als we geloven, worden we gered. Dan wordt onze hoop werkelijkheid. En door ons geloof weten we zeker dat Gods hemelse wereld bestaat. Ook al kunnen we die nog niet zien.

God is a Spirit: and they that worship him must worship him in spirit and in truth.

God hoort bij de hemelse wereld. Alleen door de heilige Geest kun je God echt leren kennen. En alleen dan kun je hem op de juiste manier vereren.

I have chosen the way of truth: thy judgments have I laid before me.

Ik wil u altijd trouw zijn, altijd uw regels volgen.

Every word of God is pure: he is a shield unto them that put their trust in him.

God, u beschermt iedereen die u om hulp vraagt. Alles wat u zegt, is waar.

But above all things, my brethren, swear not, neither by heaven, neither by the earth, neither by any other oath: but let your yea be yea; and your nay, nay; lest ye fall into condemnation.

Vrienden, weten jullie wat het allerbelangrijkste is? Dat jullie nooit zeggen over iets: 'Dat is zo zeker als de Heer leeft!' En zeg ook nooit over iets: 'Dat is zo zeker als de hemel bestaat', of: 'Dat is zo zeker als de aarde bestaat'. Zeg ja als het ja is en zeg nee als het nee is. Anders zal God jullie straffen.

But the anointing which ye have received of him abideth in you, and ye need not that any man teach you: but as the same anointing teacheth you of all things, and is truth, and is no lie, and even as it hath taught you, ye shall abide in him.

Maar jullie hebben van Christus de heilige Geest gekregen, en die zal in jullie blijven. De Geest zelf zal jullie alles leren. Daarom hoeft niemand anders iets aan jullie te leren. Wat de Geest zegt, is waar. Hij bedriegt jullie niet. Blijf daarom verbonden met Christus, zoals de Geest jullie geleerd heeft.

Of his own will begat he us with the word of truth, that we should be a kind of firstfruits of his creatures.

Het was Gods besluit dat wij de waarheid over hem zouden horen. Hij besloot om nieuwe mensen van ons te maken. Want hij wil dat zijn nieuwe wereld met ons begint.

And we know that the Son of God is come, and hath given us an understanding, that we may know him that is true, and we are in him that is true, even in his Son Jesus Christ. This is the true God, and eternal life.

Wij weten dat Gods Zoon naar de wereld gekomen is. Hij heeft ons de ware God van dichtbij leren kennen. Wij zijn verbonden met de ware God omdat we verbonden zijn met zijn Zoon, Jezus Christus. Hij is de ware God, alleen bij hem is het eeuwige leven.

Put away from thee a froward mouth, and perverse lips put far from thee.

Vertel geen leugens, en bedrieg andere mensen niet.

For the word of the L

ord

is right; and all his works are done in truth.

Want wat de Heer zegt, is waar. Alles wat hij doet, is goed.

And the Word was made flesh, and dwelt among us, (and we beheld his glory, the glory as of the only begotten of the Father,) full of grace and truth.

Gods Zoon is een mens geworden. Hij heeft bij ons gewoond. In hem hebben wij Gods hemelse macht gezien. Hij is Gods enige Zoon, die bij de Vader vandaan gekomen is. In hem waren Gods liefde en trouw volledig aanwezig.

But when the Comforter is come, whom I will send unto you from the Father, even the Spirit of truth, which proceedeth from the Father, he shall testify of me.

Als ik bij de Vader ben, zal ik de heilige Geest naar jullie toe sturen. Hij zal jullie helper zijn, die bij de Vader vandaan komt. Hij zal aan jullie de waarheid over mij bekendmaken.

Nevertheless I tell you the truth; It is expedient for you that I go away: for if I go not away, the Comforter will not come unto you; but if I depart, I will send him unto you.

Luister, dit is de waarheid: het is alleen maar goed voor jullie dat ik wegga. Want anders kan jullie helper, de heilige Geest, niet komen. Ik zal hem naar jullie toe sturen als ik bij God ben.
Beware of false prophets, which come to you in sheep's clothing, but inwardly they are ravening wolves.
Personal Bible reading plan
Create an account to configure your Bible reading plan and you will see your progress and the next chapter to read here!
Read more...