Versículos de la Biblia sobre la Bendición
«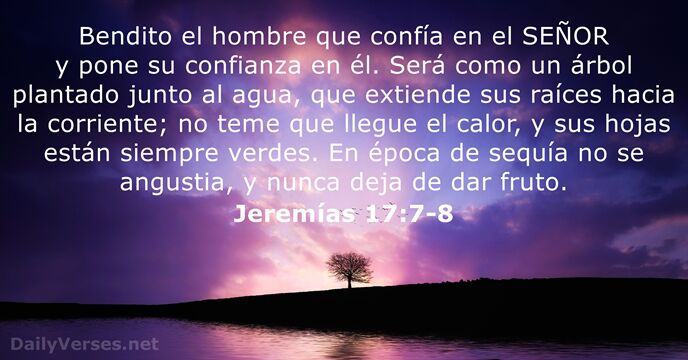 »
Bendito el hombre que confía en el S

eñor

y pone su confianza en él. Será como un árbol plantado junto al agua, que extiende sus raíces hacia la corriente; no teme que llegue el calor, y sus hojas están siempre verdes. En época de sequía no se angustia, y nunca deja de dar fruto.
Blessed is the man that trusteth in the L

ord

, and whose hope the L

ord

is. For he shall be as a tree planted by the waters, and that spreadeth out her roots by the river, and shall not see when heat cometh, but her leaf shall be green; and shall not be careful in the year of drought, neither shall cease from yielding fruit.
El S

eñor

te bendiga y te guarde; el S

eñor

te mire con agrado y te extienda su amor; el S

eñor

te muestre su favor y te conceda la paz.
The L

ord

bless thee, and keep thee: The L

ord

make his face shine upon thee, and be gracious unto thee: The L

ord

lift up his countenance upon thee, and give thee peace.

Que te conceda lo que tu corazón desea; que haga que se cumplan todos tus planes.

Grant thee according to thine own heart, and fulfil all thy counsel.

Pon en manos del S

eñor

todas tus obras, y tus proyectos se cumplirán.
Commit thy works unto the L

ord

, and thy thoughts shall be established.
Porque yo sé muy bien los planes que tengo para ustedes —afirma el S

eñor

—, planes de bienestar y no de calamidad, a fin de darles un futuro y una esperanza.
For I know the thoughts that I think toward you, saith the L

ord

, thoughts of peace, and not of evil, to give you an expected end.

Así que mi Dios les proveerá de todo lo que necesiten, conforme a las gloriosas riquezas que tiene en Cristo Jesús.

But my God shall supply all your need according to his riches in glory by Christ Jesus.

Adora al S

eñor

tu Dios, y él bendecirá tu pan y tu agua. Yo apartaré de ustedes toda enfermedad.
And ye shall serve the L

ord

your God, and he shall bless thy bread, and thy water; and I will take sickness away from the midst of thee.
Prueben y vean que el S

eñor

es bueno; dichosos los que en él se refugian.
O taste and see that the L

ord

is good: blessed is the man that trusteth in him.
Hoy te ordeno que ames al S

eñor

tu Dios, que andes en sus caminos, y que cumplas sus mandamientos, preceptos y leyes. Así vivirás y te multiplicarás, y el S

eñor

tu Dios te bendecirá en la tierra de la que vas a tomar posesión.
In that I command thee this day to love the L

ord

thy God, to walk in his ways, and to keep his commandments and his statutes and his judgments, that thou mayest live and multiply: and the L

ord

thy God shall bless thee in the land whither thou goest to possess it.
El S

eñor

es mi pastor, nada me falta; en verdes pastos me hace descansar. Junto a tranquilas aguas me conduce.
The L

ord

is my shepherd; I shall not want. He maketh me to lie down in green pastures: he leadeth me beside the still waters.

Bendigan a quienes los persigan; bendigan y no maldigan.

Bless them which persecute you: bless, and curse not.

El que atiende a la palabra prospera. ¡Dichoso el que confía en el S

eñor

!
He that handleth a matter wisely shall find good: and whoso trusteth in the L

ord

, happy is he.

Cuán grande es tu bondad, que atesoras para los que te temen, y que a la vista de la gente derramas sobre los que en ti se refugian.

Oh how great is thy goodness, which thou hast laid up for them that fear thee; which thou hast wrought for them that trust in thee before the sons of men!

Pero a ustedes que me escuchan les digo: Amen a sus enemigos, hagan bien a quienes los odian, bendigan a quienes los maldicen, oren por quienes los maltratan.

But I say unto you which hear, Love your enemies, do good to them which hate you, Bless them that curse you, and pray for them which despitefully use you.

Que la gracia del Señor Jesucristo sea con su espíritu.

The grace of our Lord Jesus Christ be with your spirit. Amen.

No devuelvan mal por mal ni insulto por insulto; más bien, bendigan, porque para esto fueron llamados, para heredar una bendición.

Not rendering evil for evil, or railing for railing: but contrariwise blessing; knowing that ye are thereunto called, that ye should inherit a blessing.

En cambio, el fruto del Espíritu es amor, alegría, paz, paciencia, amabilidad, bondad, fidelidad, humildad y dominio propio. No hay ley que condene estas cosas.

But the fruit of the Spirit is love, joy, peace, longsuffering, gentleness, goodness, faith, Meekness, temperance: against such there is no law.

Si realmente escuchas al S

eñor

tu Dios, y cumples fielmente todos estos mandamientos que hoy te ordeno, el S

eñor

tu Dios te pondrá por encima de todas las naciones de la tierra.
And it shall come to pass, if thou shalt hearken diligently unto the voice of the L

ord

thy God, to observe and to do all his commandments which I command thee this day, that the L

ord

thy God will set thee on high above all nations of the earth.

Dichosos los que tienen hambre y sed de justicia, porque serán saciados.

Blessed are they which do hunger and thirst after righteousness: for they shall be filled.

Que la gracia del Señor Jesucristo sea con su espíritu. Amén.

The grace of our Lord Jesus Christ be with you all. Amen.

La bendición del S

eñor

trae riquezas, y nada se gana con preocuparse.
The blessing of the L

ord

, it maketh rich, and he addeth no sorrow with it.
Traigan íntegro el diezmo para los fondos del templo, y así habrá alimento en mi casa. Pruébenme en esto —dice el S

eñor

Todopoderoso—, y vean si no abro las compuertas del cielo y derramo sobre ustedes bendición hasta que sobreabunde.
Bring ye all the tithes into the storehouse, that there may be meat in mine house, and prove me now herewith, saith the L

ord

of hosts, if I will not open you the windows of heaven, and pour you out a blessing, that there shall not be room enough to receive it.

Dichosos los que trabajan por la paz, porque serán llamados hijos de Dios.

Blessed are the peacemakers: for they shall be called the children of God.

Querido hermano, oro para que te vaya bien en todos tus asuntos y goces de buena salud, así como prosperas espiritualmente.

Beloved, I wish above all things that thou mayest prosper and be in health, even as thy soul prospereth.

Dichosos los que guardan sus estatutos y de todo corazón lo buscan.

Blessed are they that keep his testimonies, and that seek him with the whole heart.
Humíllense, pues, bajo la poderosa mano de Dios, para que él los exalte a su debido tiempo.
Plan de lectura de la Biblia
Registrar y configurar su plan de lectura de la Biblia que desea ver su progreso y el siguiente capítulo para leer aquí!