«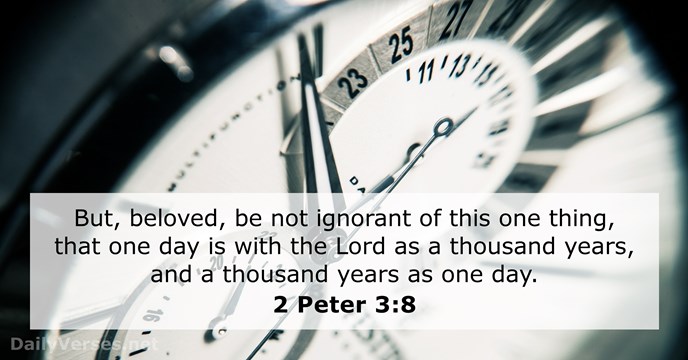 »
But, beloved, be not ignorant of this one thing, that one day is with the Lord as a thousand years, and a thousand years as one day.

Eins dürft ihr dabei nicht übersehen, liebe Geschwister: Für den Herrn ist das, was ‹für uns› ein Tag ist, wie tausend Jahre; und was ‹für uns› tausend Jahre sind, ist ‹für ihn› wie ein einziger Tag.

God shall bless us; and all the ends of the earth shall fear him.

Gott wird uns segnen, und fürchten wird ihn die ganze Welt.

Blessed is the nation whose God is the L

ord

; and the people whom he hath chosen for his own inheritance.

Wie glücklich das Volk, das Jahwe zum Gott hat, das Volk, das er sich als seines erwählte!

The grace of the Lord Jesus Christ, and the love of God, and the communion of the Holy Ghost, be with you all. Amen.

Die Gnade unseres Herrn Jesus Christus und die Liebe Gottes und die Gemeinschaft des Heiligen Geistes sei mit euch allen!

Then he answered and spake unto me, saying, This is the word of the L

ord

unto Zerubbabel, saying, Not by might, nor by power, but by my spirit, saith the L

ord

of hosts.

Da gab er mir folgende Auskunft: "So lautet das Wort Jahwes an Serubbabel: 'Nicht durch Heeresmacht und menschliche Gewalt wird es geschehen, sondern durch meinen Geist', spricht Jahwe, der allmächtige Gott."

Let every soul be subject unto the higher powers. For there is no power but of God: the powers that be are ordained of God.

Jeder soll sich den Trägern der staatlichen Gewalt unterordnen. Denn alle staatliche Gewalt kommt von Gott, und jede Regierung ist von Gott eingesetzt.

He revealeth the deep and secret things: he knoweth what is in the darkness, and the light dwelleth with him.

Er offenbart auch das, was tief verborgen ist, und weiß, was in der Finsternis wohnt. Doch ihn selbst umstrahlt das Licht.

Hear, O Israel: The L

ord

our God is one L

ord

: And thou shalt love the L

ord

thy God with all thine heart, and with all thy soul, and with all thy might.

Höre Israel: Jahwe ist unser Gott, Jahwe allein! Und du sollst Jahwe, deinen Gott, mit ganzem Herzen lieben, mit ganzer Seele und ganzer Kraft.

Touching the Almighty, we cannot find him out: he is excellent in power, and in judgment, and in plenty of justice: he will not afflict.

Den Allmächtigen begreifen wir nicht. Er ist erhaben an Kraft und Gerechtigkeit; das Recht beugt er nicht.

And God said, Let us make man in our image, after our likeness: and let them have dominion over the fish of the sea, and over the fowl of the air, and over the cattle, and over all the earth, and over every creeping thing that creepeth upon the earth.

Dann sprach Gott: "Lasst uns Menschen machen als Abbild von uns, uns ähnlich. Sie sollen über die Fische im Meer herrschen, über die Vögel am Himmel und über die Landtiere, über die ganze Erde und alles, was auf ihr kriecht!"

Now unto the King eternal, immortal, invisible, the only wise God, be honour and glory for ever and ever. Amen.

Dem König der Ewigkeit, dem unvergänglichen, unsichtbaren, alleinigen Gott, gebührt Ehre und Herrlichkeit für immer und ewig! Amen.

Yet I am the L

ord

thy God from the land of Egypt, and thou shalt know no god but me: for there is no saviour beside me.

Doch ich bin Jahwe, dein Gott, schon seit der Zeit in Ägypten. Du kennst keinen Gott außer mir, und es gibt keinen anderen Retter.

So God created man in his own image, in the image of God created he him; male and female created he them.

Da schuf Gott den Menschen nach seinem Bild, er schuf ihn als sein Ebenbild, als Mann und Frau schuf er sie.

For a thousand years in thy sight are but as yesterday when it is past, and as a watch in the night.

Denn tausend Jahre sind für dich wie der Tag, der gestern verging, und wie eine Wache in der Nacht.

And I will sanctify my great name, which was profaned among the heathen, which ye have profaned in the midst of them; and the heathen shall know that I am the L

ord

, saith the Lord G

od

, when I shall be sanctified in you before their eyes.

Ich werde meinen großen Namen, den ihr unter den Völkern entweiht habt, wieder zu Ehren bringen. Und wenn ich mich vor den Augen der Völker an euch als heilig erweise, werden auch sie erkennen, dass ich es bin - Jahwe, spricht Jahwe, der Herr.

For who is God, save the L

ord

? and who is a rock, save our God?

Ja, wer ist Gott, wenn nicht Jahwe! Wer ist ein Fels, wenn nicht unser Gott!

It is he that buildeth his stories in the heaven, and hath founded his troop in the earth; he that calleth for the waters of the sea, and poureth them out upon the face of the earth: The L

ord

is his name.

Er hat das Himmelsgewölbe über der Erde gegründet und sich droben im Himmel seine Wohnung gebaut. Er ruft das Wasser aus dem Meer, und es regnet auf die Erde herab. Sein Name ist Jahwe.

I will be glad and rejoice in thee: I will sing praise to thy name, O thou most High.

Ich will jubeln und mich freuen an dir, will besingen deinen Namen, du Höchster!

Therefore shall ye keep my commandments, and do them: I am the L

ord

.

Beachtet und befolgt meine Gebote! Ich bin Jahwe!

But God hath revealed them unto us by his Spirit: for the Spirit searcheth all things, yea, the deep things of God.

Denn durch seinen Geist hat Gott uns dieses Geheimnis offenbart. Der Geist ergründet nämlich alles, auch das, was in den Tiefen Gottes verborgen ist.

God is not a man, that he should lie; neither the son of man, that he should repent: hath he said, and shall he not do it? or hath he spoken, and shall he not make it good?

Gott ist ja kein Mensch, der lügt, kein Menschensohn, der etwas bereut. Wenn er etwas sagt, dann tut er es auch, und was er verspricht, das hält er gewiss.

But our God is in the heavens: he hath done whatsoever he hath pleased.

Unser Gott ist im Himmel, und was er will, das macht er auch.
I will extol thee, my God, O king; and I will bless thy name for ever and ever.
Personal Bible reading plan
Create an account to configure your Bible reading plan and you will see your progress and the next chapter to read here!
Read more...