Bible Verses about the Holy Spirit
«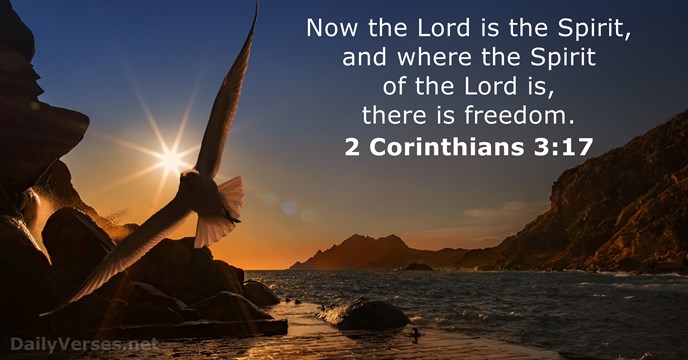 »
| | |
| --- | --- |
| Now the Lord is the Spirit, and where the Spirit of the Lord is, there is freedom. | Ahora bien, el Señor es el Espíritu; y, donde está el Espíritu del Señor, allí hay libertad. |
| May the God of hope fill you with all joy and peace as you trust in him, so that you may overflow with hope by the power of the Holy Spirit. | Que el Dios de la esperanza los llene de toda alegría y paz a ustedes que creen en él, para que rebosen de esperanza por el poder del Espíritu Santo. |
| Do you not know that your bodies are temples of the Holy Spirit, who is in you, whom you have received from God? You are not your own; you were bought at a price. Therefore honor God with your bodies. | ¿Acaso no saben que su cuerpo es templo del Espíritu Santo, quien está en ustedes y al que han recibido de parte de Dios? Ustedes no son sus propios dueños; fueron comprados por un precio. Por tanto, honren con su cuerpo a Dios. |
| And I will ask the Father, and he will give you another advocate to help you and be with you forever. | Y yo le pediré al Padre, y él les dará otro Consolador para que los acompañe siempre. |
| But the Advocate, the Holy Spirit, whom the Father will send in my name, will teach you all things and will remind you of everything I have said to you. | Pero el Consolador, el Espíritu Santo, a quien el Padre enviará en mi nombre, les enseñará todas las cosas y les hará recordar todo lo que les he dicho. |
| They saw what seemed to be tongues of fire that separated and came to rest on each of them. All of them were filled with the Holy Spirit and began to speak in other tongues as the Spirit enabled them. | Se les aparecieron entonces unas lenguas como de fuego que se repartieron y se posaron sobre cada uno de ellos. Todos fueron llenos del Espíritu Santo y comenzaron a hablar en diferentes lenguas, según el Espíritu les concedía expresarse. |
| Don't you know that you yourselves are God's temple and that God's Spirit dwells in your midst? | ¿No saben que ustedes son templo de Dios y que el Espíritu de Dios habita en ustedes? |
| And hope does not put us to shame, because God's love has been poured out into our hearts through the Holy Spirit, who has been given to us. | Y esta esperanza no nos defrauda, porque Dios ha derramado su amor en nuestro corazón por el Espíritu Santo que nos ha dado. |
| If you then, though you are evil, know how to give good gifts to your children, how much more will your Father in heaven give the Holy Spirit to those who ask him! | Pues, si ustedes, aun siendo malos, saben dar cosas buenas a sus hijos, ¡cuánto más el Padre celestial dará el Espíritu Santo a quienes se lo pidan! |
| And do not grieve the Holy Spirit of God, with whom you were sealed for the day of redemption. | No agravien al Espíritu Santo de Dios, con el cual fueron sellados para el día de la redención. |
| But you will receive power when the Holy Spirit comes on you; and you will be my witnesses in Jerusalem, and in all Judea and Samaria, and to the ends of the earth. | Pero, cuando venga el Espíritu Santo sobre ustedes, recibirán poder y serán mis testigos tanto en Jerusalén como en toda Judea y Samaria, y hasta los confines de la tierra. |
| After they prayed, the place where they were meeting was shaken. And they were all filled with the Holy Spirit and spoke the word of God boldly. | Después de haber orado, tembló el lugar en que estaban reunidos; todos fueron llenos del Espíritu Santo, y proclamaban la palabra de Dios sin temor alguno. |
| Therefore go and make disciples of all nations, baptizing them in the name of the Father and of the Son and of the Holy Spirit, and teaching them to obey everything I have commanded you. And surely I am with you always, to the very end of the age. | Por tanto, vayan y hagan discípulos de todas las naciones, bautizándolos en el nombre del Padre y del Hijo y del Espíritu Santo, enseñándoles a obedecer todo lo que les he mandado a ustedes. Y les aseguro que estaré con ustedes siempre, hasta el fin del mundo. |
| But you, dear friends, by building yourselves up in your most holy faith and praying in the Holy Spirit, keep yourselves in God's love as you wait for the mercy of our Lord Jesus Christ to bring you to eternal life. | Ustedes, en cambio, queridos hermanos, manténganse en el amor de Dios, edificándose sobre la base de su santísima fe y orando en el Espíritu Santo, mientras esperan que nuestro Señor Jesucristo, en su misericordia, les conceda vida eterna. |
| For who knows a person's thoughts except their own spirit within them? In the same way no one knows the thoughts of God except the Spirit of God. | En efecto, ¿quién conoce los pensamientos del ser humano sino su propio espíritu que está en él? Así mismo, nadie conoce los pensamientos de Dios sino el Espíritu de Dios. |
| Peter replied, "Repent and be baptized, every one of you, in the name of Jesus Christ for the forgiveness of your sins. And you will receive the gift of the Holy Spirit." | Arrepiéntase y bautícese cada uno de ustedes en el nombre de Jesucristo para perdón de sus pecados —les contestó Pedro—, y recibirán el don del Espíritu Santo. |
| And I will put my Spirit in you and move you to follow my decrees and be careful to keep my laws. | Infundiré mi Espíritu en ustedes, y haré que sigan mis preceptos y obedezcan mis leyes. |
| We are witnesses of these things, and so is the Holy Spirit, whom God has given to those who obey him. | Nosotros somos testigos de estos acontecimientos, y también lo es el Espíritu Santo que Dios ha dado a quienes le obedecen. |
| When the Advocate comes, whom I will send to you from the Father—the Spirit of truth who goes out from the Father—he will testify about me. | Cuando venga el Consolador, que yo les enviaré de parte del Padre, el Espíritu de verdad que procede del Padre, él testificará acerca de mí. |
| Whenever you are arrested and brought to trial, do not worry beforehand about what to say. Just say whatever is given you at the time, for it is not you speaking, but the Holy Spirit. | Y, cuando los arresten y los sometan a juicio, no se preocupen de antemano por lo que van a decir. Solo declaren lo que se les dé a decir en ese momento, porque no serán ustedes los que hablen, sino el Espíritu Santo. |
| On hearing this, they were baptized in the name of the Lord Jesus. When Paul placed his hands on them, the Holy Spirit came on them, and they spoke in tongues and prophesied. | Al oír esto, fueron bautizados en el nombre del Señor Jesús. Cuando Pablo les impuso las manos, el Espíritu Santo vino sobre ellos, y empezaron a hablar en lenguas y a profetizar. |
| Teach me to do your will, for you are my God; may your good Spirit lead me on level ground. | Enséñame a hacer tu voluntad, porque tú eres mi Dios. Que tu buen Espíritu me guíe por un terreno sin obstáculos. |
| While they were worshiping the Lord and fasting, the Holy Spirit said, "Set apart for me Barnabas and Saul for the work to which I have called them." | Mientras ayunaban y participaban en el culto al Señor, el Espíritu Santo dijo: «Apártenme ahora a Bernabé y a Saulo para el trabajo al que los he llamado». |
| May the grace of the Lord Jesus Christ, and the love of God, and the fellowship of the Holy Spirit be with you all. | Que la gracia del Señor Jesucristo, el amor de Dios y la comunión del Espíritu Santo sean con todos ustedes. |
| For prophecy never had its origin in the human will, but prophets, though human, spoke from God as they were carried along by the Holy Spirit. | Porque la profecía no ha tenido su origen en la voluntad humana, sino que los profetas hablaron de parte de Dios, impulsados por el Espíritu Santo. |
But the fruit of the Spirit is love, joy, peace, forbearance, kindness, goodness, faithfulness, gentleness and self-control. Against such things there is no law.
Personal Bible reading plan
Create an account to configure your Bible reading plan and you will see your progress and the next chapter to read here!
Read more...