Bible Verses about Jesus (7/7)
«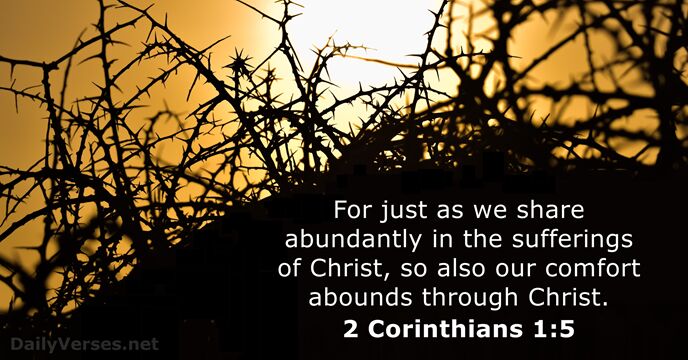 »
For just as we share abundantly in the sufferings of Christ, so also our comfort abounds through Christ.

After he said this, he was taken up before their very eyes, and a cloud hid him from their sight.

You call me 'Teacher' and 'Lord,' and rightly so, for that is what I am.

When he had led them out to the vicinity of Bethany, he lifted up his hands and blessed them. While he was blessing them, he left them and was taken up into heaven.

While they were there, the time came for the baby to be born, and she gave birth to her firstborn, a son. She wrapped him in cloths and placed him in a manger, because there was no guest room available for them.

How much more, then, will the blood of Christ, who through the eternal Spirit offered himself unblemished to God, cleanse our consciences from acts that lead to death, so that we may serve the living God!

The crowds that went ahead of him and those that followed shouted,
"Hosanna to the Son of David!"
"Blessed is he who comes in the name of the Lord!"
"Hosanna in the highest heaven!"

I do not set aside the grace of God, for if righteousness could be gained through the law, Christ died for nothing!

Above his head they placed the written charge against him: this is jesus, the king of the jews.

But in fact the ministry Jesus has received is as superior to theirs as the covenant of which he is mediator is superior to the old one, since the new covenant is established on better promises.

Paul said, "John's baptism was a baptism of repentance. He told the people to believe in the one coming after him, that is, in Jesus."

Beyond all question, the mystery from which true godliness springs is great:
He appeared in the flesh,
was vindicated by the Spirit,
was seen by angels,
was preached among the nations,
was believed on in the world,
was taken up in glory.

Just as the living Father sent me and I live because of the Father, so the one who feeds on me will live because of me.

I am the living bread that came down from heaven. Whoever eats this bread will live forever. This bread is my flesh, which I will give for the life of the world.

Anyone who speaks a word against the Son of Man will be forgiven, but anyone who speaks against the Holy Spirit will not be forgiven, either in this age or in the age to come.

Just as a body, though one, has many parts, but all its many parts form one body, so it is with Christ.

When God raised up his servant, he sent him first to you to bless you by turning each of you from your wicked ways.

Jesus said, "I am with you for only a short time, and then I am going to the one who sent me."

And he took bread, gave thanks and broke it, and gave it to them, saying, "This is my body given for you; do this in remembrance of me."

The angel answered, "The Holy Spirit will come on you, and the power of the Most High will overshadow you. So the holy one to be born will be called the Son of God."

Jesus said, "Do not hold on to me, for I have not yet ascended to the Father. Go instead to my brothers and tell them, 'I am ascending to my Father and your Father, to my God and your God.'"

Whoever eats my flesh and drinks my blood remains in me, and I in them.

But you, Bethlehem Ephrathah,
though you are small among the clans of Judah,
out of you will come for me
one who will be ruler over Israel,
whose origins are from of old,
from ancient times.
The righteous person may have many troubles, but the Lord delivers him from them all.
Personal Bible reading plan
Create an account to configure your Bible reading plan and you will see your progress and the next chapter to read here!
Read more...