«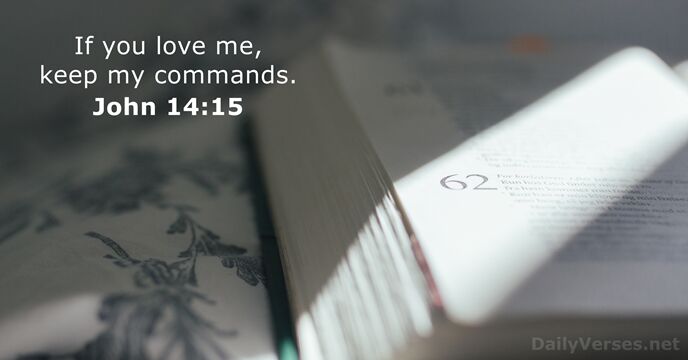 »
All who sin apart from the law will also perish apart from the law, and all who sin under the law will be judged by the law.

Porque todos os que sem lei pecaram sem lei também perecerão; e todos os que sob a lei pecaram pela lei serão julgados.

If you love me, keep my commands.

Se me amardes, guardareis os meus mandamentos.

For sin shall no longer be your master, because you are not under the law, but under grace.

Porque o pecado não terá domínio sobre vós, pois não estais debaixo da lei, mas debaixo da graça.

What shall we say, then? Is the law sinful? Certainly not! Nevertheless, I would not have known what sin was had it not been for the law. For I would not have known what coveting really was if the law had not said, "You shall not covet."

Que diremos, pois? É a lei pecado? De modo nenhum! Mas eu não conheci o pecado senão pela lei; porque eu não conheceria a concupiscência, se a lei não dissesse: Não cobiçarás.

Christ is the culmination of the law so that there may be righteousness for everyone who believes.

Porque o fim da lei é Cristo para justiça de todo aquele que crê.

The wise in heart accept commands, but a chattering fool comes to ruin.

O sábio de coração aceita os mandamentos, mas o louco palrador será transtornado.

The commandments, "You shall not commit adultery," "You shall not murder," "You shall not steal," "You shall not covet," and whatever other command there may be, are summed up in this one command: "Love your neighbor as yourself."

Com efeito: Não adulterarás, não matarás, não furtarás, não darás falso testemunho, não cobiçarás, e, se há algum outro mandamento, tudo nesta palavra se resume: Amarás ao teu próximo como a ti mesmo.

The sting of death is sin, and the power of sin is the law.

Ora, o aguilhão da morte é o pecado, e a força do pecado é a lei.

Do not judge, or you too will be judged.

Não julgueis, para que não sejais julgados.

Love does no harm to a neighbor. Therefore love is the fulfillment of the law.

O amor não faz mal ao próximo; de sorte que o cumprimento da lei é o amor.
Observe what the L

ord

your God requires: Walk in obedience to him, and keep his decrees and commands, his laws and regulations, as written in the Law of Moses. Do this so that you may prosper in all you do and wherever you go.
E guarda a observância do S

enhor

, teu Deus, para andares nos seus caminhos e para guardares os seus estatutos, e os seus mandamentos, e os seus juízos, e os seus testemunhos, como está escrito na Lei de Moisés, para que prosperes em tudo quanto fizeres, para onde quer que te voltares.
Blessed are those whose ways are blameless, who walk according to the law of the L

ord

.
Bem-aventurados os que trilham caminhos retos e andam na lei do S

enhor

.
I am the L

ord

your God; follow my decrees and be careful to keep my laws. Keep my Sabbaths holy, that they may be a sign between us. Then you will know that I am the L

ord

your God.
Eu sou o S

enhor

, vosso Deus; andai nos meus estatutos, e guardai os meus juízos, e executai-os. E santificai os meus sábados, e servirão de sinal entre mim e vós, para que saibais que eu sou o S

enhor

, vosso Deus.

Therefore, my friends, I want you to know that through Jesus the forgiveness of sins is proclaimed to you. Through him everyone who believes is set free from every sin, a justification you were not able to obtain under the law of Moses.

Seja-vos, pois, notório, varões irmãos, que por este se vos anuncia a remissão dos pecados. E de tudo o que, pela lei de Moisés, não pudestes ser justificados, por ele é justificado todo aquele que crê.

So again I ask, does God give you his Spirit and work miracles among you by the works of the law, or by your believing what you heard?

Aquele, pois, que vos dá o Espírito e que opera maravilhas entre vós o faz pelas obras da lei ou pela pregação da fé?

My son, do not forget my teaching, but keep my commands in your heart, for they will prolong your life many years and bring you peace and prosperity.

Filho meu, não te esqueças da minha lei, e o teu coração guarde os meus mandamentos. Porque eles aumentarão os teus dias e te acrescentarão anos de vida e paz.

Know therefore that the L

ord

your God is God; he is the faithful God, keeping his covenant of love to a thousand generations of those who love him and keep his commandments.
Saberás, pois, que o S

enhor

, teu Deus, é Deus, o Deus fiel, que guarda o concerto e a misericórdia até mil gerações aos que o amam e guardam os seus mandamentos.

Great peace have those who love your law, and nothing can make them stumble.

Muita paz têm os que amam a tua lei, e para eles não há tropeço.

Your statutes are my heritage forever; they are the joy of my heart.

Os teus testemunhos tenho eu tomado por herança para sempre, pois são o gozo do meu coração.

Whoever has my commands and keeps them is the one who loves me. The one who loves me will be loved by my Father, and I too will love them and show myself to them.

Aquele que tem os meus mandamentos e os guarda, este é o que me ama; e aquele que me ama será amado de meu Pai, e eu o amarei e me manifestarei a ele.

For this reason Christ is the mediator of a new covenant, that those who are called may receive the promised eternal inheritance—now that he has died as a ransom to set them free from the sins committed under the first covenant.

E, por isso, é Mediador de um novo testamento, para que, intervindo a morte para remissão das transgressões que havia debaixo do primeiro testamento, os chamados recebam a promessa da herança eterna.

'You shall not murder, you shall not commit adultery, you shall not steal, you shall not give false testimony, honor your father and mother,' and 'love your neighbor as yourself.'

Não matarás, não cometerás adultério, não furtarás, não dirás falso testemunho; honra teu pai e tua mãe, e amarás o teu próximo como a ti mesmo.

But whoever looks intently into the perfect law that gives freedom, and continues in it—not forgetting what they have heard, but doing it—they will be blessed in what they do.

Aquele, porém, que atenta bem para a lei perfeita da liberdade e nisso persevera, não sendo ouvinte esquecido, mas fazedor da obra, este tal será bem-aventurado no seu feito.

He answered, 'Love the Lord your God with all your heart and with all your soul and with all your strength and with all your mind'; and, 'Love your neighbor as yourself.'

E, respondendo ele, disse: Amarás ao Senhor, teu Deus, de todo o teu coração, e de toda a tua alma, e de todas as tuas forças, e de todo o teu entendimento e ao teu próximo como a ti mesmo.

Therefore, there is now no condemnation for those who are in Christ Jesus, because through Christ Jesus the law of the Spirit who gives life has set you free from the law of sin and death.

Portanto, agora, nenhuma condenação há para os que estão em Cristo Jesus, que não andam segundo a carne, mas segundo o espírito. Porque a lei do Espírito de vida, em Cristo Jesus, me livrou da lei do pecado e da morte.
Start children off on the way they should go, and even when they are old they will not turn from it.
Personal Bible reading plan
Create an account to configure your Bible reading plan and you will see your progress and the next chapter to read here!
Read more...