Bible Verses about Salvation
«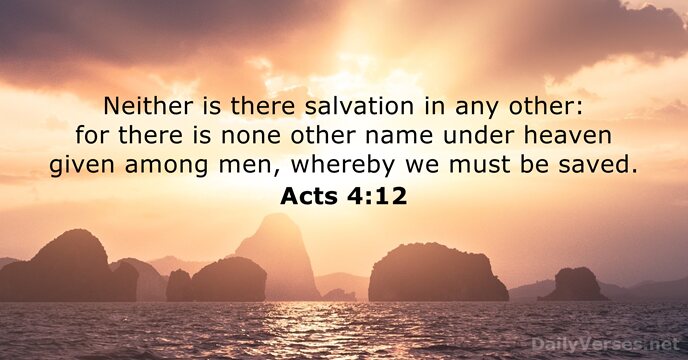 »
Neither is there salvation in any other: for there is none other name under heaven given among men, whereby we must be saved.

Y en ningún otro hay salvación, porque no hay otro nombre bajo el cielo, dado a los hombres, en que podamos ser salvos.

And they said, Believe on the Lord Jesus Christ, and thou shalt be saved, and thy house.

Ellos dijeron: —Cree en el Señor Jesucristo, y serás salvo tú y tu casa.

Who hath saved us, and called us with an holy calling, not according to our works, but according to his own purpose and grace, which was given us in Christ Jesus before the world began.

Él nos salvó y llamó con llamamiento santo, no conforme a nuestras obras, sino según el propósito suyo y la gracia que nos fue dada en Cristo Jesús antes de los tiempos de los siglos.

Truly my soul waiteth upon God: from him cometh my salvation.

En Dios solamente descansa mi alma; de él viene mi salvación.

And it shall come to pass, that whosoever shall call on the name of the Lord shall be saved.

Y todo aquel que invoque el nombre del Señor, será salvo.

Know ye not that the unrighteous shall not inherit the kingdom of God? Be not deceived: neither fornicators, nor idolaters, nor adulterers, nor effeminate, nor abusers of themselves with mankind, Nor thieves, nor covetous, nor drunkards, nor revilers, nor extortioners, shall inherit the kingdom of God.

¿No sabéis que los injustos no heredarán el reino de Dios? No os engañéis: ni los fornicarios, ni los idólatras, ni los adúlteros, ni los afeminados, ni los homosexuales, ni los ladrones, ni los avaros, ni los borrachos, ni los maldicientes, ni los estafadores, heredarán el reino de Dios.

For with the heart man believeth unto righteousness; and with the mouth confession is made unto salvation.

Porque con el corazón se cree para justicia, pero con la boca se confiesa para salvación.

For the grace of God that bringeth salvation hath appeared to all men, Teaching us that, denying ungodliness and worldly lusts, we should live soberly, righteously, and godly, in this present world.

La gracia de Dios se ha manifestado para salvación a toda la humanidad, y nos enseña que, renunciando a la impiedad y a los deseos mundanos, vivamos en este siglo sobria, justa y piadosamente.

For the Son of man is come to seek and to save that which was lost.

Porque el Hijo del hombre vino a buscar y a salvar lo que se había perdido.

The Lord is not slack concerning his promise, as some men count slackness; but is longsuffering to us-ward, not willing that any should perish, but that all should come to repentance.

El Señor no retarda su promesa, según algunos la tienen por tardanza, sino que es paciente para con nosotros, no queriendo que ninguno perezca, sino que todos procedan al arrepentimiento.

And he said, The things which are impossible with men are possible with God.

Él les dijo: —Lo que es imposible para los hombres, es posible para Dios.

He that believeth and is baptized shall be saved; but he that believeth not shall be damned.

El que crea y sea bautizado, será salvo; pero el que no crea, será condenado.

Enter ye in at the strait gate: for wide is the gate, and broad is the way, that leadeth to destruction, and many there be which go in thereat: Because strait is the gate, and narrow is the way, which leadeth unto life, and few there be that find it.

Entrad por la puerta angosta, porque ancha es la puerta y espacioso el camino que lleva a la perdición, y muchos son los que entran por ella; pero angosta es la puerta y angosto el camino que lleva a la vida, y pocos son los que la hallan.

Whom having not seen, ye love; in whom, though now ye see him not, yet believing, ye rejoice with joy unspeakable and full of glory: Receiving the end of your faith, even the salvation of your souls.

Vosotros, que lo amáis sin haberlo visto, creyendo en él aunque ahora no lo veáis, os alegráis con gozo inefable y glorioso, obteniendo el fin de vuestra fe, que es la salvación de vuestras almas.

So Christ was once offered to bear the sins of many; and unto them that look for him shall he appear the second time without sin unto salvation.

Así también Cristo fue ofrecido una sola vez para llevar los pecados de muchos; y aparecerá por segunda vez, sin relación con el pecado, para salvar a los que lo esperan.

For so hath the Lord commanded us, saying, I have set thee to be a light of the Gentiles, that thou shouldest be for salvation unto the ends of the earth.

Porque así nos ha mandado el Señor, diciendo: "Te he puesto para luz de los gentiles, a fin de que seas para salvación hasta lo último de la tierra."

For as in Adam all die, even so in Christ shall all be made alive.

Así como en Adán todos mueren, también en Cristo todos serán vivificados.

For I am not ashamed of the gospel of Christ: for it is the power of God unto salvation to every one that believeth; to the Jew first, and also to the Greek.

No me avergüenzo del evangelio, porque es poder de Dios para salvación de todo aquel que cree, del judío primeramente y también del griego.

For scarcely for a righteous man will one die: yet peradventure for a good man some would even dare to die. But God commendeth his love toward us, in that, while we were yet sinners, Christ died for us.

Ciertamente, apenas morirá alguno por un justo; con todo, pudiera ser que alguien tuviera el valor de morir por el bueno. Pero Dios muestra su amor para con nosotros, en que siendo aún pecadores, Cristo murió por nosotros.

For if, when we were enemies, we were reconciled to God by the death of his Son, much more, being reconciled, we shall be saved by his life.

Porque, si siendo enemigos, fuimos reconciliados con Dios por la muerte de su Hijo, mucho más, estando reconciliados, seremos salvos por su vida.

And Jesus looking upon them saith, With men it is impossible, but not with God: for with God all things are possible.

Entonces Jesús, mirándolos, dijo: —Para los hombres es imposible, pero no para Dios, porque todas las cosas son posibles para Dios.

Thou hast also given me the shield of thy salvation: and thy right hand hath holden me up, and thy gentleness hath made me great. Thou hast enlarged my steps under me, that my feet did not slip.

Me diste asimismo el escudo de tu salvación; tu diestra me sustentó y tu benignidad me ha engrandecido. Ensanchaste mis pasos debajo de mí y mis pies no han resbalado.

And Jesus said unto him, Go thy way; thy faith hath made thee whole. And immediately he received his sight, and followed Jesus in the way.

Jesús le dijo: —Vete, tu fe te ha salvado. Al instante recobró la vista, y seguía a Jesús por el camino.

Although the fig tree shall not blossom, neither shall fruit be in the vines; the labour of the olive shall fail, and the fields shall yield no meat; the flock shall be cut off from the fold, and there shall be no herd in the stalls: Yet I will rejoice in the L

ord

, I will joy in the God of my salvation.

Aunque la higuera no florezca ni en las vides haya frutos, aunque falte el producto del olivo y los labrados no den mantenimiento, aunque las ovejas sean quitadas de la majada y no haya vacas en los corrales, con todo, yo me alegraré en Jehová, me gozaré en el Dios de mi salvación.

Since thou wast precious in my sight, thou hast been honourable, and I have loved thee: therefore will I give men for thee, and people for thy life.

Porque a mis ojos eres de gran estima, eres honorable y yo te he amado; daré, pues, hombres a cambio de ti y naciones a cambio de tu vida.
Let your conversation be without covetousness; and be content with such things as ye have: for he hath said, I will never leave thee, nor forsake thee.
Personal Bible reading plan
Create an account to configure your Bible reading plan and you will see your progress and the next chapter to read here!
Read more...