Bible Verses about 'Fall'
«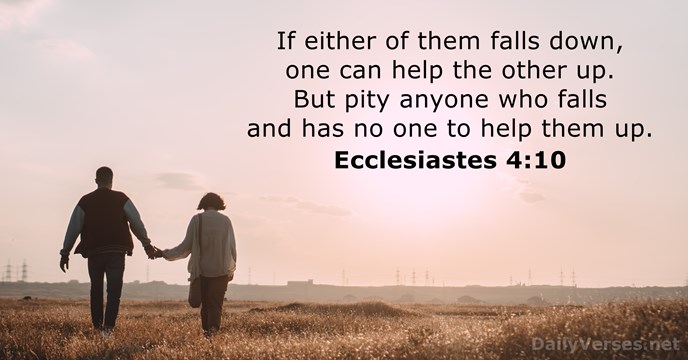 »
If either of them falls down,
one can help the other up.
But pity anyone who falls
and has no one to help them up.

Those who want to get rich fall into temptation and a trap and into many foolish and harmful desires that plunge people into ruin and destruction.

The grass withers and the flowers fall,
but the word of our God endures forever.

For all have sinned and fall short of the glory of God, and all are justified freely by his grace through the redemption that came by Christ Jesus.

Watch and pray so that you will not fall into temptation. The spirit is willing, but the flesh is weak.

Who are you to judge someone else's servant? To their own master, servants stand or fall. And they will stand, for the Lord is able to make them stand.

Let us, therefore, make every effort to enter that rest, so that no one will perish by following their example of disobedience.

Are not two sparrows sold for a penny? Yet not one of them will fall to the ground outside your Father's care. And even the very hairs of your head are all numbered. So don't be afraid; you are worth more than many sparrows.

The wise in heart accept commands,
but a chattering fool comes to ruin.

Above all, my brothers and sisters, do not swear—not by heaven or by earth or by anything else. All you need to say is a simple "Yes" or "No." Otherwise you will be condemned.

Therefore let us stop passing judgment on one another. Instead, make up your mind not to put any stumbling block or obstacle in the way of a brother or sister.

'Return, faithless Israel,' declares the L

ord

,
'I will frown on you no longer,
for I am faithful,' declares the L

ord

,
'I will not be angry forever.'

For we believe that Jesus died and rose again, and so we believe that God will bring with Jesus those who have fallen asleep in him.

See to it, brothers and sisters, that none of you has a sinful, unbelieving heart that turns away from the living God.

Therefore, my brothers and sisters, make every effort to confirm your calling and election. For if you do these things, you will never stumble, and you will receive a rich welcome into the eternal kingdom of our Lord and Savior Jesus Christ.

The seed falling among the thorns refers to someone who hears the word, but the worries of this life and the deceitfulness of wealth choke the word, making it unfruitful.

The Spirit you received does not make you slaves, so that you live in fear again; rather, the Spirit you received brought about your adoption to sonship. And by him we cry, "Abba, Father."
Before a downfall the heart is haughty,
but humility comes before honor.

Repent! Turn away from all your offenses; then sin will not be your downfall.
The prudent see danger and take refuge, but the simple keep going and pay the penalty.
Personal Bible reading plan
Create an account to configure your Bible reading plan and you will see your progress and the next chapter to read here!
Read more...