Bible Verses about 'Fall'
«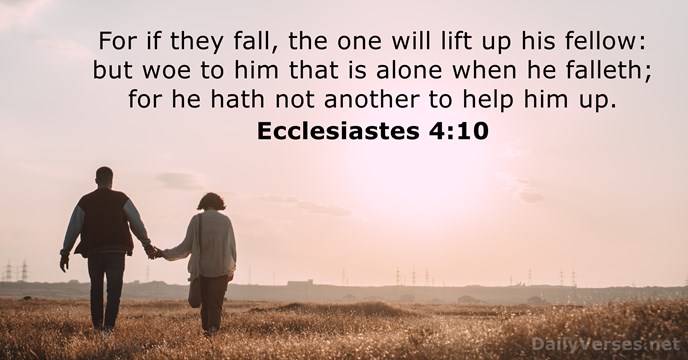 »
For if they fall, the one will lift up his fellow: but woe to him that is alone when he falleth; for he hath not another to help him up.

The wise in heart will receive commandments:
but a prating fool shall fall.

Let us labour therefore to enter into that rest, lest any man fall after the same example of unbelief.

But they that will be rich fall into temptation and a snare, and into many foolish and hurtful lusts, which drown men in destruction and perdition.

But above all things, my brethren, swear not, neither by heaven, neither by the earth, neither by any other oath: but let your yea be yea; and your nay, nay; lest ye fall into condemnation.

Let us not therefore judge one another any more: but judge this rather, that no man put a stumblingblock or an occasion to fall in his brother's way.

Return, thou backsliding Israel, saith the L

ord

;
and I will not cause mine anger to fall upon you:
for I am merciful, saith the L

ord

,
and I will not keep anger for ever.

Are not two sparrows sold for a farthing? and one of them shall not fall on the ground without your Father. But the very hairs of your head are all numbered. Fear ye not therefore, ye are of more value than many sparrows.

For all have sinned, and come short of the glory of God; Being justified freely by his grace through the redemption that is in Christ Jesus.

Who art thou that judgest another man's servant? to his own master he standeth or falleth. Yea, he shall be holden up: for God is able to make him stand.

Wherefore the rather, brethren, give diligence to make your calling and election sure: for if ye do these things, ye shall never fall: For so an entrance shall be ministered unto you abundantly into the everlasting kingdom of our Lord and Saviour Jesus Christ.

The grass withereth, the flower fadeth:
but the word of our God shall stand for ever.

Watch and pray, that ye enter not into temptation: the spirit indeed is willing, but the flesh is weak.

Take heed, brethren, lest there be in any of you an evil heart of unbelief, in departing from the living God.

For ye have not received the spirit of bondage again to fear; but ye have received the Spirit of adoption, whereby we cry, Abba, Father.

For if we believe that Jesus died and rose again, even so them also which sleep in Jesus will God bring with him.

He also that received seed among the thorns is he that heareth the word; and the care of this world, and the deceitfulness of riches, choke the word, and he becometh unfruitful.
We love him, because he first loved us.
Personal Bible reading plan
Create an account to configure your Bible reading plan and you will see your progress and the next chapter to read here!
Read more...