«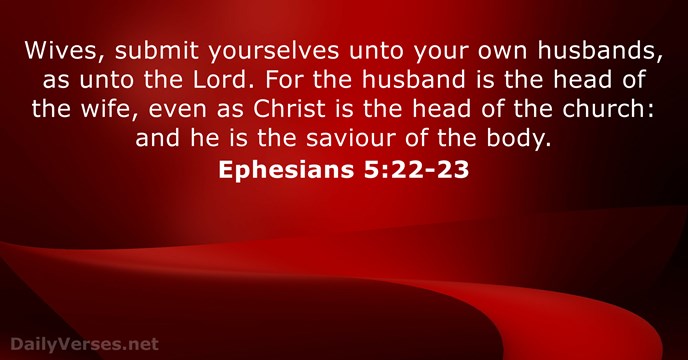 »
Wives, submit yourselves unto your own husbands, as unto the Lord. For the husband is the head of the wife, even as Christ is the head of the church: and he is the saviour of the body.

Who hath saved us, and called us with an holy calling, not according to our works, but according to his own purpose and grace, which was given us in Christ Jesus before the world began.

Grant thee according to thine own heart,
and fulfil all thy counsel.
He that hath no rule over his own spirit
is like a city that is broken down, and without walls.
If thou turn away thy foot from the sabbath,
from doing thy pleasure on my holy day;
and call the sabbath a delight,
the holy of the L

ord

, honourable;
and shalt honour him, not doing thine own ways,
nor finding thine own pleasure,
nor speaking thine own words:
Then shalt thou delight thyself in the L

ord

;
and I will cause thee to ride upon the high places of the earth,
and feed thee with the heritage of Jacob thy father:
for the mouth of the L

ord

hath spoken it.

But be ye doers of the word, and not hearers only, deceiving your own selves.

Blessed is the nation whose God is the L

ord

;
and the people whom he hath chosen for his own inheritance.

But who am I, and what is my people, that we should be able to offer so willingly after this sort? for all things come of thee, and of thine own have we given thee.

What? know ye not that your body is the temple of the Holy Ghost which is in you, which ye have of God, and ye are not your own? For ye are bought with a price: therefore glorify God in your body, and in your spirit, which are God's.

A fool hath no delight in understanding,
but that his heart may discover itself.

Charity suffereth long, and is kind; charity envieth not; charity vaunteth not itself, is not puffed up, Doth not behave itself unseemly, seeketh not her own, is not easily provoked, thinketh no evil.

Who gave himself for us, that he might redeem us from all iniquity, and purify unto himself a peculiar people, zealous of good works.

But Peter said, Ananias, why hath Satan filled thine heart to lie to the Holy Ghost, and to keep back part of the price of the land? Whiles it remained, was it not thine own? and after it was sold, was it not in thine own power? why hast thou conceived this thing in thine heart? thou hast not lied unto men, but unto God.

He that keepeth the commandment keepeth his own soul;
but he that despiseth his ways shall die.

Wives, submit yourselves unto your own husbands, as it is fit in the Lord. Husbands, love your wives, and be not bitter against them.

For what is a man profited, if he shall gain the whole world, and lose his own soul? or what shall a man give in exchange for his soul?

Exhort servants to be obedient unto their own masters, and to please them well in all things; not answering again; Not purloining, but shewing all good fidelity; that they may adorn the doctrine of God our Saviour in all things.

According as his divine power hath given unto us all things that pertain unto life and godliness, through the knowledge of him that hath called us to glory and virtue.

The L

ord

will perfect that which concerneth me:
thy mercy, O L

ord

, endureth for ever:
forsake not the works of thine own hands.

And it came to pass, because the midwives feared God, that he made them houses.

Jesus answered them, and said, My doctrine is not mine, but his that sent me.

Ye are of your father the devil, and the lusts of your father ye will do. He was a murderer from the beginning, and abode not in the truth, because there is no truth in him. When he speaketh a lie, he speaketh of his own: for he is a liar, and the father of it.

Thine own friend, and thy father's friend, forsake not;
neither go into thy brother's house in the day of thy calamity:
for better is a neighbour that is near than a brother far off.

There remaineth therefore a rest to the people of God. For he that is entered into his rest, he also hath ceased from his own works, as God did from his.

The words of a wise man's mouth are gracious;
but the lips of a fool will swallow up himself.
He that spared not his own Son, but delivered him up for us all, how shall he not with him also freely give us all things?
Personal Bible reading plan
Create an account to configure your Bible reading plan and you will see your progress and the next chapter to read here!
Read more...