«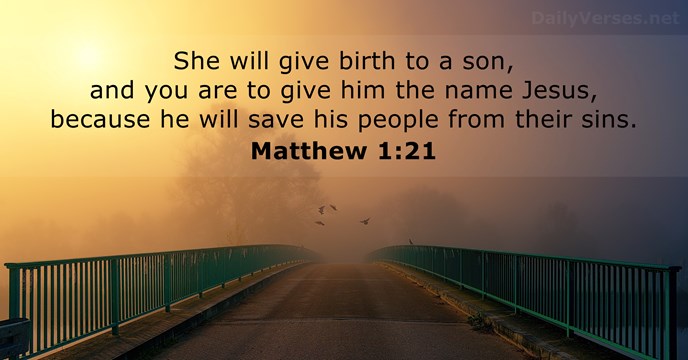 »
She will give birth to a son, and you are to give him the name Jesus, because he will save his people from their sins.

"But what about you?" he asked. "Who do you say I am?" Simon Peter answered, "You are the Messiah, the Son of the living God."

This is how God showed his love among us: He sent his one and only Son into the world that we might live through him.

He who did not spare his own Son, but gave him up for us all—how will he not also, along with him, graciously give us all things?

Therefore the Lord himself will give you a sign: The virgin will conceive and give birth to a son, and will call him Immanuel.

For God so loved the world that he gave his one and only Son, that whoever believes in him shall not perish but have eternal life.

My son, pay attention to what I say;
turn your ear to my words.
Do not let them out of your sight,
keep them within your heart.
Blessed are you when people hate you,
when they exclude you and insult you
and reject your name as evil,
because of the Son of Man.
My son, do not forget my teaching,
but keep my commands in your heart,
for they will prolong your life many years
and bring you peace and prosperity.

But if we walk in the light, as he is in the light, we have fellowship with one another, and the blood of Jesus, his Son, purifies us from all sin.

The father of a righteous child has great joy;
a man who fathers a wise son rejoices in him.

No one has ever seen God, but the one and only Son, who is himself God and is in closest relationship with the Father, has made him known.

As for you, see that what you have heard from the beginning remains in you. If it does, you also will remain in the Son and in the Father.

For if, while we were God's enemies, we were reconciled to him through the death of his Son, how much more, having been reconciled, shall we be saved through his life!

Whoever believes in him is not condemned, but whoever does not believe stands condemned already because they have not believed in the name of God's one and only Son.

But the angel said to her, "Do not be afraid, Mary; you have found favor with God. You will conceive and give birth to a son, and you are to call him Jesus."

While he was still speaking, a bright cloud covered them, and a voice from the cloud said, "This is my Son, whom I love; with him I am well pleased. Listen to him!"

Do not work for food that spoils, but for food that endures to eternal life, which the Son of Man will give you. For on him God the Father has placed his seal of approval.

For he has rescued us from the dominion of darkness and brought us into the kingdom of the Son he loves, in whom we have redemption, the forgiveness of sins.

The one who does what is sinful is of the devil, because the devil has been sinning from the beginning. The reason the Son of God appeared was to destroy the devil's work.

The crowds that went ahead of him and those that followed shouted,
"Hosanna to the Son of David!"
"Blessed is he who comes in the name of the Lord!"
"Hosanna in the highest heaven!"

The angel answered, "The Holy Spirit will come on you, and the power of the Most High will overshadow you. So the holy one to be born will be called the Son of God."

What is mankind that you are mindful of them,
human beings that you care for them?

Anyone who speaks a word against the Son of Man will be forgiven, but anyone who speaks against the Holy Spirit will not be forgiven, either in this age or in the age to come.

For to us a child is born,
to us a son is given,
and the government will be on his shoulders.
And he will be called
Wonderful Counselor, Mighty God,
Everlasting Father, Prince of Peace.
Deceit is in the hearts of those who plot evil, but those who promote peace have joy.
Personal Bible reading plan
Create an account to configure your Bible reading plan and you will see your progress and the next chapter to read here!
Read more...