Bible Verses about Sin
«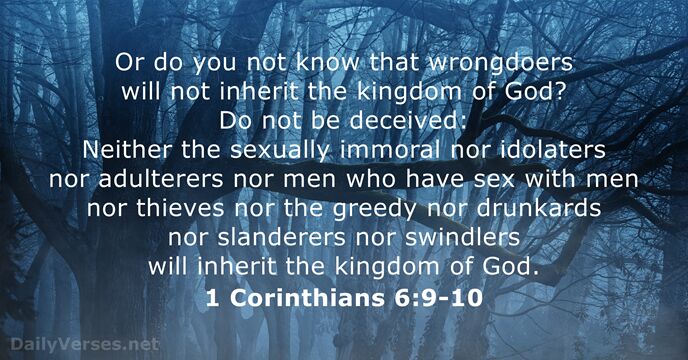 »
Or do you not know that wrongdoers will not inherit the kingdom of God? Do not be deceived: Neither the sexually immoral nor idolaters nor adulterers nor men who have sex with men nor thieves nor the greedy nor drunkards nor slanderers nor swindlers will inherit the kingdom of God.

Ettekö tiedä, että vääryydentekijät eivät saa omakseen Jumalan valtakuntaa? Älkää eksykö! Jumalan valtakunnan perillisiä eivät ole siveettömyyden harjoittajat eivätkä epäjumalien palvelijat, eivät avionrikkojat, eivät miesten kanssa makaavat miehet, eivät varkaat eivätkä ahneet, eivät juomarit, pilkkaajat eivätkä riistäjät.

If we confess our sins, he is faithful and just and will forgive us our sins and purify us from all unrighteousness.

Jos me tunnustamme syntimme, niin Jumala, joka on uskollinen ja vanhurskas, antaa meille synnit anteeksi ja puhdistaa meidät kaikesta vääryydestä.

For all have sinned and fall short of the glory of God, and all are justified freely by his grace through the redemption that came by Christ Jesus.

Sillä kaikki ovat tehneet syntiä ja ovat vailla Jumalan kirkkautta mutta saavat hänen armostaan lahjaksi vanhurskauden, koska Kristus Jeesus on lunastanut heidät vapaiksi.

Put to death, therefore, whatever belongs to your earthly nature: sexual immorality, impurity, lust, evil desires and greed, which is idolatry.

Haudatkaa siis se, mikä teissä on maallista: siveettömyys, saastaisuus, intohimot, pahat halut ja ahneus, joka on epäjumalanpalvelusta.

What then? Shall we sin because we are not under the law but under grace? By no means!

Miten siis on? Saammeko tehdä syntiä, koska emme elä lain vaan armon alaisina? Emme toki!

If your brother or sister sins, go and point out their fault, just between the two of you. If they listen to you, you have won them over.

Jos veljesi tekee syntiä, ota asia puheeksi kahden kesken. Jos hän kuulee sinua, olet voittanut hänet takaisin.

Direct my footsteps according to your word; let no sin rule over me.

Tee kulkuni vakaaksi ohjeillasi, älä anna minkään vääryyden vallita minua.

You adulterous people, don't you know that friendship with the world means enmity against God? Therefore, anyone who chooses to be a friend of the world becomes an enemy of God.

Te uskottomat! Ettekö tiedä, että rakkaus maailmaan on vihaa Jumalaa kohtaan? Joka tahtoo olla maailman ystävä, asettuu Jumalan viholliseksi.

Have mercy on me, O God, according to your unfailing love; according to your great compassion blot out my transgressions. Wash away all my iniquity and cleanse me from my sin.

Jumala, ole minulle armollinen hyvyydessäsi, pyyhi pois minun syntini suuren laupeutesi tähden. Pese minut puhtaaksi rikoksestani ja anna lankeemukseni anteeksi.

Why do you look at the speck of sawdust in your brother's eye and pay no attention to the plank in your own eye?

Kuinka näet roskan veljesi silmässä, mutta et huomaa, että omassa silmässäsi on hirsi?

Whoever walks in integrity walks securely, but whoever takes crooked paths will be found out.

Turvassa kulkee, joka vilpittä kulkee, joka poikkeaa polulta, ei salassa pysy.

A good man brings good things out of the good stored up in his heart, and an evil man brings evil things out of the evil stored up in his heart. For the mouth speaks what the heart is full of.

Hyvä ihminen tuo sydämensä hyvyyden varastosta esiin hyvää, paha ihminen tuo pahuutensa varastosta esiin pahaa. Mitä sydän on täynnä, sitä suu puhuu.

Above all, love each other deeply, because love covers over a multitude of sins.

Ennen kaikkea pysykää kestävinä keskinäisessä rakkaudessanne, sillä »rakkaus peittää paljotkin synnit».

If we claim to have fellowship with him and yet walk in the darkness, we lie and do not live out the truth.

Jos sanomme elävämme hänen yhteydessään mutta vaellamme pimeässä, me valehtelemme emmekä seuraa totuutta.

Have nothing to do with the fruitless deeds of darkness, but rather expose them. It is shameful even to mention what the disobedient do in secret.

Älkää osallistuko pimeyden töihin: ne eivät kanna hedelmää. Tuokaa ne päivänvaloon. Mitä sellaiset ihmiset salassa tekevät, on häpeällistä sanoakin.

Brothers and sisters, if someone is caught in a sin, you who live by the Spirit should restore that person gently. But watch yourselves, or you also may be tempted.

Veljet, jos joku tavataan tekemästä väärin, on teidän, joita Henki ohjaa, lempeästi ojennettava häntä. Olkaa kuitenkin varuillanne, ettette itse joudu kiusaukseen.

"He himself bore our sins" in his body on the cross, so that we might die to sins and live for righteousness; "by his wounds you have been healed."

Itse, omassa ruumiissaan, hän »kantoi meidän syntimme» ristinpuulle, jotta me kuolisimme pois synneistä ja eläisimme vanhurskaudelle. »Hänen haavansa ovat teidät parantaneet.»

Blessed is the one who does not walk in step with the wicked or stand in the way that sinners take or sit in the company of mockers.

Hyvä on sen osa, joka ei vaella jumalattomien tavoin, ei astu syntisten teille, ei istu pilkkaajien parissa.

Come near to God and he will come near to you. Wash your hands, you sinners, and purify your hearts, you double-minded.

Lähestykää Jumalaa, niin hän lähestyy teitä. Puhdistakaa kätenne, synnintekijät, puhdistakaa sydämenne, te kahtaalle horjuvat!

Out of the same mouth come praise and cursing. My brothers and sisters, this should not be.

Kiitos ja kirous lähtevät samasta suusta. Tämä ei käy, veljeni!

So Christ was sacrificed once to take away the sins of many; and he will appear a second time, not to bear sin, but to bring salvation to those who are waiting for him.

Samoin on Kristus kerran uhrattu, jotta hän ottaisi pois kaikkien synnit, ja hän ilmestyy vielä kerran, mutta ei enää synnin tähden vaan pelastaakseen ne, jotka häntä odottavat.

Therefore no one will be declared righteous in God's sight by the works of the law; rather, through the law we become conscious of our sin.

Eihän yksikään ihminen tule Jumalan edessä vanhurskaaksi lain käskyjä noudattamalla. Lain tehtävänä on opettaa tuntemaan, mitä synti on.

But among you there must not be even a hint of sexual immorality, or of any kind of impurity, or of greed, because these are improper for God's holy people.

Siveettömyydestä, kaikenlaisesta saastaisuudesta ja ahneudesta ei teidän keskuudessanne saa olla puhettakaan, eihän mikään sellainen sovi pyhille.

Remember, L

ord

, your great mercy and love, for they are from of old. Do not remember the sins of my youth and my rebellious ways; according to your love remember me, for you, L

ord

, are good.

Herra, sinä olet laupias, muista minua, osoita ikiaikaista hyvyyttäsi. Älä muista nuoruuteni syntejä, älä pahoja tekojani! Sinä, joka olet uskollinen ja hyvä, älä unohda minua!

For if you forgive other people when they sin against you, your heavenly Father will also forgive you.

Jos te annatte toisille ihmisille anteeksi heidän rikkomuksensa, antaa myös taivaallinen Isänne teille anteeksi.
For the entire law is fulfilled in keeping this one command: "Love your neighbor as yourself."
Personal Bible reading plan
Create an account to configure your Bible reading plan and you will see your progress and the next chapter to read here!
Read more...