Bible Verses about Thoughts
«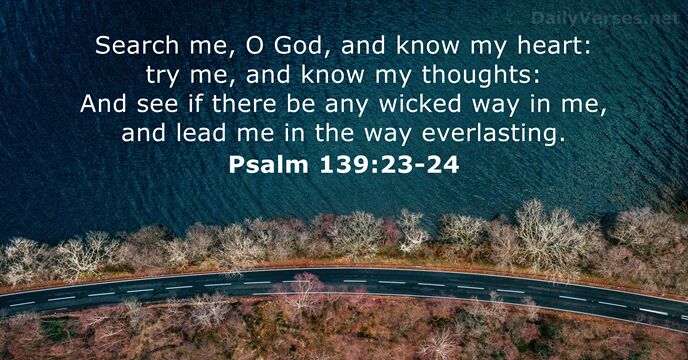 »
Search me, O God, and know my heart: try me, and know my thoughts: And see if there be any wicked way in me, and lead me in the way everlasting.

God, ik wil dat u alles van mij weet, ik wil dat u weet wie ik ben. Kijk in mijn hart, onderzoek al mijn gedachten. Kijk of ik leef zoals u dat wilt, en leid me op de weg die u wijst.

And he said, That which cometh out of the man, that defileth the man. For from within, out of the heart of men, proceed evil thoughts, adulteries, fornications, murders, Thefts, covetousness, wickedness, deceit, lasciviousness, an evil eye, blasphemy, pride, foolishness: All these evil things come from within, and defile the man.

Jezus zei verder: 'Een mens wordt onrein van de dingen die uit hem naar buiten komen. Want alle slechte dingen die een mens doet, komen uit zijn eigen hart: slechte gedachten, verboden seks, moord, belediging, trots en domheid. En ook vreemdgaan, stelen, graaien, liegen, gemeen zijn, jaloers zijn op anderen, en je nergens voor schamen. Al die slechtheid maakt een mens onrein.'

Commit thy works unto the L

ord

, and thy thoughts shall be established.

Vertrouw op de Heer bij alles wat je doet. Dan zullen al je plannen slagen.

For my thoughts are not your thoughts, neither are your ways my ways, saith the L

ord

.

De Heer zegt: 'Volk van Israël, mijn plannen zijn anders dan jullie plannen. Wat jullie willen doen, is niet hetzelfde als wat ik wil doen.'

Keep thy heart with all diligence; for out of it are the issues of life.

Denk altijd goed na voordat je iets zegt. Dat is het belangrijkste in je leven.

And be not conformed to this world: but be ye transformed by the renewing of your mind, that ye may prove what is that good, and acceptable, and perfect, will of God.

Doe niet zoals de mensen die zonder God leven, maar leef als nieuwe mensen. Want God geeft jullie de wijsheid om zijn wil te kennen. Daardoor weten jullie wat goed en volmaakt is, en waar God blij mee is.

Finally, brethren, whatsoever things are true, whatsoever things are honest, whatsoever things are just, whatsoever things are pure, whatsoever things are lovely, whatsoever things are of good report; if there be any virtue, and if there be any praise, think on these things.

Vrienden, tot slot wil ik zeggen waar jullie je mee bezig moeten houden. Houd je bezig met alles wat waar is, alles wat respect verdient, alles wat goed is en zuiver, alles wat het waard is om van te houden en alles wat eer verdient. Dat betekent in het kort: doe wat goed is en waarvoor je respect krijgt.

O L

ord

, thou hast searched me, and known me. Thou knowest my downsitting and mine uprising, thou understandest my thought afar off.

Heer, u weet alles van mij, u kent mij. U weet waar ik ben, en u weet waar ik heen ga. U weet wat ik denk, ook al bent u ver weg.

Every way of a man is right in his own eyes: but the L

ord

pondereth the hearts.

Mensen denken altijd van zichzelf dat ze goed leven, maar de Heer kijkt of ze echt eerlijk zijn.

For the word of God is quick, and powerful, and sharper than any twoedged sword, piercing even to the dividing asunder of soul and spirit, and of the joints and marrow, and is a discerner of the thoughts and intents of the heart.

De woorden van de levende God zijn krachtig. Ze dringen diep door in ons hart, nog dieper dan een scherp zwaard. Want God weet wat ons van binnen bezighoudt. En hij beoordeelt onze gedachten en verlangens.

Now I beseech you, brethren, by the name of our Lord Jesus Christ, that ye all speak the same thing, and that there be no divisions among you; but that ye be perfectly joined together in the same mind and in the same judgment.

Vrienden, luister naar wat ik van jullie vraag. Jullie moeten samen een volmaakte eenheid vormen. Dat is wat onze Heer Jezus Christus wil. Vorm geen aparte groepen, en zeg niet allemaal iets anders over het geloof.

Ponder the path of thy feet, and let all thy ways be established.

Denk ook goed na voordat je iets doet.

For what man knoweth the things of a man, save the spirit of man which is in him? even so the things of God knoweth no man, but the Spirit of God.

Hoe een mens van binnen is, dat weet alleen de geest van die persoon. En net zo weet alleen de Geest van God wat God denkt.

Let no man deceive himself. If any man among you seemeth to be wise in this world, let him become a fool, that he may be wise.

Vinden sommigen van jullie dat ze heel wijs zijn? Dan zeg ik: Houd jezelf niet voor de gek! Je zult eerst dom moeten worden, pas dan kun je echt wijs worden.

There is a way which seemeth right unto a man, but the end thereof are the ways of death.

Soms denken mensen dat ze goed leven, maar als ze sterven, blijkt dat ze slecht geleefd hebben.

I made a covenant with mine eyes; why then should I think upon a maid?

Ik heb nooit naar jonge vrouwen gekeken, dat had ik mezelf plechtig beloofd.

Wherefore gird up the loins of your mind, be sober, and hope to the end for the grace that is to be brought unto you at the revelation of Jesus Christ.

Als Jezus Christus terugkomt op aarde, zullen jullie gered worden. Vertrouw daarop. Tot het zover is, moeten jullie verstandig zijn en goed nadenken over wat jullie doen.

But when ye pray, use not vain repetitions, as the heathen do: for they think that they shall be heard for their much speaking.

Als je bidt, moet je niet steeds maar door blijven praten. Dat doen de mensen die andere goden vereren. Ze denken: Hoe meer ik praat, hoe beter mijn god luistert!

Therefore I say unto you, Take no thought for your life, what ye shall eat, or what ye shall drink; nor yet for your body, what ye shall put on. Is not the life more than meat, and the body than raiment?

Luister naar mijn woorden: Maak je geen zorgen over eten en drinken. Want je leven is veel belangrijker dan eten en drinken. En maak je geen zorgen over kleren. Want je lichaam is veel belangrijker dan kleren.

Let the wicked forsake his way, and the unrighteous man his thoughts: and let him return unto the L

ord

, and he will have mercy upon him; and to our God, for he will abundantly pardon.

Slechte mensen moeten stoppen met hun verkeerde leven, oneerlijke mensen moeten niet langer slechte plannen maken. Ze moeten terugkomen bij de Heer, onze God. Hij zal hun alles vergeven, en hij zal weer voor hen zorgen.

Take no thought for your life, what ye shall eat; neither for the body, what ye shall put on. The life is more than meat, and the body is more than raiment.

Maak je geen zorgen over eten. Want je leven is veel belangrijker dan eten. En maak je geen zorgen over kleren. Want je lichaam is veel belangrijker dan kleren.

For I say, through the grace given unto me, to every man that is among you, not to think of himself more highly than he ought to think; but to think soberly, according as God hath dealt to every man the measure of faith.

Jullie weten hoe goed God voor mij geweest is. Luister daarom naar wat ik tegen jullie zeg. Denk niet van jezelf dat je geweldig bent. Nee, wees verstandig en bedenk goed dat er voor God maar één ding belangrijk is: dat je gelooft in Jezus Christus.

Now unto him that is able to do exceeding abundantly above all that we ask or think, according to the power that worketh in us, Unto him be glory in the church by Christ Jesus throughout all ages, world without end. Amen.

Gods macht is oneindig groot. Hij kan alles doen wat wij hem vragen, of waar wij aan denken, en zelfs nog veel meer. Zijn macht is nu al in ons aan het werk. Alle eer aan God, in heel de kerk, die bestaat dankzij Jezus Christus. Alle eer aan God, voor altijd en eeuwig! Amen.
Whoso loveth instruction loveth knowledge: but he that hateth reproof is brutish.
Personal Bible reading plan
Create an account to configure your Bible reading plan and you will see your progress and the next chapter to read here!
Read more...