«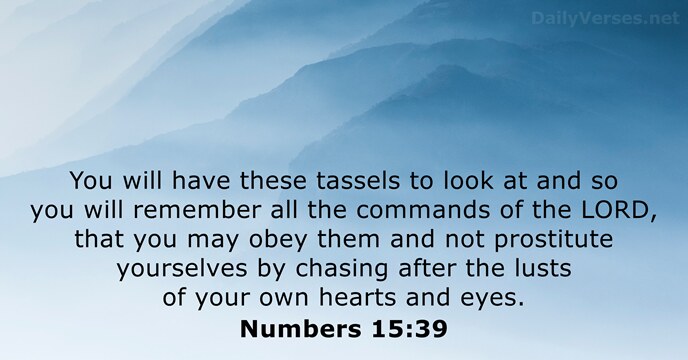 »
You will have these tassels to look at and so you will remember all the commands of the L

ord

, that you may obey them and not prostitute yourselves by chasing after the lusts of your own hearts and eyes.

You have heard that it was said, 'You shall not commit adultery.' But I tell you that anyone who looks at a woman lustfully has already committed adultery with her in his heart.

Rather, clothe yourselves with the Lord Jesus Christ, and do not think about how to gratify the desires of the flesh.

And I saw that all toil and all achievement spring from one person's envy of another. This too is meaningless, a chasing after the wind.

Like a city whose walls are broken through
is a person who lacks self-control.

Those who are in the realm of the flesh cannot please God.

'You shall not murder, you shall not commit adultery, you shall not steal, you shall not give false testimony, honor your father and mother,' and 'love your neighbor as yourself.'

If your right eye causes you to stumble, gouge it out and throw it away. It is better for you to lose one part of your body than for your whole body to be thrown into hell.

As goods increase,
so do those who consume them.
And what benefit are they to the owners
except to feast their eyes on them?

You belong to your father, the devil, and you want to carry out your father's desires. He was a murderer from the beginning, not holding to the truth, for there is no truth in him. When he lies, he speaks his native language, for he is a liar and the father of lies.
Therefore, since we have been justified through faith, we have peace with God through our Lord Jesus Christ.
Personal Bible reading plan
Create an account to configure your Bible reading plan and you will see your progress and the next chapter to read here!
Read more...