Versículos de la Biblia sobre la Alegría
«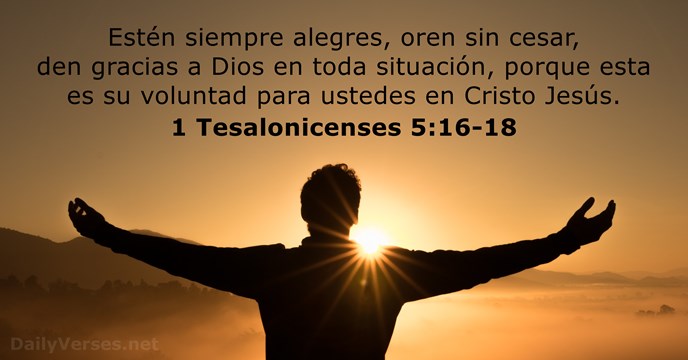 »
Estén siempre alegres, oren sin cesar, den gracias a Dios en toda situación, porque esta es su voluntad para ustedes en Cristo Jesús.

Rejoice always, pray continually, give thanks in all circumstances; for this is God's will for you in Christ Jesus.

Porque el S

eñor

tu Dios está en medio de ti como guerrero victorioso. Se deleitará en ti con gozo, te renovará con su amor, se alegrará por ti con cantos.
The L

ord

your God is with you, the Mighty Warrior who saves. He will take great delight in you; in his love he will no longer rebuke you, but will rejoice over you with singing.

Alégrense en la esperanza, muestren paciencia en el sufrimiento, perseveren en la oración.

Be joyful in hope, patient in affliction, faithful in prayer.

Alégrense siempre en el Señor. Insisto: ¡Alégrense!

Rejoice in the Lord always. I will say it again: Rejoice!

Cuando en mí la angustia iba en aumento, tu consuelo llenaba mi alma de alegría.

When anxiety was great within me, your consolation brought me joy.

Este es el día en que el S

eñor

actuó; regocijémonos y alegrémonos en él.
The L

ord

has done it this very day; let us rejoice today and be glad.
Aunque la higuera no florezca, ni haya frutos en las vides; aunque falle la cosecha del olivo, y los campos no produzcan alimentos; aunque en el aprisco no haya ovejas, ni ganado alguno en los establos; aun así, yo me regocijaré en el S

eñor

, ¡me alegraré en Dios, mi libertador!
Though the fig tree does not bud and there are no grapes on the vines, though the olive crop fails and the fields produce no food, though there are no sheep in the pen and no cattle in the stalls, yet I will rejoice in the L

ord

, I will be joyful in God my Savior.

Me has dado a conocer la senda de la vida; me llenarás de alegría en tu presencia, y de dicha eterna a tu derecha.

You make known to me the path of life; you will fill me with joy in your presence, with eternal pleasures at your right hand.

Me deleito mucho en el S

eñor

; me regocijo en mi Dios. Porque él me vistió con ropas de salvación y me cubrió con el manto de la justicia. Soy semejante a un novio que luce su diadema, o una novia adornada con sus joyas.
I delight greatly in the L

ord

; my soul rejoices in my God. For he has clothed me with garments of salvation and arrayed me in a robe of his righteousness, as a bridegroom adorns his head like a priest, and as a bride adorns herself with her jewels.

Ustedes lo aman a pesar de no haberlo visto; y, aunque no lo ven ahora, creen en él y se alegran con un gozo indescriptible y glorioso, pues están obteniendo la meta de su fe, que es su salvación.

Though you have not seen him, you love him; and even though you do not see him now, you believe in him and are filled with an inexpressible and glorious joy, for you are receiving the end result of your faith, the salvation of your souls.

Hasta ahora no han pedido nada en mi nombre. Pidan y recibirán, para que su alegría sea completa.

Until now you have not asked for anything in my name. Ask and you will receive, and your joy will be complete.

Por eso me regocijo en debilidades, insultos, privaciones, persecuciones y dificultades que sufro por Cristo; porque, cuando soy débil, entonces soy fuerte.

That is why, for Christ's sake, I delight in weaknesses, in insults, in hardships, in persecutions, in difficulties. For when I am weak, then I am strong.

Es muy grato dar la respuesta adecuada, y más grato aún cuando es oportuna.

A person finds joy in giving an apt reply— and how good is a timely word!

Cada uno debe dar según lo que haya decidido en su corazón, no de mala gana ni por obligación, porque Dios ama al que da con alegría.

Each of you should give what you have decided in your heart to give, not reluctantly or under compulsion, for God loves a cheerful giver.

Tú eres mi refugio; tú me protegerás del peligro y me rodearás con cánticos de liberación. Selah

You are my hiding place; you will protect me from trouble and surround me with songs of deliverance.

En cambio, el fruto del Espíritu es amor, alegría, paz, paciencia, amabilidad, bondad, fidelidad, humildad y dominio propio. No hay ley que condene estas cosas.

But the fruit of the Spirit is love, joy, peace, forbearance, kindness, goodness, faithfulness, gentleness and self-control. Against such things there is no law.

Alégrense con los que están alegres; lloren con los que lloran.

Rejoice with those who rejoice; mourn with those who mourn.

De este modo, por la voluntad de Dios, llegaré a ustedes con alegría y podré descansar entre ustedes por algún tiempo.

So that I may come to you with joy, by God's will, and in your company be refreshed.

Tus estatutos son mi herencia permanente; son el regocijo de mi corazón.

Your statutes are my heritage forever; they are the joy of my heart.

Les he dicho esto para que tengan mi alegría y así su alegría sea completa.

I have told you this so that my joy may be in you and that your joy may be complete.

En realidad, sin fe es imposible agradar a Dios, ya que cualquiera que se acerca a Dios tiene que creer que él existe y que recompensa a quienes lo buscan.

And without faith it is impossible to please God, because anyone who comes to him must believe that he exists and that he rewards those who earnestly seek him.

Porque el S

eñor

se complace en su pueblo; a los humildes concede el honor de la victoria.
For the L

ord

takes delight in his people; he crowns the humble with victory.

Es cierto que con la verdadera religión se obtienen grandes ganancias, pero solo si uno está satisfecho con lo que tiene.

But godliness with contentment is great gain.

Gran remedio es el corazón alegre, pero el ánimo decaído seca los huesos.

A cheerful heart is good medicine, but a crushed spirit dries up the bones.

Me regocijo en el camino de tus estatutos más que en todas las riquezas.

I rejoice in following your statutes as one rejoices in great riches.
Pues Dios no nos ha dado un espíritu de timidez, sino de poder, de amor y de dominio propio.
Plan de lectura de la Biblia
Registrar y configurar su plan de lectura de la Biblia que desea ver su progreso y el siguiente capítulo para leer aquí!