Versículos de la Biblia sobre la Esperanza
«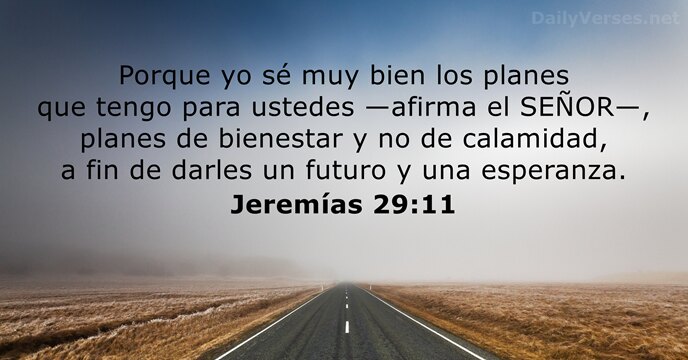 »
Porque yo sé muy bien los planes que tengo para ustedes —afirma el S

eñor

—, planes de bienestar y no de calamidad, a fin de darles un futuro y una esperanza.
For I know the plans I have for you, declares the L

ord

, plans to prosper you and not to harm you, plans to give you hope and a future.

¿Por qué voy a inquietarme? ¿Por qué me voy a angustiar? En Dios pondré mi esperanza, y todavía lo alabaré. ¡Él es mi Salvador y mi Dios!

Why, my soul, are you downcast? Why so disturbed within me? Put your hope in God, for I will yet praise him, my Savior and my God.

Pero los que confían en el S

eñor

renovarán sus fuerzas; volarán como las águilas: correrán y no se fatigarán, caminarán y no se cansarán.
But those who hope in the L

ord

will renew their strength. They will soar on wings like eagles; they will run and not grow weary, they will walk and not be faint.
El S

eñor

te protegerá; de todo mal protegerá tu vida. El S

eñor

te cuidará en el hogar y en el camino, desde ahora y para siempre.
The L

ord

will keep you from all harm— he will watch over your life; the L

ord

will watch over your coming and going both now and forevermore.

Que el Dios de la esperanza los llene de toda alegría y paz a ustedes que creen en él, para que rebosen de esperanza por el poder del Espíritu Santo.

May the God of hope fill you with all joy and peace as you trust in him, so that you may overflow with hope by the power of the Holy Spirit.

Vengan a mí todos ustedes que están cansados y agobiados, y yo les daré descanso.

Come to me, all you who are weary and burdened, and I will give you rest.

Ahora bien, la fe es la garantía de lo que se espera, la certeza de lo que no se ve.

Now faith is confidence in what we hope for and assurance about what we do not see.

Ahora, pues, permanecen estas tres virtudes: la fe, la esperanza y el amor. Pero la más excelente de ellas es el amor.

And now these three remain: faith, hope and love. But the greatest of these is love.

Y no solo en esto, sino también en nuestros sufrimientos, porque sabemos que el sufrimiento produce perseverancia; la perseverancia, entereza de carácter; la entereza de carácter, esperanza.

Not only so, but we also glory in our sufferings, because we know that suffering produces perseverance; perseverance, character; and character, hope.

Tú eres mi escondite y mi escudo; en tu palabra he puesto mi esperanza.

You are my refuge and my shield; I have put my hope in your word.

Mantengamos firme la esperanza que profesamos, porque fiel es el que hizo la promesa.

Let us hold unswervingly to the hope we profess, for he who promised is faithful.

Cobren ánimo y ármense de valor, todos los que en el S

eñor

esperan.
Be strong and take heart, all you who hope in the L

ord

.

Pero, si esperamos lo que todavía no tenemos, en la espera mostramos nuestra constancia.

But if we hope for what we do not yet have, we wait for it patiently.

Pero yo he puesto mi esperanza en el S

eñor

; yo espero en el Dios de mi salvación. ¡Mi Dios me escuchará!
But as for me, I watch in hope for the L

ord

, I wait for God my Savior; my God will hear me.

La esperanza frustrada aflige al corazón; el deseo cumplido es un árbol de vida.

Hope deferred makes the heart sick, but a longing fulfilled is a tree of life.

Por tanto, digo: «El S

eñor

es todo lo que tengo. ¡En él esperaré!»
I say to myself, "The L

ord

is my portion; therefore I will wait for him."

Encamíname en tu verdad, ¡enséñame! Tú eres mi Dios y Salvador; ¡en ti pongo mi esperanza todo el día!

Guide me in your truth and teach me, for you are God my Savior, and my hope is in you all day long.

Que tu gran amor, S

eñor

, nos acompañe, tal como lo esperamos de ti.
May your unfailing love be with us, L

ord

, even as we put our hope in you.
Espero al S

eñor

, lo espero con toda el alma; en su palabra he puesto mi esperanza.
I wait for the L

ord

, my whole being waits, and in his word I put my hope.

Y esta esperanza no nos defrauda, porque Dios ha derramado su amor en nuestro corazón por el Espíritu Santo que nos ha dado.

And hope does not put us to shame, because God's love has been poured out into our hearts through the Holy Spirit, who has been given to us.

¡Alabado sea Dios, Padre de nuestro Señor Jesucristo! Por su gran misericordia, nos ha hecho nacer de nuevo mediante la resurrección de Jesucristo, para que tengamos una esperanza viva.

Praise be to the God and Father of our Lord Jesus Christ! In his great mercy he has given us new birth into a living hope through the resurrection of Jesus Christ from the dead.

El Espíritu del S

eñor

omnipotente está sobre mí, por cuanto me ha ungido para anunciar buenas nuevas a los pobres. Me ha enviado a sanar los corazones heridos, a proclamar liberación a los cautivos y libertad a los prisioneros.
The Spirit of the Sovereign L

ord

is on me, because the L

ord

has anointed me to proclaim good news to the poor. He has sent me to bind up the brokenhearted, to proclaim freedom for the captives and release from darkness for the prisoners.

Más bien, honren en su corazón a Cristo como Señor. Estén siempre preparados para responder a todo el que les pida razón de la esperanza que hay en ustedes.

But in your hearts revere Christ as Lord. Always be prepared to give an answer to everyone who asks you to give the reason for the hope that you have. But do this with gentleness and respect.

A estos Dios se propuso dar a conocer cuál es la gloriosa riqueza de este misterio entre las naciones, que es Cristo en ustedes, la esperanza de gloria.

To them God has chosen to make known among the Gentiles the glorious riches of this mystery, which is Christ in you, the hope of glory.

Hay un solo cuerpo y un solo Espíritu, así como también fueron llamados a una sola esperanza.

There is one body and one Spirit, just as you were called to one hope when you were called.
Ciertamente les aseguro que todo el que peca es esclavo del pecado —respondió Jesús—.
Plan de lectura de la Biblia
Registrar y configurar su plan de lectura de la Biblia que desea ver su progreso y el siguiente capítulo para leer aquí!