72 Versículos de la Biblia sobre la Obediencia
«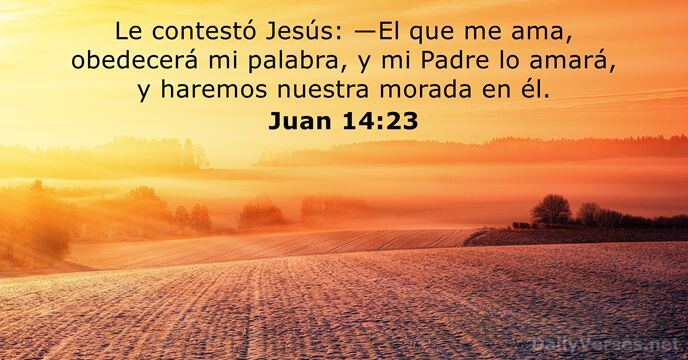 »
Le contestó Jesús: —El que me ama, obedecerá mi palabra, y mi Padre lo amará, y haremos nuestra vivienda en él.

Jesus answered him, "If anyone loves me, he will keep my word, and my Father will love him, and we will come to him and make our home with him."

Hijo mío, obedece el mandamiento de tu padre y no abandones la enseñanza de tu madre.

My son, keep your father's commandment, and forsake not your mother's teaching.

Si realmente escuchas al S

eñor

tu Dios, y cumples fielmente todos estos mandamientos que hoy te ordeno, el S

eñor

tu Dios te pondrá por encima de todas las naciones de la tierra.
And if you faithfully obey the voice of the L

ord

your God, being careful to do all his commandments that I command you today, the L

ord

your God will set you high above all the nations of the earth.
Sigan por el camino que el S

eñor

su Dios les ha trazado, para que vivan, prosperen y disfruten de larga vida en la tierra que van a poseer.
You shall walk in all the way that the L

ord

your God has commanded you, that you may live, and that it may go well with you, and that you may live long in the land that you shall possess.

No se contenten sólo con escuchar la palabra, pues así se engañan ustedes mismos. Llévenla a la práctica.

But be doers of the word, and not hearers only, deceiving yourselves.

El que atiende a la corrección va camino a la vida; el que la rechaza se pierde.

Whoever heeds instruction is on the path to life, but he who rejects reproof leads others astray.

No me escogieron ustedes a mí, sino que yo los escogí a ustedes y los comisioné para que vayan y den fruto, un fruto que perdure. Así el Padre les dará todo lo que le pidan en mi nombre.

You did not choose me, but I chose you and appointed you that you should go and bear fruit and that your fruit should abide, so that whatever you ask the Father in my name, he may give it to you.

Por lo tanto, mis queridos hermanos, manténganse firmes e inconmovibles, progresando siempre en la obra del Señor, conscientes de que su trabajo en el Señor no es en vano.

Therefore, my beloved brothers, be steadfast, immovable, always abounding in the work of the Lord, knowing that in the Lord your labor is not in vain.

No se amolden al mundo actual, sino sean transformados mediante la renovación de su mente. Así podrán comprobar cuál es la voluntad de Dios, buena, agradable y perfecta.

Do not be conformed to this world, but be transformed by the renewal of your mind, that by testing you may discern what is the will of God, what is good and acceptable and perfect.

Queridos hermanos, si el corazón no nos condena, tenemos confianza delante de Dios, y recibimos todo lo que le pedimos porque obedecemos sus mandamientos y hacemos lo que le agrada.

Beloved, if our heart does not condemn us, we have confidence before God; and whatever we ask we receive from him, because we keep his commandments and do what pleases him.

Porque así como por la desobediencia de uno solo muchos fueron constituidos pecadores, también por la obediencia de uno solo muchos serán constituidos justos.

For as by the one man's disobedience the many were made sinners, so by the one man's obedience the many will be made righteous.

Pero a ustedes que me escuchan les digo: Amen a sus enemigos, hagan bien a quienes los odian, bendigan a quienes los maldicen, oren por quienes los maltratan.

But I say to you who hear, Love your enemies, do good to those who hate you, bless those who curse you, pray for those who abuse you.

Cumple los mandatos del S

eñor

tu Dios; sigue sus sendas y obedece sus decretos, mandamientos, leyes y preceptos, los cuales están escritos en la ley de Moisés. Así prosperarás en todo lo que hagas y por dondequiera que vayas.
And keep the charge of the L

ord

your God, walking in his ways and keeping his statutes, his commandments, his rules, and his testimonies, as it is written in the Law of Moses, that you may prosper in all that you do and wherever you turn.

Así que sométanse a Dios. Resistan al diablo, y él huirá de ustedes.

Submit yourselves therefore to God. Resist the devil, and he will flee from you.

Recita siempre el libro de la ley y medita en él de día y de noche; cumple con cuidado todo lo que en él está escrito. Así prosperarás y tendrás éxito.

This Book of the Law shall not depart from your mouth, but you shall meditate on it day and night, so that you may be careful to do according to all that is written in it. For then you will make your way prosperous, and then you will have good success.

Si no me hacen caso ni se deciden a honrar mi nombre —dice el S

eñor

Todopoderoso—, les enviaré una maldición, y maldeciré sus bendiciones. Ya las he maldecido, porque ustedes no se han decidido a honrarme.
If you will not listen, if you will not take it to heart to give honor to my name, says the L

ord

of hosts, then I will send the curse upon you and I will curse your blessings. Indeed, I have already cursed them, because you do not lay it to heart.

Todos deben someterse a las autoridades públicas, pues no hay autoridad que Dios no haya dispuesto, así que las que existen fueron establecidas por él.

Let every person be subject to the governing authorities. For there is no authority except from God, and those that exist have been instituted by God.

Nunca dejen de ser diligentes; antes bien, sirvan al Señor con el fervor que da el Espíritu.

Do not be slothful in zeal, be fervent in spirit, serve the Lord.

Como respuesta el hombre citó: —"Ama al Señor tu Dios con todo tu corazón, con todo tu ser, con todas tus fuerzas y con toda tu mente", y: "Ama a tu prójimo como a ti mismo."

And he answered, "You shall love the Lord your God with all your heart and with all your soul and with all your strength and with all your mind, and your neighbor as yourself."

Dirigiéndose a todos, declaró: —Si alguien quiere ser mi discípulo, que se niegue a sí mismo, lleve su cruz cada día y me siga.

And he said to all, "If anyone would come after me, let him deny himself and take up his cross daily and follow me."

Porque todos los que son guiados por el Espíritu de Dios son hijos de Dios.

For all who are led by the Spirit of God are sons of God.

Nosotros somos testigos de estos acontecimientos, y también lo es el Espíritu Santo que Dios ha dado a quienes le obedecen.

And we are witnesses to these things, and so is the Holy Spirit, whom God has given to those who obey him.

Por lo tanto, hermanos, tomando en cuenta la misericordia de Dios, les ruego que cada uno de ustedes, en adoración espiritual, ofrezca su cuerpo como sacrificio vivo, santo y agradable a Dios.

I appeal to you therefore, brothers, by the mercies of God, to present your bodies as a living sacrifice, holy and acceptable to God, which is your spiritual worship.

Y toda lengua confiese que Jesucristo es el Señor, para gloria de Dios Padre.

And every tongue confess that Jesus Christ is Lord, to the glory of God the Father.

De este modo, por la voluntad de Dios, llegaré a ustedes con alegría y podré descansar entre ustedes por algún tiempo.

So that by God's will I may come to you with joy and be refreshed in your company.
Así que mi Dios les proveerá de todo lo que necesiten, conforme a las gloriosas riquezas que tiene en Cristo Jesús.
Recompensa de la humildad y del temor del S

eñor


son las riquezas, la honra y la vida.
Así que mi Dios les proveerá de todo lo que necesiten, conforme a las gloriosas riquezas que tiene en Cristo Jesús.
Plan de lectura de la Biblia
Registrar y configurar su plan de lectura de la Biblia que desea ver su progreso y el siguiente capítulo para leer aquí!