Bible Verses about Idols
«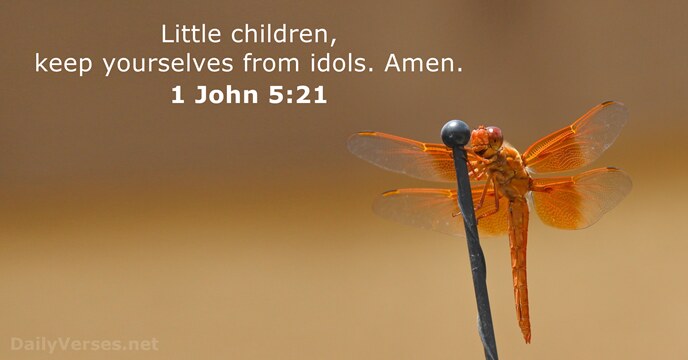 »
Little children, keep yourselves from idols. Amen.

Hijitos, guardaos de los ídolos. Amén.

Know ye not that the unrighteous shall not inherit the kingdom of God? Be not deceived: neither fornicators, nor idolaters, nor adulterers, nor effeminate, nor abusers of themselves with mankind, Nor thieves, nor covetous, nor drunkards, nor revilers, nor extortioners, shall inherit the kingdom of God.

¿No sabéis que los injustos no heredarán el reino de Dios? No os engañéis: ni los fornicarios, ni los idólatras, ni los adúlteros, ni los afeminados, ni los homosexuales, ni los ladrones, ni los avaros, ni los borrachos, ni los maldicientes, ni los estafadores, heredarán el reino de Dios.

Ye shall walk after the L

ord

your God, and fear him, and keep his commandments, and obey his voice, and ye shall serve him, and cleave unto him.

A Jehová, vuestro Dios, seguiréis y a él temeréis, guardaréis sus mandamientos y escucharéis su voz, a él serviréis y a él le seréis fieles.

Ye shall not make with me gods of silver, neither shall ye make unto you gods of gold.

No os hagáis dioses de plata ni dioses de oro para ponerlos junto a mí.

Know therefore this day, and consider it in thine heart, that the L

ord

he is God in heaven above, and upon the earth beneath: there is none else.

Aprende pues, hoy, y reflexiona en tu corazón que Jehová es Dios arriba en el cielo y abajo en la tierra; no hay otro.

And have no fellowship with the unfruitful works of darkness, but rather reprove them. For it is a shame even to speak of those things which are done of them in secret.

Y no participéis en las obras infructuosas de las tinieblas, sino más bien reprendedlas, porque vergonzoso es aun hablar de lo que ellos hacen en secreto.

Mortify therefore your members which are upon the earth; fornication, uncleanness, inordinate affection, evil concupiscence, and covetousness, which is idolatry.

Haced morir, pues, lo terrenal en vosotros: fornicación, impureza, pasiones desordenadas, malos deseos y avaricia, que es idolatría.

For the customs of the people are vain: for one cutteth a tree out of the forest, the work of the hands of the workman, with the axe. They deck it with silver and with gold; they fasten it with nails and with hammers, that it move not. They are upright as the palm tree, but speak not: they must needs be borne, because they cannot go. Be not afraid of them; for they cannot do evil, neither also is it in them to do good.

Porque las costumbres de los pueblos son vanidad: cortan un leño del bosque, luego lo labra el artífice con su cincel, con plata y oro lo adornan y con clavos y martillo lo afirman para que no se mueva. Derechos están como una palmera, pero no hablan; son llevados, porque no pueden andar. No tengáis temor de ellos, porque ni pueden hacer mal ni tienen poder para hacer bien.

And if it seem evil unto you to serve the L

ord

, choose you this day whom ye will serve; whether the gods which your fathers served that were on the other side of the flood, or the gods of the Amorites, in whose land ye dwell: but as for me and my house, we will serve the L

ord

.

Si mal os parece servir a Jehová, escogeos hoy a quién sirváis; si a los dioses a quienes sirvieron vuestros padres cuando estuvieron al otro lado del río, o a los dioses de los amorreos en cuya tierra habitáis; pero yo y mi casa serviremos a Jehová.

Yet I am the L

ord

thy God from the land of Egypt, and thou shalt know no god but me: for there is no saviour beside me.

Mas yo soy Jehová, tu Dios, desde la tierra de Egipto; no conocerás, pues, otro dios fuera de mí, ni otro salvador sino a mí.

No weapon that is formed against thee shall prosper; and every tongue that shall rise against thee in judgment thou shalt condemn. This is the heritage of the servants of the L

ord

, and their righteousness is of me, saith the L

ord

.

«Ninguna arma forjada contra ti, prosperará, y tú condenarás toda lengua que se levante contra ti en el juicio. Ésta es la herencia de los siervos de Jehová: su salvación de mí vendrá», dice Jehová.

Put on the whole armour of God, that ye may be able to stand against the wiles of the devil.

Vestíos de toda la armadura de Dios, para que podáis estar firmes contra las asechanzas del diablo.

For the love of money is the root of all evil: which while some coveted after, they have erred from the faith, and pierced themselves through with many sorrows.

Porque raíz de todos los males es el amor al dinero, el cual codiciando algunos, se extraviaron de la fe y fueron atormentados con muchos dolores.

Be not overcome of evil, but overcome evil with good.

No seas vencido de lo malo, sino vence con el bien el mal.

The sting of death is sin; and the strength of sin is the law.

Porque el aguijón de la muerte es el pecado, y el poder del pecado es la Ley.

Depart from evil, and do good; seek peace, and pursue it.

Apártate del mal y haz el bien; busca la paz y síguela.

I pray not that thou shouldest take them out of the world, but that thou shouldest keep them from the evil.

No ruego que los quites del mundo, sino que los guardes del mal.
Defend the poor and fatherless: do justice to the afflicted and needy.
Personal Bible reading plan
Create an account to configure your Bible reading plan and you will see your progress and the next chapter to read here!
Read more...