48 Bible Verses about Joy (2/2)
«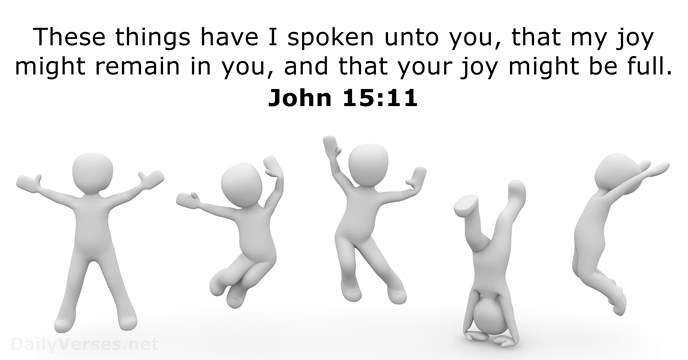 »
These things have I spoken unto you, that my joy might remain in you, and that your joy might be full.
A merry heart doeth good like a medicine:
but a broken spirit drieth the bones.
I have no greater joy than to hear that my children walk in truth.
I will be glad and rejoice in thee:
I will sing praise to thy name, O thou most High.
While he yet spake, behold, a bright cloud overshadowed them: and behold a voice out of the cloud, which said, This is my beloved Son, in whom I am well pleased; hear ye him.
In the day of prosperity be joyful, but in the day of adversity consider: God also hath set the one over against the other, to the end that man should find nothing after him.
And not only so, but we glory in tribulations also: knowing that tribulation worketh patience; And patience, experience; and experience, hope.
Then he said unto them, Go your way, eat the fat, and drink the sweet, and send portions unto them for whom nothing is prepared: for this day is holy unto our L

ord

: neither be ye sorry; for the joy of the L

ord

is your strength.
I know that there is no good in them, but for a man to rejoice, and to do good in his life. And also that every man should eat and drink, and enjoy the good of all his labour, it is the gift of God.
As sorrowful, yet alway rejoicing; as poor, yet making many rich; as having nothing, and yet possessing all things.
Go thy way, eat thy bread with joy, and drink thy wine with a merry heart; for God now accepteth thy works.
But unto you that fear my name shall the Sun of righteousness arise with healing in his wings; and ye shall go forth, and grow up as calves of the stall.
I say unto you, that likewise joy shall be in heaven over one sinner that repenteth, more than over ninety and nine just persons, which need no repentance.
And the angel said unto them, Fear not: for, behold, I bring you good tidings of great joy, which shall be to all people.
Notwithstanding in this rejoice not, that the spirits are subject unto you; but rather rejoice, because your names are written in heaven.
My son, if thine heart be wise,
my heart shall rejoice, even mine.
Deceit is in the heart of them that imagine evil:
but to the counsellors of peace is joy.
Remember now thy Creator in the days of thy youth, while the evil days come not, nor the years draw nigh, when thou shalt say, I have no pleasure in them.
Every man also to whom God hath given riches and wealth, and hath given him power to eat thereof, and to take his portion, and to rejoice in his labour; this is the gift of God.
Likewise, I say unto you, there is joy in the presence of the angels of God over one sinner that repenteth.
A wise son maketh a glad father:
but a foolish son is the heaviness of his mother.
The vine is dried up, and the fig tree languisheth; the pomegranate tree, the palm tree also, and the apple tree, even all the trees of the field, are withered: because joy is withered away from the sons of men.
The hope of the righteous shall be gladness:
but the expectation of the wicked shall perish.
Previous
1
2
Next
Read more
Receive the Daily Bible Verse: