Bible Verses about Lying
«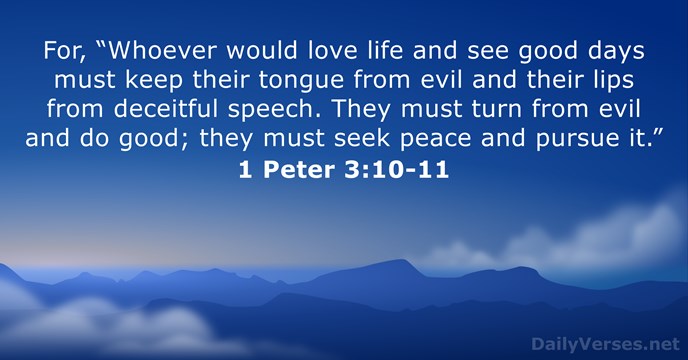 »
For, "Whoever would love life and see good days must keep their tongue from evil and their lips from deceitful speech. They must turn from evil and do good; they must seek peace and pursue it."

Porque: El que quiere amar la vida Y ver días buenos, Refrene su lengua de mal, Y sus labios no hablen engaño; Apártese del mal, y haga el bien; Busque la paz, y sígala.

Save me, L

ord

, from lying lips and from deceitful tongues.

Libra mi alma, oh Jehová, del labio mentiroso, Y de la lengua fraudulenta.

The L

ord

detests lying lips, but he delights in people who are trustworthy.

Los labios mentirosos son abominación a Jehová; Pero los que hacen verdad son su contentamiento.

The one whose walk is blameless, who does what is righteous, who speaks the truth from their heart; whose tongue utters no slander, who does no wrong to a neighbor, and casts no slur on others.

El que anda en integridad y hace justicia, Y habla verdad en su corazón. El que no calumnia con su lengua, Ni hace mal a su prójimo, Ni admite reproche alguno contra su vecino.

He went on: "What comes out of a person is what defiles them. For it is from within, out of a person's heart, that evil thoughts come—sexual immorality, theft, murder, adultery, greed, malice, deceit, lewdness, envy, slander, arrogance and folly. All these evils come from inside and defile a person."

Pero decía, que lo que del hombre sale, eso contamina al hombre. Porque de dentro, del corazón de los hombres, salen los malos pensamientos, los adulterios, las fornicaciones, los homicidios, los hurtos, las avaricias, las maldades, el engaño, la lascivia, la envidia, la maledicencia, la soberbia, la insensatez. Todas estas maldades de dentro salen, y contaminan al hombre.

Whoever conceals hatred with lying lips and spreads slander is a fool.

El que encubre el odio es de labios mentirosos; Y el que propaga calumnia es necio.

Keep your tongue from evil and your lips from telling lies.

Guarda tu lengua del mal, Y tus labios de hablar engaño.

If we claim to have fellowship with him and yet walk in the darkness, we lie and do not live out the truth.

Si decimos que tenemos comunión con él, y andamos en tinieblas, mentimos, y no practicamos la verdad.

A perverse person stirs up conflict, and a gossip separates close friends.

El hombre perverso levanta contienda, Y el chismoso aparta a los mejores amigos.

Do not lie to each other, since you have taken off your old self with its practices and have put on the new self, which is being renewed in knowledge in the image of its Creator.

No mintáis los unos a los otros, habiéndoos despojado del viejo hombre con sus hechos, y revestido del nuevo, el cual conforme a la imagen del que lo creó se va renovando hasta el conocimiento pleno.

Whoever walks in integrity walks securely, but whoever takes crooked paths will be found out.

El que camina en integridad anda confiado; Mas el que pervierte sus caminos será quebrantado.

An honest witness does not deceive, but a false witness pours out lies.

El testigo verdadero no mentirá; Mas el testigo falso hablará mentiras.

'You shall not murder, you shall not commit adultery, you shall not steal, you shall not give false testimony, honor your father and mother,' and 'love your neighbor as yourself.'

No matarás. No adulterarás. No hurtarás. No dirás falso testimonio. Honra a tu padre y a tu madre; y, Amarás a tu prójimo como a ti mismo.

Keep falsehood and lies far from me; give me neither poverty nor riches, but give me only my daily bread.

Vanidad y palabra mentirosa aparta de mí; No me des pobreza ni riquezas; Manténme del pan necesario.

Blessed are you when people insult you, persecute you and falsely say all kinds of evil against you because of me.

Bienaventurados sois cuando por mi causa os vituperen y os persigan, y digan toda clase de mal contra vosotros, mintiendo.

To fear the L

ord

is to hate evil; I hate pride and arrogance, evil behavior and perverse speech.

El temor de Jehová es aborrecer el mal; La soberbia y la arrogancia, el mal camino, Y la boca perversa, aborrezco.

The soothing tongue is a tree of life, but a perverse tongue crushes the spirit.

La lengua apacible es árbol de vida; Mas la perversidad de ella es quebrantamiento de espíritu.

A gossip betrays a confidence, but a trustworthy person keeps a secret.

El que anda en chismes descubre el secreto; Mas el de espíritu fiel lo guarda todo.

You belong to your father, the devil, and you want to carry out your father's desires. He was a murderer from the beginning, not holding to the truth, for there is no truth in him. When he lies, he speaks his native language, for he is a liar and the father of lies.

Vosotros sois de vuestro padre el diablo, y los deseos de vuestro padre queréis hacer. El ha sido homicida desde el principio, y no ha permanecido en la verdad, porque no hay verdad en él. Cuando habla mentira, de suyo habla; porque es mentiroso, y padre de mentira.

Eloquent lips are unsuited to a godless fool— how much worse lying lips to a ruler!

No conviene al necio la altilocuencia; !!Cuánto menos al príncipe el labio mentiroso!

Keep your mouth free of perversity; keep corrupt talk far from your lips.

Aparta de ti la perversidad de la boca, Y aleja de ti la iniquidad de los labios.

Then Peter said, "Ananias, how is it that Satan has so filled your heart that you have lied to the Holy Spirit and have kept for yourself some of the money you received for the land? Didn't it belong to you before it was sold? And after it was sold, wasn't the money at your disposal? What made you think of doing such a thing? You have not lied just to human beings but to God."

Y dijo Pedro: Ananías, ¿por qué llenó Satanás tu corazón para que mintieses al Espíritu Santo, y sustrajeses del precio de la heredad? Reteniéndola, ¿no se te quedaba a ti? y vendida, ¿no estaba en tu poder? ¿Por qué pusiste esto en tu corazón? No has mentido a los hombres, sino a Dios.

The lips of the righteous know what finds favor, but the mouth of the wicked only what is perverse.

Los labios del justo saben hablar lo que agrada; Mas la boca de los impíos habla perversidades.

God is not human, that he should lie, not a human being, that he should change his mind. Does he speak and then not act? Does he promise and not fulfill?

Dios no es hombre, para que mienta, Ni hijo de hombre para que se arrepienta. El dijo, ¿y no hará? Habló, ¿y no lo ejecutará?
God is our refuge and strength, an ever-present help in trouble.
Personal Bible reading plan
Create an account to configure your Bible reading plan and you will see your progress and the next chapter to read here!
Read more...