Bible Verses about 'Had'
«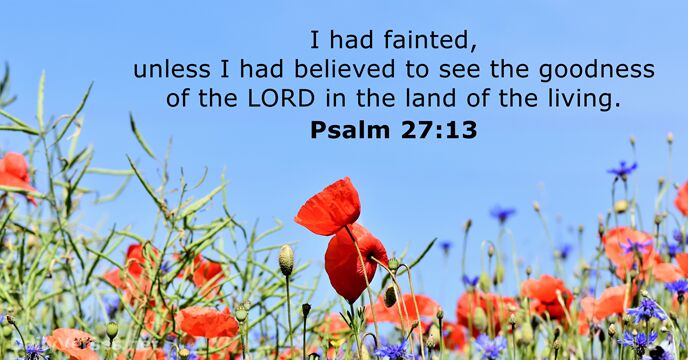 »
What shall we say then? Is the law sin? God forbid. Nay, I had not known sin, but by the law: for I had not known lust, except the law had said, Thou shalt not covet.

Que diremos, pois? É a lei pecado? De modo nenhum! Mas eu não conheci o pecado senão pela lei; porque eu não conheceria a concupiscência, se a lei não dissesse: Não cobiçarás.

I had fainted, unless I had believed to see the goodness of the L

ord

in the land of the living.
Pereceria sem dúvida, se não cresse que veria os bens do S

enhor

na terra dos viventes.
And the L

ord

turned the captivity of Job, when he prayed for his friends: also the L

ord

gave Job twice as much as he had before.
E o S

enhor

virou o cativeiro de Jó, quando orava pelos seus amigos; e o S

enhor

acrescentou a Jó outro tanto em dobro a tudo quanto dantes possuía.

And the shepherds returned, glorifying and praising God for all the things that they had heard and seen, as it was told unto them.

E voltaram os pastores glorificando e louvando a Deus por tudo o que tinham ouvido e visto, como lhes havia sido dito.

So then after the Lord had spoken unto them, he was received up into heaven, and sat on the right hand of God.

Ora, o Senhor, depois de lhes ter falado, foi recebido no céu e assentou-se à direita de Deus.

When Jesus therefore had received the vinegar, he said, It is finished: and he bowed his head, and gave up the ghost.

E, quando Jesus tomou o vinagre, disse: Está consumado. E, inclinando a cabeça, entregou o espírito.

If ye had known me, ye should have known my Father also: and from henceforth ye know him, and have seen him.

Se vós me conhecêsseis a mim, também conheceríeis a meu Pai; e já desde agora o conheceis e o tendes visto.

And God blessed the seventh day, and sanctified it: because that in it he had rested from all his work which God created and made.

E abençoou Deus o dia sétimo e o santificou; porque nele descansou de toda a sua obra, que Deus criara e fizera.

And when they had fasted and prayed, and laid their hands on them, they sent them away.

Então, jejuando, e orando, e pondo sobre eles as mãos, os despediram.

And when he had spoken these things, while they beheld, he was taken up; and a cloud received him out of their sight.

E, quando dizia isto, vendo-o eles, foi elevado às alturas, e uma nuvem o recebeu, ocultando-o a seus olhos.

Through faith also Sara herself received strength to conceive seed, and was delivered of a child when she was past age, because she judged him faithful who had promised.

Pela fé, também a mesma Sara recebeu a virtude de conceber e deu à luz já fora da idade; porquanto teve por fiel aquele que lho tinha prometido.

And when Jesus had cried with a loud voice, he said, Father, into thy hands I commend my spirit: and having said thus, he gave up the ghost.

E, clamando Jesus com grande voz, disse: Pai, nas tuas mãos entrego o meu espírito. E, havendo dito isso, expirou.

And the multitude of them that believed were of one heart and of one soul: neither said any of them that ought of the things which he possessed was his own; but they had all things common.

E era um o coração e a alma da multidão dos que criam, e ninguém dizia que coisa alguma do que possuía era sua própria, mas todas as coisas lhes eram comuns.

Because I delivered the poor that cried, and the fatherless, and him that had none to help him. The blessing of him that was ready to perish came upon me: and I caused the widow's heart to sing for joy.

Porque eu livrava o miserável, que clamava, como também o órfão que não tinha quem o socorresse. A bênção do que ia perecendo vinha sobre mim, e eu fazia que rejubilasse o coração da viúva.

And the same John had his raiment of camel's hair, and a leathern girdle about his loins; and his meat was locusts and wild honey.

E este João tinha a sua veste de pelos de camelo e um cinto de couro em torno de seus lombos e alimentava-se de gafanhotos e de mel silvestre.

And when they had prayed, the place was shaken where they were assembled together; and they were all filled with the Holy Ghost, and they spake the word of God with boldness.

E, tendo eles orado, moveu-se o lugar em que estavam reunidos; e todos foram cheios do Espírito Santo e anunciavam com ousadia a palavra de Deus.

Then had the churches rest throughout all Judaea and Galilee and Samaria, and were edified; and walking in the fear of the Lord, and in the comfort of the Holy Ghost, were multiplied.

Assim, pois, as igrejas em toda a Judeia, e Galileia, e Samaria tinham paz e eram edificadas; e se multiplicavam, andando no temor do Senhor e na consolação do Espírito Santo.

When they heard this, they were baptized in the name of the Lord Jesus. And when Paul had laid his hands upon them, the Holy Ghost came on them; and they spake with tongues, and prophesied.

E os que ouviram foram batizados em nome do Senhor Jesus. E, impondo-lhes Paulo as mãos, veio sobre eles o Espírito Santo; e falavam línguas e profetizavam.

And I will strengthen the house of Judah, and I will save the house of Joseph, and I will bring them again to place them; for I have mercy upon them: and they shall be as though I had not cast them off: for I am the L

ord

their God, and will hear them.
E fortalecerei a casa de Judá, e salvarei a casa de José, e tornarei a plantá-los, porque me apiedei deles; e serão como se os não tivera rejeitado; porque eu sou o S

enhor

, seu Deus, e os ouvirei.

And when he had called the people unto him with his disciples also, he said unto them, Whosoever will come after me, let him deny himself, and take up his cross, and follow me.

E, chamando a si a multidão, com os seus discípulos, disse-lhes: Se alguém quiser vir após mim, negue-se a si mesmo, e tome a sua cruz, e siga-me.

Who being the brightness of his glory, and the express image of his person, and upholding all things by the word of his power, when he had by himself purged our sins, sat down on the right hand of the Majesty on high.

O qual, sendo o resplendor da sua glória, e a expressa imagem da sua pessoa, e sustentando todas as coisas pela palavra do seu poder, havendo feito por si mesmo a purificação dos nossos pecados, assentou-se à destra da Majestade, nas alturas.

For a day in thy courts is better than a thousand. I had rather be a doorkeeper in the house of my God, than to dwell in the tents of wickedness.

Porque vale mais um dia nos teus átrios do que, em outra parte, mil. Preferiria estar à porta da Casa do meu Deus, a habitar nas tendas da impiedade.

And the rib, which the L

ord

God had taken from man, made he a woman, and brought her unto the man. And Adam said, This is now bone of my bones, and flesh of my flesh: she shall be called Woman, because she was taken out of Man. Therefore shall a man leave his father and his mother, and shall cleave unto his wife: and they shall be one flesh.
E da costela que o S

enhor

Deus tomou do homem formou uma mulher; e trouxe-a a Adão. E disse Adão: Esta é agora osso dos meus ossos e carne da minha carne; esta será chamada varoa, porquanto do varão foi tomada. Portanto, deixará o varão o seu pai e a sua mãe e apegar-se-á à sua mulher, e serão ambos uma carne.

And they stripped him, and put on him a scarlet robe. And when they had platted a crown of thorns, they put it upon his head, and a reed in his right hand: and they bowed the knee before him, and mocked him, saying, Hail, King of the Jews!

E, despindo-o, o cobriram com uma capa escarlate. E, tecendo uma coroa de espinhos, puseram-lha na cabeça e, em sua mão direita, uma cana; e, ajoelhando diante dele, o escarneciam, dizendo: Salve, Rei dos judeus!

Then went in also that other disciple, which came first to the sepulchre, and he saw, and believed. For as yet they knew not the scripture, that he must rise again from the dead.

Então, entrou também o outro discípulo, que chegara primeiro ao sepulcro, e viu, e creu. Porque ainda não sabiam a Escritura, que diz que era necessário que ressuscitasse dos mortos.
A prudent man foreseeth the evil, and hideth himself; but the simple pass on, and are punished.
Personal Bible reading plan
Create an account to configure your Bible reading plan and you will see your progress and the next chapter to read here!
Read more...