Bible Verses about 'Had'
«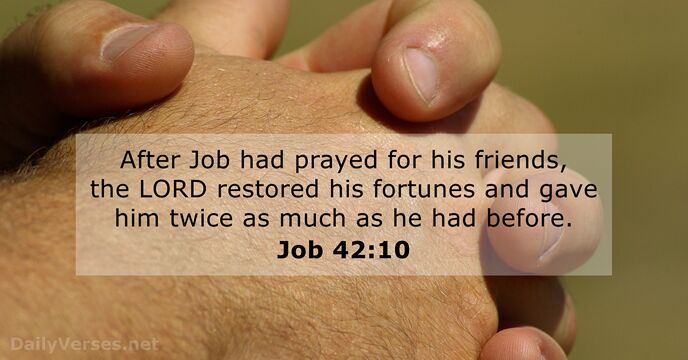 »
After Job had prayed for his friends, the L

ord

restored his fortunes and gave him twice as much as he had before.

The shepherds returned, glorifying and praising God for all the things they had heard and seen, which were just as they had been told.

What shall we say, then? Is the law sinful? Certainly not! Nevertheless, I would not have known what sin was had it not been for the law. For I would not have known what coveting really was if the law had not said, "You shall not covet."

After the Lord Jesus had spoken to them, he was taken up into heaven and he sat at the right hand of God.

When he had received the drink, Jesus said, "It is finished." With that, he bowed his head and gave up his spirit.

Then God blessed the seventh day and made it holy, because on it he rested from all the work of creating that he had done.

So after they had fasted and prayed, they placed their hands on them and sent them off.

Finally the other disciple, who had reached the tomb first, also went inside. He saw and believed. (They still did not understand from Scripture that Jesus had to rise from the dead.)

And by faith even Sarah, who was past childbearing age, was enabled to bear children because she considered him faithful who had made the promise.

Jesus called out with a loud voice, "Father, into your hands I commit my spirit." When he had said this, he breathed his last.

All the believers were one in heart and mind. No one claimed that any of their possessions was their own, but they shared everything they had.

Because I rescued the poor who cried for help,
and the fatherless who had none to assist them.
The one who was dying blessed me;
I made the widow's heart sing.

As I began to speak, the Holy Spirit came on them as he had come on us at the beginning.

John's clothes were made of camel's hair, and he had a leather belt around his waist. His food was locusts and wild honey.

God made him who had no sin to be sin for us, so that in him we might become the righteousness of God.

I will strengthen Judah
and save the tribes of Joseph.
I will restore them
because I have compassion on them.
They will be as though
I had not rejected them,
for I am the L

ord

their God
and I will answer them.
I remain confident of this:
I will see the goodness of the L

ord


in the land of the living.

If you really know me, you will know my Father as well. From now on, you do know him and have seen him.

To the Jews who had believed him, Jesus said, "If you hold to my teaching, you are really my disciples. Then you will know the truth, and the truth will set you free."

May the God who gives endurance and encouragement give you the same attitude of mind toward each other that Christ Jesus had.

After he said this, he was taken up before their very eyes, and a cloud hid him from their sight.

The Son is the radiance of God's glory and the exact representation of his being, sustaining all things by his powerful word. After he had provided purification for sins, he sat down at the right hand of the Majesty in heaven.

All this took place to fulfill what the Lord had said through the prophet: "The virgin will conceive and give birth to a son, and they will call him Immanuel" (which means "God with us").

And I saw the dead, great and small, standing before the throne, and books were opened. Another book was opened, which is the book of life. The dead were judged according to what they had done as recorded in the books. The sea gave up the dead that were in it, and death and Hades gave up the dead that were in them, and each person was judged according to what they had done.

For prophecy never had its origin in the human will, but prophets, though human, spoke from God as they were carried along by the Holy Spirit.
The Lord loves righteousness and justice; the earth is full of his unfailing love.
Personal Bible reading plan
Create an account to configure your Bible reading plan and you will see your progress and the next chapter to read here!
Read more...