Bible Verses about 'Hath'
«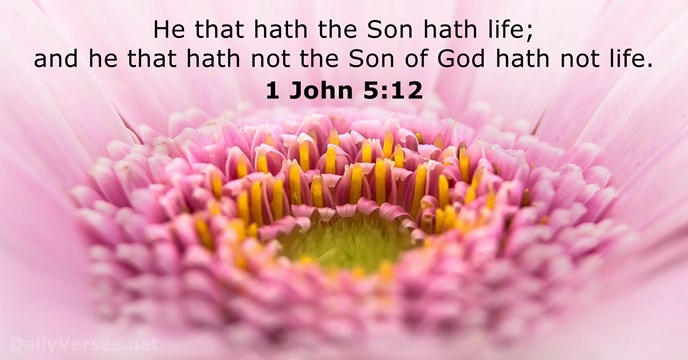 »
He that hath the Son hath life; and he that hath not the Son of God hath not life.

But our God is in the heavens:
he hath done whatsoever he hath pleased.

Forasmuch then as Christ hath suffered for us in the flesh, arm yourselves likewise with the same mind: for he that hath suffered in the flesh hath ceased from sin.

Whosoever denieth the Son, the same hath not the Father: he that acknowledgeth the Son hath the Father also.

No man hath seen God at any time, the only begotten Son, which is in the bosom of the Father, he hath declared him.

Even so faith, if it hath not works, is dead, being alone.

For if there be first a willing mind, it is accepted according to that a man hath, and not according to that he hath not.

And walk in love, as Christ also hath loved us, and hath given himself for us an offering and a sacrifice to God for a sweetsmelling savour.

Let every thing that hath breath praise the L

ord

.
Praise ye the L

ord

.
But he knoweth the way that I take:
when he hath tried me, I shall come forth as gold.
My foot hath held his steps,
his way have I kept, and not declined.

If a man say, I love God, and hateth his brother, he is a liar: for he that loveth not his brother whom he hath seen, how can he love God whom he hath not seen?

But as it is written, Eye hath not seen, nor ear heard, neither have entered into the heart of man, the things which God hath prepared for them that love him.

I love the L

ord

, because he hath heard
my voice and my supplications.
Because he hath inclined his ear unto me,
therefore will I call upon him as long as I live.
This is the day which the L

ord

hath made;
we will rejoice and be glad in it.

Be ye not unequally yoked together with unbelievers: for what fellowship hath righteousness with unrighteousness? and what communion hath light with darkness?

According as his divine power hath given unto us all things that pertain unto life and godliness, through the knowledge of him that hath called us to glory and virtue.

God is not a man, that he should lie; neither the son of man, that he should repent: hath he said, and shall he not do it? or hath he spoken, and shall he not make it good?

Greater love hath no man than this, that a man lay down his life for his friends.

A fool hath no delight in understanding,
but that his heart may discover itself.

He hath made every thing beautiful in his time: also he hath set the world in their heart, so that no man can find out the work that God maketh from the beginning to the end.

Every man also to whom God hath given riches and wealth, and hath given him power to eat thereof, and to take his portion, and to rejoice in his labour; this is the gift of God.

As far as the east is from the west,
so far hath he removed our transgressions from us.

Who hath delivered us from the power of darkness, and hath translated us into the kingdom of his dear Son: In whom we have redemption through his blood, even the forgiveness of sins.

Hereby know we that we dwell in him, and he in us, because he hath given us of his Spirit.

And this is the record, that God hath given to us eternal life, and this life is in his Son.
I will extol thee, my God, O king; and I will bless thy name for ever and ever.
Personal Bible reading plan
Create an account to configure your Bible reading plan and you will see your progress and the next chapter to read here!
Read more...