100 Bible Verses about 'Knows'
«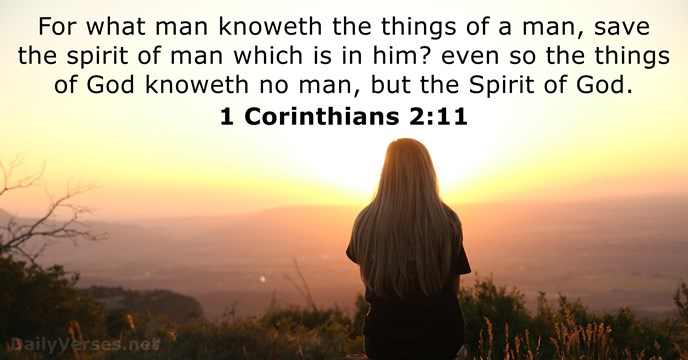 »
For what man knoweth the things of a man, save the spirit of man which is in him? even so the things of God knoweth no man, but the Spirit of God.

He revealeth the deep and secret things:
he knoweth what is in the darkness,
and the light dwelleth with him.

Beloved, let us love one another: for love is of God; and every one that loveth is born of God, and knoweth God.

The Lord knoweth how to deliver the godly out of temptations, and to reserve the unjust unto the day of judgment to be punished.

The L

ord

is good,
a strong hold in the day of trouble;
and he knoweth them that trust in him.

And he that searcheth the hearts knoweth what is the mind of the Spirit, because he maketh intercession for the saints according to the will of God.

But he knoweth the way that I take:
when he hath tried me, I shall come forth as gold.
My foot hath held his steps,
his way have I kept, and not declined.
For thou hast possessed my reins:
thou hast covered me in my mother's womb.
I will praise thee; for I am fearfully and wonderfully made:
marvellous are thy works;
and that my soul knoweth right well.

He that loveth not knoweth not God; for God is love.

If ye had known me, ye should have known my Father also: and from henceforth ye know him, and have seen him.

Knowing this, that the trying of your faith worketh patience.

For the L

ord

giveth wisdom:
out of his mouth cometh knowledge and understanding.
Whoso loveth instruction loveth knowledge:
but he that hateth reproof is brutish.
For in much wisdom is much grief:
and he that increaseth knowledge increaseth sorrow.
The fear of the L

ord

is the beginning of knowledge:
but fools despise wisdom and instruction.
O L

ord

, thou hast searched me, and known me.
Thou knowest my downsitting and mine uprising,
thou understandest my thought afar off.
The fear of the L

ord

is the beginning of wisdom:
and the knowledge of the holy is understanding.
For there is not a word in my tongue,
but, lo, O L

ord

, thou knowest it altogether.
An hypocrite with his mouth destroyeth his neighbour:
but through knowledge shall the just be delivered.

Awake to righteousness, and sin not; for some have not the knowledge of God: I speak this to your shame.

As thou knowest not what is the way of the spirit, nor how the bones do grow in the womb of her that is with child: even so thou knowest not the works of God who maketh all.

And beside this, giving all diligence, add to your faith virtue; and to virtue knowledge; And to knowledge temperance; and to temperance patience; and to patience godliness; And to godliness brotherly kindness; and to brotherly kindness charity.

Therefore by the deeds of the law there shall no flesh be justified in his sight: for by the law is the knowledge of sin.

But grow in grace, and in the knowledge of our Lord and Saviour Jesus Christ. To him be glory both now and for ever. Amen.

Who is a wise man and endued with knowledge among you? let him shew out of a good conversation his works with meekness of wisdom.
He giveth power to the faint;
and to them that have no might he increaseth strength.
Rejoicing in hope; patient in tribulation; continuing instant in prayer.
Read more
He giveth power to the faint; and to them that have no might he increaseth strength.
Personal Bible reading plan
Create an account to configure your Bible reading plan and you will see your progress and the next chapter to read here!
Read more...