Bible Verses about 'No'
«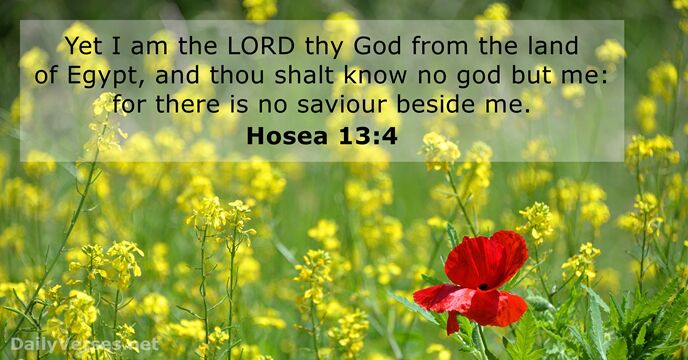 »
Yet I am the L

ord

thy God from the land of Egypt, and thou shalt know no god but me: for there is no saviour beside me.
But I have been the L

ord

your God ever since you came out of Egypt. You shall acknowledge no God but me, no Savior except me.

Thou art all fair, my love; there is no spot in thee.

You are altogether beautiful, my darling; there is no flaw in you.

Let no man seek his own, but every man another's wealth.

No one should seek their own good, but the good of others.

I have no greater joy than to hear that my children walk in truth.

I have no greater joy than to hear that my children are walking in the truth.

Greater love hath no man than this, that a man lay down his life for his friends.

Greater love has no one than this: to lay down one's life for one's friends.

A fool hath no delight in understanding, but that his heart may discover itself.

Fools find no pleasure in understanding but delight in airing their own opinions.

Love worketh no ill to his neighbour: therefore love is the fulfilling of the law.

Love does no harm to a neighbor. Therefore love is the fulfillment of the law.

I ate no pleasant bread, neither came flesh nor wine in my mouth, neither did I anoint myself at all, till three whole weeks were fulfilled.

I ate no choice food; no meat or wine touched my lips; and I used no lotions at all until the three weeks were over.

The blessing of the L

ord

, it maketh rich, and he addeth no sorrow with it.
The blessing of the L

ord

brings wealth, without painful toil for it.

Behold, I come quickly: hold that fast which thou hast, that no man take thy crown.

I am coming soon. Hold on to what you have, so that no one will take your crown.

Follow peace with all men, and holiness, without which no man shall see the Lord.

Make every effort to live in peace with everyone and to be holy; without holiness no one will see the Lord.

He giveth power to the faint; and to them that have no might he increaseth strength.

He gives strength to the weary and increases the power of the weak.

Jesus saith unto him, I am the way, the truth, and the life: no man cometh unto the Father, but by me.

Jesus answered, "I am the way and the truth and the life. No one comes to the Father except through me."

Owe no man any thing, but to love one another: for he that loveth another hath fulfilled the law.

Let no debt remain outstanding, except the continuing debt to love one another, for whoever loves others has fulfilled the law.

For I will be merciful to their unrighteousness, and their sins and their iniquities will I remember no more.

For I will forgive their wickedness and will remember their sins no more.

For I have no pleasure in the death of him that dieth, saith the Lord G

od

: wherefore turn yourselves, and live ye.
For I take no pleasure in the death of anyone, declares the Sovereign L

ord

. Repent and live!

No man hath seen God at any time. If we love one another, God dwelleth in us, and his love is perfected in us.

No one has ever seen God; but if we love one another, God lives in us and his love is made complete in us.

Let no man say when he is tempted, I am tempted of God: for God cannot be tempted with evil, neither tempteth he any man.

When tempted, no one should say, "God is tempting me." For God cannot be tempted by evil, nor does he tempt anyone.

No man hath seen God at any time, the only begotten Son, which is in the bosom of the Father, he hath declared him.

No one has ever seen God, but the one and only Son, who is himself God and is in closest relationship with the Father, has made him known.

For he hath made him to be sin for us, who knew no sin; that we might be made the righteousness of God in him.

God made him who had no sin to be sin for us, so that in him we might become the righteousness of God.

He that hath no rule over his own spirit is like a city that is broken down, and without walls.

Like a city whose walls are broken through is a person who lacks self-control.

Therefore by the deeds of the law there shall no flesh be justified in his sight: for by the law is the knowledge of sin.

Therefore no one will be declared righteous in God's sight by the works of the law; rather, through the law we become conscious of our sin.

This then is the message which we have heard of him, and declare unto you, that God is light, and in him is no darkness at all.

This is the message we have heard from him and declare to you: God is light; in him there is no darkness at all.

Although the fig tree shall not blossom, neither shall fruit be in the vines; the labour of the olive shall fail, and the fields shall yield no meat; the flock shall be cut off from the fold, and there shall be no herd in the stalls: Yet I will rejoice in the L

ord

, I will joy in the God of my salvation.
Though the fig tree does not bud and there are no grapes on the vines, though the olive crop fails and the fields produce no food, though there are no sheep in the pen and no cattle in the stalls, yet I will rejoice in the L

ord

, I will be joyful in God my Savior.

Let every soul be subject unto the higher powers. For there is no power but of God: the powers that be are ordained of God.

Let everyone be subject to the governing authorities, for there is no authority except that which God has established. The authorities that exist have been established by God.
But as many as received him, to them gave he power to become the sons of God, even to them that believe on his name.
Personal Bible reading plan
Create an account to configure your Bible reading plan and you will see your progress and the next chapter to read here!
Read more...