Bible Verses about 'No'
«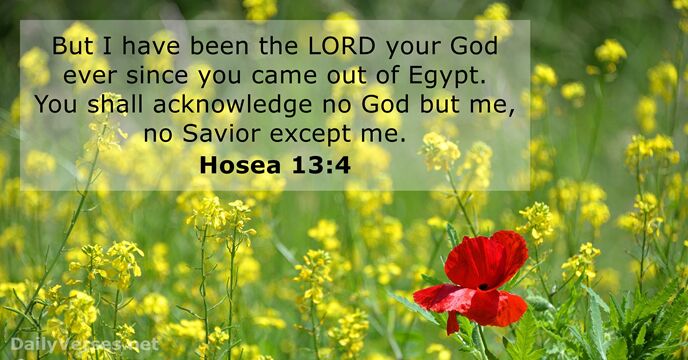 »
I ate no choice food; no meat or wine touched my lips; and I used no lotions at all until the three weeks were over.

Вкусного хлеба я не ел; мясо и вино не входило в уста мои, и мастями я не умащал себя до исполнения трех седмиц дней.

But I have been the L

ord

your God ever since you came out of Egypt. You shall acknowledge no God but me, no Savior except me.

Но Я — Господь Бог твой от земли Египетской, — и ты не должен знать другого бога, кроме Меня, и нет спасителя, кроме Меня.

There is no one holy like the L

ord

; there is no one besides you; there is no Rock like our God.
Нет столь святаго, как Господь; ибо нет другого, кроме Тебя; и нет твердыни, как Бог наш.

You are altogether beautiful, my darling; there is no flaw in you.

Вся ты прекрасна, возлюбленная моя, и пятна нет на тебе!

No one should seek their own good, but the good of others.

Никто не ищи своего, но каждый пользы другого.

I have no greater joy than to hear that my children are walking in the truth.

Для меня нет бо́льшей радости, как слышать, что дети мои ходят в истине.

Greater love has no one than this: to lay down one's life for one's friends.

Нет больше той любви, как если кто положит душу свою за друзей своих.

Love does no harm to a neighbor. Therefore love is the fulfillment of the law.

Любовь не делает ближнему зла; итак любовь есть исполнение закона.

Fools find no pleasure in understanding but delight in airing their own opinions.

Глупый не любит знания, а только бы выказать свой ум.

I tell you, no! But unless you repent, you too will all perish.

Нет, говорю вам, но, если не покаетесь, все та́к же погибнете.

I am coming soon. Hold on to what you have, so that no one will take your crown.

Се, гряду скоро; держи, что имеешь, дабы кто не восхитил венца твоего.

Salvation is found in no one else, for there is no other name under heaven given to mankind by which we must be saved.

Ибо нет другого имени под небом, данного человекам, которым надлежало бы нам спастись.

For I will forgive their wickedness and will remember their sins no more.

Потому что Я буду милостив к неправдам их, и грехов их и беззаконий их не воспомяну более.

Though the fig tree does not bud and there are no grapes on the vines, though the olive crop fails and the fields produce no food, though there are no sheep in the pen and no cattle in the stalls, yet I will rejoice in the L

ord

, I will be joyful in God my Savior.

Хотя бы не расцвела смоковница и не было плода на виноградных лозах, и маслина изменила, и нива не дала пищи, хотя бы не стало овец в загоне и рогатого скота в стойлах, — но и тогда я буду радоваться о Господе и веселиться о Боге спасения моего.

Make every effort to live in peace with everyone and to be holy; without holiness no one will see the Lord.

Старайтесь иметь мир со всеми и святость, без которой никто не увидит Господа.

For I take no pleasure in the death of anyone, declares the Sovereign L

ord

. Repent and live!

Ибо Я не хочу смерти умирающего, говорит Господь Бог; но обратитесь, и живите!

Jesus answered, "I am the way and the truth and the life. No one comes to the Father except through me."

Иисус сказал ему: Я есмь путь и истина и жизнь; никто не приходит к Отцу, как только через Меня.

Direct my footsteps according to your word; let no sin rule over me.

Утверди стопы мои в слове Твоем и не дай овладеть мною никакому беззаконию.

For no word from God will ever fail.

Ибо у Бога не останется бессильным никакое слово.

When tempted, no one should say, "God is tempting me." For God cannot be tempted by evil, nor does he tempt anyone.

В искушении никто не говори: Бог меня искушает; потому что Бог не искушается злом и Сам не искушает никого.

No one has ever seen God; but if we love one another, God lives in us and his love is made complete in us.

Бога никто никогда не видел. Если мы любим друг друга, то Бог в нас пребывает, и любовь Его совершенна есть в нас.

Let no debt remain outstanding, except the continuing debt to love one another, for whoever loves others has fulfilled the law.

Не оставайтесь должными никому ничем, кроме взаимной любви; ибо любящий другого исполнил закон.

God made him who had no sin to be sin for us, so that in him we might become the righteousness of God.

Ибо не знавшего греха Он сделал для нас жертвою за грех, чтобы мы в Нем сделались праведными пред Богом.

No one has ever seen God, but the one and only Son, who is himself God and is in closest relationship with the Father, has made him known.

Бога не видел никто никогда; Единородный Сын, сущий в недре Отчем, Он явил.

This is the message we have heard from him and declare to you: God is light; in him there is no darkness at all.

И вот благовестие, которое мы слышали от Него и возвещаем вам: Бог есть свет, и нет в Нем никакой тьмы.
Jesus looked at them and said, "With man this is impossible, but with God all things are possible."
Personal Bible reading plan
Create an account to configure your Bible reading plan and you will see your progress and the next chapter to read here!
Read more...