«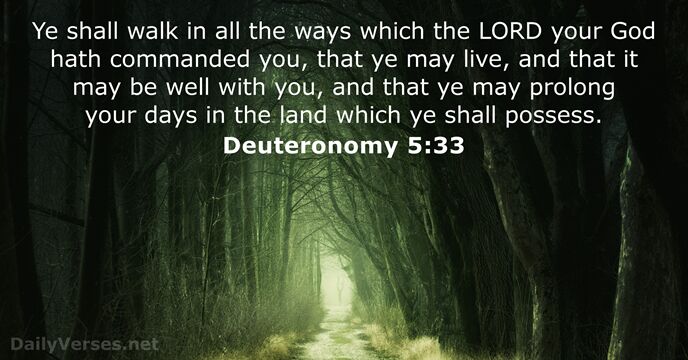 »
Ye shall walk in all the ways which the L

ord

your God hath commanded you, that ye may live, and that it may be well with you, and that ye may prolong your days in the land which ye shall possess.

Walk in wisdom toward them that are without, redeeming the time. Let your speech be always with grace, seasoned with salt, that ye may know how ye ought to answer every man.

Cause me to hear thy lovingkindness in the morning;
for in thee do I trust:
cause me to know the way wherein I should walk;
for I lift up my soul unto thee.
I am the L

ord

your God; walk in my statutes, and keep my judgments, and do them; And hallow my sabbaths; and they shall be a sign between me and you, that ye may know that I am the L

ord

your God.

If ye walk in my statutes, and keep my commandments, and do them; Then I will give you rain in due season, and the land shall yield her increase, and the trees of the field shall yield their fruit.

But take diligent heed to do the commandment and the law, which Moses the servant of the L

ord

charged you, to love the L

ord

your God, and to walk in all his ways, and to keep his commandments, and to cleave unto him, and to serve him with all your heart and with all your soul.
And keep the charge of the L

ord

thy God, to walk in his ways, to keep his statutes, and his commandments, and his judgments, and his testimonies, as it is written in the law of Moses, that thou mayest prosper in all that thou doest, and whithersoever thou turnest thyself.
And now, Israel, what doth the L

ord

thy God require of thee, but to fear the L

ord

thy God, to walk in all his ways, and to love him, and to serve the L

ord

thy God with all thy heart and with all thy soul, To keep the commandments of the L

ord

, and his statutes, which I command thee this day for thy good?
In that I command thee this day to love the L

ord

thy God, to walk in his ways, and to keep his commandments and his statutes and his judgments, that thou mayest live and multiply: and the L

ord

thy God shall bless thee in the land whither thou goest to possess it.

There is therefore now no condemnation to them which are in Christ Jesus, who walk not after the flesh, but after the Spirit. For the law of the Spirit of life in Christ Jesus hath made me free from the law of sin and death.

When thou passest through the waters,
I will be with thee;
and through the rivers,
they shall not overflow thee:
when thou walkest through the fire,
thou shalt not be burned;
neither shall the flame kindle upon thee.
Blessed is every one that feareth the L

ord

;
that walketh in his ways.
A fool's lips enter into contention,
and his mouth calleth for strokes.

And these words, which I command thee this day, shall be in thine heart: And thou shalt teach them diligently unto thy children, and shalt talk of them when thou sittest in thine house, and when thou walkest by the way, and when thou liest down, and when thou risest up.

He that walketh with wise men shall be wise:
but a companion of fools shall be destroyed.

For if ye throughly amend your ways and your doings; if ye throughly execute judgment between a man and his neighbour; If ye oppress not the stranger, the fatherless, and the widow, and shed not innocent blood in this place, neither walk after other gods to your hurt: Then will I cause you to dwell in this place, in the land that I gave to your fathers, for ever and ever.

And an highway shall be there, and a way, and it shall be called The way of holiness; the unclean shall not pass over it; but it shall be for those: the wayfaring men, though fools, shall not err therein.

Blessed is the man
that walketh not in the counsel of the ungodly,
nor standeth in the way of sinners,
nor sitteth in the seat of the scornful.
He that walketh uprightly,
and worketh righteousness,
and speaketh the truth in his heart.
He that backbiteth not with his tongue,
nor doeth evil to his neighbour,
nor taketh up a reproach against his neighbour.

For the customs of the people are vain: for one cutteth a tree out of the forest, the work of the hands of the workman, with the axe. They deck it with silver and with gold; they fasten it with nails and with hammers, that it move not. They are upright as the palm tree, but speak not: they must needs be borne, because they cannot go. Be not afraid of them; for they cannot do evil, neither also is it in them to do good.
I will extol thee, my God, O king; and I will bless thy name for ever and ever.
Personal Bible reading plan
Create an account to configure your Bible reading plan and you will see your progress and the next chapter to read here!
Read more...