Bible Verses about 'Were'
«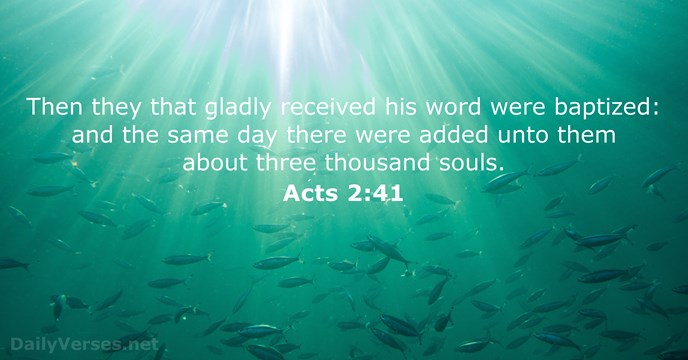 »
Know ye not, that so many of us as were baptized into Jesus Christ were baptized into his death?

Ou não sabeis que todos quantos fomos batizados em Jesus Cristo fomos batizados na sua morte?

Then they that gladly received his word were baptized: and the same day there were added unto them about three thousand souls.

De sorte que foram batizados os que de bom grado receberam a sua palavra; e, naquele dia, agregaram-se quase três mil almas.

And I saw the dead, small and great, stand before God; and the books were opened: and another book was opened, which is the book of life: and the dead were judged out of those things which were written in the books, according to their works. And the sea gave up the dead which were in it; and death and hell delivered up the dead which were in them: and they were judged every man according to their works.

E vi os mortos, grandes e pequenos, que estavam diante do trono, e abriram-se os livros. E abriu-se outro livro, que é o da vida. E os mortos foram julgados pelas coisas que estavam escritas nos livros, segundo as suas obras. E deu o mar os mortos que nele havia; e a morte e o inferno deram os mortos que neles havia; e foram julgados cada um segundo as suas obras.

And the eyes of them both were opened, and they knew that they were naked; and they sewed fig leaves together, and made themselves aprons.

Então, foram abertos os olhos de ambos, e conheceram que estavam nus; e coseram folhas de figueira, e fizeram para si aventais.

For if, when we were enemies, we were reconciled to God by the death of his Son, much more, being reconciled, we shall be saved by his life.

Porque, se nós, sendo inimigos, fomos reconciliados com Deus pela morte de seu Filho, muito mais, estando já reconciliados, seremos salvos pela sua vida.

And when they had prayed, the place was shaken where they were assembled together; and they were all filled with the Holy Ghost, and they spake the word of God with boldness.

E, tendo eles orado, moveu-se o lugar em que estavam reunidos; e todos foram cheios do Espírito Santo e anunciavam com ousadia a palavra de Deus.

For when we were yet without strength, in due time Christ died for the ungodly.

Porque Cristo, estando nós ainda fracos, morreu a seu tempo pelos ímpios.

All things were made by him; and without him was not any thing made that was made.

Todas as coisas foram feitas por ele, e sem ele nada do que foi feito se fez.
By the word of the L

ord

were the heavens made; and all the host of them by the breath of his mouth.
Pela palavra do S

enhor

foram feitos os céus; e todo o exército deles, pelo espírito da sua boca.

And when the day of Pentecost was fully come, they were all with one accord in one place. And suddenly there came a sound from heaven as of a rushing mighty wind, and it filled all the house where they were sitting.

Cumprindo-se o dia de Pentecostes, estavam todos reunidos no mesmo lugar; e, de repente, veio do céu um som, como de um vento veemente e impetuoso, e encheu toda a casa em que estavam assentados.

But now in Christ Jesus ye who sometimes were far off are made nigh by the blood of Christ.

Mas, agora, em Cristo Jesus, vós, que antes estáveis longe, já pelo sangue de Cristo chegastes perto.

In my Father's house are many mansions: if it were not so, I would have told you. I go to prepare a place for you.

Na casa de meu Pai há muitas moradas; se não fosse assim, eu vo-lo teria dito, pois vou preparar-vos lugar.

Say not thou, What is the cause that the former days were better than these? for thou dost not enquire wisely concerning this.

Nunca digas: Por que foram os dias passados melhores do que estes? Porque nunca com sabedoria isso perguntarias.

And at midnight Paul and Silas prayed, and sang praises unto God: and the prisoners heard them.

Perto da meia-noite, Paulo e Silas oravam e cantavam hinos a Deus, e os outros presos os escutavam.

God is faithful, by whom ye were called unto the fellowship of his Son Jesus Christ our Lord.

Fiel é Deus, pelo qual fostes chamados para a comunhão de seu Filho Jesus Cristo, nosso Senhor.

For as by one man's disobedience many were made sinners, so by the obedience of one shall many be made righteous.

Porque, como, pela desobediência de um só homem, muitos foram feitos pecadores, assim, pela obediência de um, muitos serão feitos justos.

For the prophecy came not in old time by the will of man: but holy men of God spake as they were moved by the Holy Ghost.

Porque a profecia nunca foi produzida por vontade de homem algum, mas os homens santos de Deus falaram inspirados pelo Espírito Santo.

Then had the churches rest throughout all Judaea and Galilee and Samaria, and were edified; and walking in the fear of the Lord, and in the comfort of the Holy Ghost, were multiplied.

Assim, pois, as igrejas em toda a Judeia, e Galileia, e Samaria tinham paz e eram edificadas; e se multiplicavam, andando no temor do Senhor e na consolação do Espírito Santo.

Before the mountains were brought forth, or ever thou hadst formed the earth and the world, even from everlasting to everlasting, thou art God.

Antes que os montes nascessem, ou que tu formasses a terra e o mundo, sim, de eternidade a eternidade, tu és Deus.

And so it was, that, while they were there, the days were accomplished that she should be delivered. And she brought forth her firstborn son, and wrapped him in swaddling clothes, and laid him in a manger; because there was no room for them in the inn.

E aconteceu que, estando eles ali, se cumpriram os dias em que ela havia de dar à luz. E deu à luz o seu filho primogênito, e envolveu-o em panos, e deitou-o numa manjedoura, porque não havia lugar para eles na estalagem.

For even hereunto were ye called: because Christ also suffered for us, leaving us an example, that ye should follow his steps.

Porque para isto sois chamados, pois também Cristo padeceu por nós, deixando-nos o exemplo, para que sigais as suas pisadas.

There is one body, and one Spirit, even as ye are called in one hope of your calling.

Há um só corpo e um só Espírito, como também fostes chamados em uma só esperança da vossa vocação.

I ate no pleasant bread, neither came flesh nor wine in my mouth, neither did I anoint myself at all, till three whole weeks were fulfilled.

Manjar desejável não comi, nem carne nem vinho entraram na minha boca, nem me ungi com unguento, até que se cumpriram as três semanas.

But God, who is rich in mercy, for his great love wherewith he loved us, Even when we were dead in sins, hath quickened us together with Christ, (by grace ye are saved).

Mas Deus, que é riquíssimo em misericórdia, pelo seu muito amor com que nos amou, estando nós ainda mortos em nossas ofensas, nos vivificou juntamente com Cristo (pela graça sois salvos).

And the multitude of them that believed were of one heart and of one soul: neither said any of them that ought of the things which he possessed was his own; but they had all things common.

E era um o coração e a alma da multidão dos que criam, e ninguém dizia que coisa alguma do que possuía era sua própria, mas todas as coisas lhes eram comuns.
A soft answer turneth away wrath: but grievous words stir up anger.
Personal Bible reading plan
Create an account to configure your Bible reading plan and you will see your progress and the next chapter to read here!
Read more...