«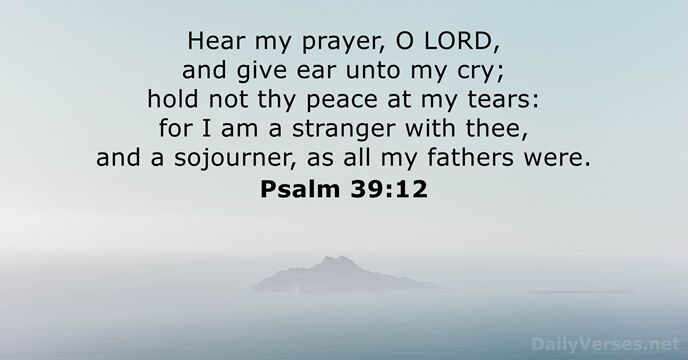 »
Hear my prayer, O L

ord

,
and give ear unto my cry;
hold not thy peace at my tears:
for I am a stranger with thee,
and a sojourner, as all my fathers were.

When they heard this, they were baptized in the name of the Lord Jesus. And when Paul had laid his hands upon them, the Holy Ghost came on them; and they spake with tongues, and prophesied.

For by one Spirit are we all baptized into one body, whether we be Jews or Gentiles, whether we be bond or free; and have been all made to drink into one Spirit.

Then he took the five loaves and the two fishes, and looking up to heaven, he blessed them, and brake, and gave to the disciples to set before the multitude. And they did eat, and were all filled: and there was taken up of fragments that remained to them twelve baskets.

For scarcely for a righteous man will one die: yet peradventure for a good man some would even dare to die. But God commendeth his love toward us, in that, while we were yet sinners, Christ died for us.

And there appeared unto them cloven tongues like as of fire, and it sat upon each of them. And they were all filled with the Holy Ghost, and began to speak with other tongues, as the Spirit gave them utterance.

And grieve not the holy Spirit of God, whereby ye are sealed unto the day of redemption.

But when they saw him walking upon the sea, they supposed it had been a spirit, and cried out: For they all saw him, and were troubled. And immediately he talked with them, and saith unto them, Be of good cheer: it is I; be not afraid.

Who his own self bare our sins in his own body on the tree, that we, being dead to sins, should live unto righteousness: by whose stripes ye were healed.

Now when all the people were baptized, it came to pass, that Jesus also being baptized, and praying, the heaven was opened, And the Holy Ghost descended in a bodily shape like a dove upon him, and a voice came from heaven, which said, Thou art my beloved Son; in thee I am well pleased.

He is despised and rejected of men;
a man of sorrows, and acquainted with grief:
and we hid as it were our faces from him;
he was despised, and we esteemed him not.

Forasmuch as ye know that ye were not redeemed with corruptible things, as silver and gold, from your vain conversation received by tradition from your fathers; But with the precious blood of Christ, as of a lamb without blemish and without spot.

And let the peace of God rule in your hearts, to the which also ye are called in one body; and be ye thankful.

For ye are all the children of God by faith in Christ Jesus. For as many of you as have been baptized into Christ have put on Christ.

For we know that if our earthly house of this tabernacle were dissolved, we have a building of God, an house not made with hands, eternal in the heavens.

Not rendering evil for evil, or railing for railing: but contrariwise blessing; knowing that ye are thereunto called, that ye should inherit a blessing.

O that there were such an heart in them, that they would fear me, and keep all my commandments always, that it might be well with them, and with their children for ever!

And Jesus being full of the Holy Ghost returned from Jordan, and was led by the Spirit into the wilderness, Being forty days tempted of the devil. And in those days he did eat nothing: and when they were ended, he afterward hungered.

And it came to pass, that he went through the corn fields on the sabbath day; and his disciples began, as they went, to pluck the ears of corn. And the Pharisees said unto him, Behold, why do they on the sabbath day that which is not lawful? And he said unto them, Have ye never read what David did, when he had need, and was an hungred, he, and they that were with him? How he went into the house of God in the days of Abiathar the high priest, and did eat the shewbread, which is not lawful to eat but for the priests, and gave also to them which were with him? And he said unto them, The sabbath was made for man, and not man for the sabbath: Therefore the Son of man is Lord also of the sabbath.

Fight the good fight of faith, lay hold on eternal life, whereunto thou art also called, and hast professed a good profession before many witnesses.

Jesus said unto her, I am the resurrection, and the life: he that believeth in me, though he were dead, yet shall he live: And whosoever liveth and believeth in me shall never die. Believest thou this?

And if it seem evil unto you to serve the L

ord

, choose you this day whom ye will serve; whether the gods which your fathers served that were on the other side of the flood, or the gods of the Amorites, in whose land ye dwell: but as for me and my house, we will serve the L

ord

.

And for this cause he is the mediator of the new testament, that by means of death, for the redemption of the transgressions that were under the first testament, they which are called might receive the promise of eternal inheritance.

What? know ye not that your body is the temple of the Holy Ghost which is in you, which ye have of God, and ye are not your own? For ye are bought with a price: therefore glorify God in your body, and in your spirit, which are God's.

For, brethren, ye have been called unto liberty; only use not liberty for an occasion to the flesh, but by love serve one another.
And this is the confidence that we have in him, that, if we ask any thing according to his will, he heareth us.
Personal Bible reading plan
Create an account to configure your Bible reading plan and you will see your progress and the next chapter to read here!
Read more...