Bible Verses about Wisdom
«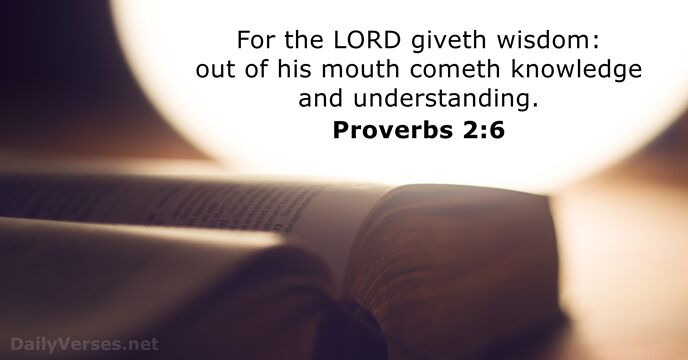 »
For the L

ord

giveth wisdom: out of his mouth cometh knowledge and understanding.

Sillä viisaus tulee Herralta, hän antaa tiedon ja ymmärryksen.

See then that ye walk circumspectly, not as fools, but as wise, Redeeming the time, because the days are evil.

Katsokaa siis tarkoin, miten elätte: älkää eläkö tyhmien tavoin, vaan niin kuin viisaat. Käyttäkää oikein jokainen hetki, sillä tämä aika on paha.

If any of you lack wisdom, let him ask of God, that giveth to all men liberally, and upbraideth not; and it shall be given him.

Jos kuitenkin joltakulta teistä puuttuu viisautta, pyytäköön sitä Jumalalta. Hän on saava pyytämänsä, sillä Jumala antaa auliisti kaikille, ketään soimaamatta.

But the wisdom that is from above is first pure, then peaceable, gentle, and easy to be intreated, full of mercy and good fruits, without partiality, and without hypocrisy.

Mutta ylhäältä tuleva viisaus on puhdasta ja pyhää, ja niin se myös rakentaa rauhaa, se on lempeää ja sopuisaa, täynnä armahtavaisuutta ja hyviä hedelmiä, se on tasapuolista ja teeskentelemätöntä.

How much better is it to get wisdom than gold! and to get understanding rather to be chosen than silver!

Hanki viisautta, se on parempaa kuin kulta, hanki ymmärrystä, se on kalliimpaa kuin hopea.

Say not thou, What is the cause that the former days were better than these? for thou dost not enquire wisely concerning this.

Älä kysele, miksi asiat ennen olivat paremmin kuin nyt, sillä et sinä viisauttasi sitä kysy.

Walk in wisdom toward them that are without, redeeming the time. Let your speech be always with grace, seasoned with salt, that ye may know how ye ought to answer every man.

Suhtautukaa viisaasti ulkopuolisiin, käyttäkää sopivaa hetkeä hyväksenne. Puhukaa aina ystävällisesti, kuitenkin sananne suolalla höystäen. Teidän on tiedettävä, miten kullekin vastaatte.

Only by pride cometh contention: but with the well advised is wisdom.

Ylimielisyydestä koituu vain riitaa, viisas se, joka neuvoja kuulee.

He that getteth wisdom loveth his own soul: he that keepeth understanding shall find good.

Itseään auttaa, joka ymmärrystään lisää, onnen saa, joka harkiten toimii.

Let no man deceive himself. If any man among you seemeth to be wise in this world, let him become a fool, that he may be wise.

Älköön vain kukaan pettäkö itseään. Jos joku teistä on olevinaan viisas tässä maailmassa, hänestä täytyy ensin tulla hullu, jotta hänestä tulisi viisas.

He that keepeth his mouth keepeth his life: but he that openeth wide his lips shall have destruction.

Joka hillitsee kielensä, turvaa henkensä, suupaltti kulkee turmioon.

Who is a wise man and endued with knowledge among you? let him shew out of a good conversation his works with meekness of wisdom.

Kuka teistä on viisas ja ymmärtäväinen? Esittäköön hän osoitukseksi hyvästä vaelluksesta tekonsa, sävyisästi, niin kuin viisas tekee.

Therefore whosoever heareth these sayings of mine, and doeth them, I will liken him unto a wise man, which built his house upon a rock.

Jokainen, joka kuulee nämä sanani ja tekee niiden mukaan, on kuin järkevä mies, joka rakensi talonsa kalliolle.

So teach us to number our days, that we may apply our hearts unto wisdom.

Opeta meille, miten lyhyt on aikamme, että saisimme viisaan sydämen.

When pride cometh, then cometh shame: but with the lowly is wisdom.

Missä on ylpeys, sinne tulee häpeä, nöyrien kumppani on viisaus.

For whoso findeth me findeth life, and shall obtain favour of the L

ord

.

Joka minut löytää, löytää elämän, hänet Herra ottaa suosioonsa.

For my thoughts are not your thoughts, neither are your ways my ways, saith the L

ord

.

Minun ajatukseni eivät ole teidän ajatuksianne eivätkä teidän tienne ole minun teitäni, sanoo Herra.

A fool hath no delight in understanding, but that his heart may discover itself.

Moukka ei yritäkään ymmärtää, silti hän tahtoo mielipiteensä julki.

The fear of the L

ord

is the instruction of wisdom; and before honour is humility.

Herran pelko on viisauden koulu, kunnian tie käy nöyryyden kautta.

The wise in heart will receive commandments: but a prating fool shall fall.

Ymmärtäväinen ottaa ohjeet varteen, mutta mieletön etsii tuhoaan.

This also cometh forth from the L

ord

of hosts, which is wonderful in counsel, and excellent in working.

Herra Sebaot on antanut tämänkin taidon. Ihmeelliset ovat hänen neuvonsa, hän antaa runsaan menestyksen.

I thank thee, and praise thee, O thou God of my fathers, who hast given me wisdom and might, and hast made known unto me now what we desired of thee: for thou hast now made known unto us the king's matter.

Sinua, isieni Jumala, minä kiitän ja ylistän, sillä sinä olet antanut minulle viisautta ja voimaa ja nyt olet ilmoittanut minulle sen, mitä sinulta pyysimme, olet ilmoittanut meille, mitä vastata kuninkaalle.

Even a fool, when he holdeth his peace, is counted wise: and he that shutteth his lips is esteemed a man of understanding.

Hullukin käy viisaasta, jos on vaiti, järkevästä, ellei suutaan avaa.

He that is slow to wrath is of great understanding: but he that is hasty of spirit exalteth folly.

Pitkämielisyys on järkevän miehen merkki, äkkipikaisuus on hulluuden huippu.

Hast thou not known? hast thou not heard, that the everlasting God, the L

ord

, the Creator of the ends of the earth, fainteth not, neither is weary? there is no searching of his understanding.

Etkö jo ole oppinut, etkö ole kuullut, että Herra on ikuinen Jumala, koko maanpiirin luoja? Ei hän väsy, ei uuvu, tutkimaton on hänen viisautensa.
For where your treasure is, there will your heart be also.
Personal Bible reading plan
Create an account to configure your Bible reading plan and you will see your progress and the next chapter to read here!
Read more...