24 Versículos de la Biblia sobre 'Libertad'
«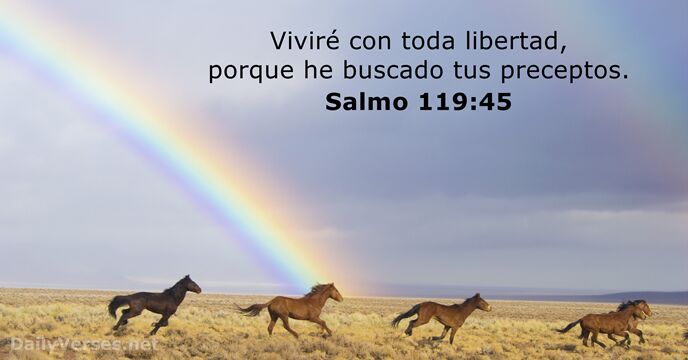 »
Viviré con toda libertad, porque he buscado tus preceptos.

And I shall walk in a wide place, for I have sought your precepts.

Ahora bien, el Señor es el Espíritu; y, donde está el Espíritu del Señor, allí hay libertad.

Now the Lord is the Spirit, and where the Spirit of the Lord is, there is freedom.

Cristo nos libertó para que vivamos en libertad. Por lo tanto, manténganse firmes y no se sometan nuevamente al yugo de esclavitud.

For freedom Christ has set us free; stand firm therefore, and do not submit again to a yoke of slavery.

Les hablo así, hermanos, porque ustedes han sido llamados a ser libres; pero no se valgan de esa libertad para dar rienda suelta a sus pasiones. Más bien sírvanse unos a otros con amor.

For you were called to freedom, brothers. Only do not use your freedom as an opportunity for the flesh, but through love serve one another.

El Espíritu del Señor está sobre mí, por cuanto me ha ungido para anunciar buenas nuevas a los pobres. Me ha enviado a proclamar libertad a los cautivos y dar vista a los ciegos, a poner en libertad a los oprimidos.

The Spirit of the Lord is upon me, because he has anointed me to proclaim good news to the poor. He has sent me to proclaim liberty to the captives and recovering of sight to the blind, to set at liberty those who are oppressed.

Eso es actuar como personas libres que no se valen de su libertad para disimular la maldad, sino que viven como siervos de Dios.

Live as people who are free, not using your freedom as a cover-up for evil, but living as servants of God.

Desde mi angustia clamé al S

eñor

, y él respondió dándome libertad.
Out of my distress I called on the L

ord

; the L

ord

answered me and set me free.

Pero quien se fija atentamente en la ley perfecta que da libertad, y persevera en ella, no olvidando lo que ha oído, sino haciéndolo, recibirá bendición al practicarla.

But the one who looks into the perfect law, the law of liberty, and perseveres, being no hearer who forgets but a doer who acts, he will be blessed in his doing.

El Espíritu del S

eñor

omnipotente está sobre mí, por cuanto me ha ungido para anunciar buenas nuevas a los pobres. Me ha enviado a sanar los corazones heridos, a proclamar liberación a los cautivos y libertad a los prisioneros.
The Spirit of the Lord G

od

is upon me, because the L

ord

has anointed me to bring good news to the poor; he has sent me to bind up the brokenhearted, to proclaim liberty to the captives, and the opening of the prison to those who are bound.

Dios da un hogar a los desamparados y libertad a los cautivos; los rebeldes habitarán en el desierto.

God settles the solitary in a home; he leads out the prisoners to prosperity, but the rebellious dwell in a parched land.

Yo soy la puerta; el que entre por esta puerta, que soy yo, será salvo. Se moverá con entera libertad, y hallará pastos.

I am the door. If anyone enters by me, he will be saved and will go in and out and find pasture.

El ayuno que he escogido, ¿no es más bien romper las cadenas de injusticia y desatar las correas del yugo, poner en libertad a los oprimidos y romper toda atadura?

"Is not this the fast that I choose: to loose the bonds of wickedness, to undo the straps of the yoke, to let the oppressed go free, and to break every yoke?"

Así que si el Hijo los libera, serán ustedes verdaderamente libres.

So if the Son sets you free, you will be free indeed.

«Todo me está permitido», pero no todo es para mi bien. «Todo me está permitido», pero no dejaré que nada me domine.

"All things are lawful for me," but not all things are helpful. "All things are lawful for me," but I will not be dominated by anything.

Pero ahora que han sido liberados del pecado y se han puesto al servicio de Dios, cosechan la santidad que conduce a la vida eterna.

But now that you have been set free from sin and have become slaves of God, the fruit you get leads to sanctification and its end, eternal life.

Muchas son las angustias del justo, pero el S

eñor

lo librará de todas ellas.
Many are the afflictions of the righteous, but the L

ord

delivers him out of them all.

Jesús se dirigió entonces a los judíos que habían creído en él, y les dijo: —Si se mantienen fieles a mis enseñanzas, serán realmente mis discípulos; y conocerán la verdad, y la verdad los hará libres.

So Jesus said to the Jews who had believed him, "If you abide in my word, you are truly my disciples, and you will know the truth, and the truth will set you free."

¡Cuánto te amo, S

eñor

, fuerza mía! El S

eñor

es mi roca, mi amparo, mi libertador; es mi Dios, el peñasco en que me refugio. Es mi escudo, el poder que me salva, ¡mi más alto escondite!
I love you, O L

ord

, my strength. The L

ord

is my rock and my fortress and my deliverer, my God, my rock, in whom I take refuge, my shield, and the horn of my salvation, my stronghold.

Por lo tanto, ya no hay ninguna condenación para los que están unidos a Cristo Jesús, pues por medio de él la ley del Espíritu de vida me ha liberado de la ley del pecado y de la muerte.

There is therefore now no condemnation for those who are in Christ Jesus. For the law of the Spirit of life has set you free in Christ Jesus from the law of sin and death.

Entonces, ¿qué? ¿Vamos a pecar porque no estamos ya bajo la ley sino bajo la gracia? ¡De ninguna manera!

What then? Are we to sin because we are not under law but under grace? By no means!

Aunque la higuera no florezca, ni haya frutos en las vides; aunque falle la cosecha del olivo, y los campos no produzcan alimentos; aunque en el aprisco no haya ovejas, ni ganado alguno en los establos; aun así, yo me regocijaré en el S

eñor

, ¡me alegraré en Dios, mi libertador!
Though the fig tree should not blossom, nor fruit be on the vines, the produce of the olive fail and the fields yield no food, the flock be cut off from the fold and there be no herd in the stalls, yet I will rejoice in the L

ord

; I will take joy in the God of my salvation.

Por tanto, hermanos, sepan que por medio de Jesús se les anuncia a ustedes el perdón de los pecados. Ustedes no pudieron ser justificados de esos pecados por la ley de Moisés, pero todo el que cree es justificado por medio de Jesús.

Let it be known to you therefore, brothers, that through this man forgiveness of sins is proclaimed to you, and by him everyone who believes is freed from everything from which you could not be freed by the law of Moses.

El S

eñor

ama a los que odian el mal; él protege la vida de sus fieles, y los libra de manos de los impíos.
O you who love the L

ord

, hate evil! He preserves the lives of his saints; he delivers them from the hand of the wicked.

Oh Dios y salvador nuestro, por la gloria de tu nombre, ayúdanos; por tu nombre, líbranos y perdona nuestros pecados.

Help us, O God of our salvation, for the glory of your name; deliver us, and atone for our sins, for your name's sake!
Que la gracia del Señor Jesucristo sea con su espíritu. Amén.
Vivimos por fe, no por vista.
Que la gracia del Señor Jesucristo sea con su espíritu. Amén.
Plan de lectura de la Biblia
Registrar y configurar su plan de lectura de la Biblia que desea ver su progreso y el siguiente capítulo para leer aquí!