Bible Verses about Family
«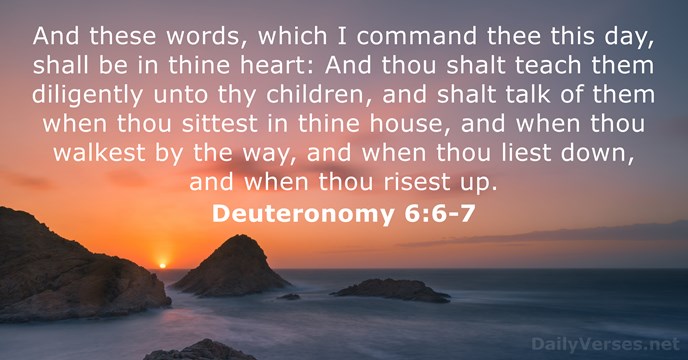 »
And these words, which I command thee this day, shall be in thine heart: And thou shalt teach them diligently unto thy children, and shalt talk of them when thou sittest in thine house, and when thou walkest by the way, and when thou liest down, and when thou risest up.

Und die Worte, die ich dir heute verkünde, sollen in deinem Herzen sein. Präge sie deinen Kindern ein und rede davon, ob du in deinem Haus bist oder unterwegs, ob du dich hinlegst oder aufstehst.

And they said, Believe on the Lord Jesus Christ, and thou shalt be saved, and thy house.

Sie sagten: "Glaube an Jesus, den Herrn! Dann wirst du gerettet und deine Familie mit dir."

Now I beseech you, brethren, by the name of our Lord Jesus Christ, that ye all speak the same thing, and that there be no divisions among you; but that ye be perfectly joined together in the same mind and in the same judgment.

Aber im Namen unseres Herrn Jesus Christus bitte ich euch dringend, liebe Geschwister: Sprecht alle mit einer Stimme und lasst keine Spaltungen unter euch sein! Haltet in derselben Gesinnung und Überzeugung zusammen!

My son, keep thy father's commandment, and forsake not the law of thy mother.

Bewahre, mein Sohn, das Gebot deines Vaters, verwirf die Weisung deiner Mutter nicht!

If a man say, I love God, and hateth his brother, he is a liar: for he that loveth not his brother whom he hath seen, how can he love God whom he hath not seen?

Wenn jemand sagt: "Ich liebe Gott!", aber seinen Bruder verabscheut, ist er ein Lügner. Denn wer seine Geschwister nicht liebt, die er ja sieht, wie kann er da Gott lieben, den er nie gesehen hat?

Behold, how good and how pleasant it is for brethren to dwell together in unity!

Seht, wie wunderbar schön es ist, wenn Brüder einträchtig beieinander sind.

Can a woman forget her sucking child, that she should not have compassion on the son of her womb? yea, they may forget, yet will I not forget thee. Behold, I have graven thee upon the palms of my hands; thy walls are continually before me.

Kann eine Frau denn ihren Säugling vergessen, eine Mutter ihren leiblichen Sohn? Und selbst wenn sie ihn vergessen könnte, ich vergesse dich nie! In beide Handflächen habe ich dich eingraviert, deine Mauern stehen immer vor mir.

But the mercy of the L

ord

is from everlasting to everlasting upon them that fear him, and his righteousness unto children's children; To such as keep his covenant, and to those that remember his commandments to do them.

Doch die Güte Jahwes hat ewig Bestand, für immer gilt sie jedem, der ihn ehrt, und sein Erbarmen auch noch den Kindern und Enkeln, ja allen, die sich an seinen Bund halten und seine Weisungen bedenken, um sie zu tun.

And, ye fathers, provoke not your children to wrath: but bring them up in the nurture and admonition of the Lord.

Ihr Väter, reizt eure Kinder nicht, sondern erzieht sie nach den Maßstäben und Ermahnungen des Herrn.

Train up a child in the way he should go: and when he is old, he will not depart from it.

Gewöhne den Jungen an seinen Weg, dann bleibt er auch im Alter dabei.

Honour thy father and thy mother: that thy days may be long upon the land which the L

ord

thy God giveth thee.

Ehre deinen Vater und deine Mutter! Dann wirst du lange in dem Land leben, das Jahwe, dein Gott, dir gibt.

But if any provide not for his own, and specially for those of his own house, he hath denied the faith, and is worse than an infidel.

Wenn aber jemand sich weigert, für seine Angehörigen zu sorgen - vor allem für die, die mit ihm unter einem Dach leben -, dann hat er seinen Glauben verleugnet und ist schlimmer als ein Ungläubiger.

A friend loveth at all times, and a brother is born for adversity.

Ein Freund steht immer zu dir, ein wahrer Bruder ist er in der Not.

Children's children are the crown of old men; and the glory of children are their fathers.

Der Alten Schmuck sind Enkelkinder, der Kinder Stolz ihre Väter.

A man that hath friends must shew himself friendly: and there is a friend that sticketh closer than a brother.

Viele Gefährten gefährden dich, ein echter Freund ist treuer als ein Bruder.

The L

ord

our God be with us, as he was with our fathers: let him not leave us, nor forsake us.

Möge Jahwe, unser Gott, mit uns sein, wie er auch mit unseren Vätern war. Er möge uns nie verlassen, uns niemals verstoßen!

Beloved, now are we the sons of God, and it doth not yet appear what we shall be: but we know that, when he shall appear, we shall be like him; for we shall see him as he is. And every man that hath this hope in him purifieth himself, even as he is pure.

Ihr Lieben, schon jetzt sind wir Kinder Gottes, und was das in Zukunft bedeuten wird, können wir uns jetzt noch nicht einmal vorstellen. Aber wir wissen, dass wir von gleicher Art sein werden wie er, denn wir werden ihn so sehen, wie er wirklich ist. Wer auf so etwas hofft, wird immer darauf achten, sich ‹von Sünde› zu reinigen, um rein zu sein wie er.

And if it seem evil unto you to serve the L

ord

, choose you this day whom ye will serve; whether the gods which your fathers served that were on the other side of the flood, or the gods of the Amorites, in whose land ye dwell: but as for me and my house, we will serve the L

ord

.

Wenn euch das aber nicht gefällt, dann entscheidet euch heute, wem ihr dienen wollt: den Göttern, die eure Vorfahren jenseits des Stromes verehrt haben, oder den Göttern der Amoriter, in deren Land ihr lebt. Doch ich und meine ganze Familie - wir werden Jahwe dienen!

If ye then, being evil, know how to give good gifts unto your children: how much more shall your heavenly Father give the Holy Spirit to them that ask him?

So schlecht wie ihr seid, wisst ihr doch, was gute Gaben für eure Kinder sind, und gebt sie ihnen auch. Wie viel eher wird dann der Vater aus dem Himmel den Heiligen Geist denen geben, die ihn bitten!

The father of the righteous shall greatly rejoice: and he that begetteth a wise child shall have joy of him.

Laut jubelt der Vater eines Gerechten; er freut sich über einen verständigen Sohn.

Honour thy father and thy mother: and, Thou shalt love thy neighbour as thyself.

Ehre deinen Vater und deine Mutter, und liebe deinen Nächsten wie dich selbst!

A wise son maketh a glad father: but a foolish son is the heaviness of his mother.

Ein kluger Sohn ist Vaters Glück, doch ein dummer ist Mutters Kummer.

My son, if thine heart be wise, my heart shall rejoice, even mine.

Mein Sohn, wenn du klug und einsichtig wirst, ist das eine herzliche Freude für mich.

Thou shalt do no murder, Thou shalt not commit adultery, Thou shalt not steal, Thou shalt not bear false witness, Honour thy father and thy mother: and, Thou shalt love thy neighbour as thyself.

Du sollst nicht morden, nicht die Ehe brechen, nicht stehlen und keine Falschaussagen machen. Ehre deinen Vater und deine Mutter, und liebe deinen Nächsten wie dich selbst!

Thine own friend, and thy father's friend, forsake not; neither go into thy brother's house in the day of thy calamity: for better is a neighbour that is near than a brother far off.

Den Freund und deines Vaters Freund gib niemals auf! Lauf nicht zu deinem Bruder, wenn du in Schwierigkeiten bist! Besser ein Nachbar in der Nähe als ein Bruder in der Ferne.
I will extol thee, my God, O king; and I will bless thy name for ever and ever.
Personal Bible reading plan
Create an account to configure your Bible reading plan and you will see your progress and the next chapter to read here!
Read more...