Bible Verses about Goodness
«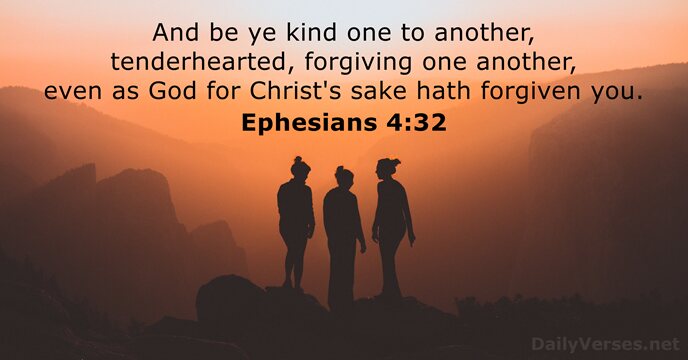 »
And be ye kind one to another, tenderhearted, forgiving one another, even as God for Christ's sake hath forgiven you.

Wees vriendelijk en behulpzaam voor elkaar. Vergeef elkaar, net zoals God jullie in Christus heeft vergeven.

As we have therefore opportunity, let us do good unto all men, especially unto them who are of the household of faith.

Daarom moeten we, wanneer we de kans hebben, voor iedereen goed zijn. Maar vooral voor de mensen die bij Gods gezin horen.

Be not overcome of evil, but overcome evil with good.

Laat je niet overwinnen door het kwaad, maar overwin het kwaad door goed te doen.

The L

ord

is good, a strong hold in the day of trouble; and he knoweth them that trust in him.

De Heer is goed. Hij is een sterke Helper in tijd van nood. Hij zorgt voor de mensen die op Hem vertrouwen.

The L

ord

is righteous in all his ways, and holy in all his works.

De Heer is rechtvaardig in alles wat Hij doet. Aan alles wat Hij doet is zijn liefde te zien.

Let love be without dissimulation. Abhor that which is evil; cleave to that which is good.

Jullie liefde moet écht zijn. Heb dus een hekel aan het kwaad en doe je best om te doen wat goed is.

But the fruit of the Spirit is love, joy, peace, longsuffering, gentleness, goodness, faith, Meekness, temperance: against such there is no law.

Maar door de Geest ontstaan liefde, blijdschap, vrede, geduld, vriendelijkheid, goedheid, geloof, hulpvaardigheid, zelfbeheersing. Tegen zulke dingen heeft de wet van Mozes niets.

All things are lawful for me, but all things are not expedient: all things are lawful for me, but all things edify not.

Alles mag, maar niet alles is nuttig. Alles mag, maar niet alles is goed voor een ander.

Neither do men light a candle, and put it under a bushel, but on a candlestick; and it giveth light unto all that are in the house. Let your light so shine before men, that they may see your good works, and glorify your Father which is in heaven.

En als je een olielamp aansteekt, zet je er daarna geen emmer overheen. Nee, je zet hem hoog neer, zodat iedereen in huis licht heeft. Laat op dezelfde manier jullie licht schijnen voor de mensen. Laat hun de goede dingen zien die jullie doen. Dan zullen ze jullie hemelse Vader ervoor prijzen.

Trust in the L

ord

, and do good; so shalt thou dwell in the land, and verily thou shalt be fed.

Vertrouw op de Heer en doe wat goed is. Wees trouw aan de Heer, dan zul je altijd veilig in het land wonen.

And beside this, giving all diligence, add to your faith virtue; and to virtue knowledge; And to knowledge temperance; and to temperance patience; and to patience godliness; And to godliness brotherly kindness; and to brotherly kindness charity.

Doe daarom je best om door jullie geloof verstandig te worden. En door verstandig te worden zullen jullie God goed leren kennen. En door God goed te kennen, zullen jullie groeien in zelfbeheersing. En door te groeien in zelfbeheersing, zullen jullie groeien in geduld. En door te groeien in geduld, zullen jullie groeien in ontzag voor God. En door te groeien in ontzag voor God, zullen jullie groeien in de liefde voor de broeders en zusters. En door te groeien in de liefde voor de broeders en zusters, zullen jullie groeien in werkelijk onzelfzuchtige liefde.

And God is able to make all grace abound toward you; that ye, always having all sufficiency in all things, may abound to every good work.

En God is in staat om jullie alles overvloedig te geven. Daardoor zullen jullie zelf in alle dingen op elk moment meer dan genoeg hebben. En daardoor kunnen jullie ook gul aan anderen geven.

I had fainted, unless I had believed to see the goodness of the L

ord

in the land of the living.

Wat had ik moeten doen als ik niet zeker had geweten dat de Heer goed is en mij zal redden?

The desire of a man is his kindness: and a poor man is better than a liar.

Een mens wil graag hulpvaardig zijn. Toch kun je beter toegeven dat je te arm bent om te helpen, dan dingen beloven die je niet waar kan maken.

Depart from evil, and do good; seek peace, and pursue it.

Blijf bij het kwaad vandaan en doe het goede. Doe je best om altijd de vrede te bewaren.

Let no corrupt communication proceed out of your mouth, but that which is good to the use of edifying, that it may minister grace unto the hearers.

Zeg geen grove dingen meer. Zeg liever iets goeds. Iets wat nuttig is en de andere mensen opbouwt. Dingen waar de mensen iets aan hebben.

And who is he that will harm you, if ye be followers of that which is good?

Wie zal jullie kwaad doen, als jullie je best doen om goed te doen?

Thus saith the L

ord

, Stand ye in the ways, and see, and ask for the old paths, where is the good way, and walk therein, and ye shall find rest for your souls. But they said, We will not walk therein.

Dit zegt de Heer: "Mijn volk, sta eens even stil op de weg die je gaat. Vraag eens naar de goede weg, de weg die je vroeger ging. Want als je die weg weer kiest, zal het weer goed met je gaan. Dan zul je weer vrede hebben. Maar jullie zeggen: 'Wij willen die weg niet.'"

Be ye therefore merciful, as your Father also is merciful.

Wees vriendelijk, net zoals jullie Vader vriendelijk is.

Remember, O L

ord

, thy tender mercies and thy lovingkindnesses; for they have been ever of old. Remember not the sins of my youth, nor my transgressions: according to thy mercy remember thou me for thy goodness' sake, O L

ord

.

Denk toch aan wat U in uw liefde allemaal al heeft gedaan. U bent altijd vol liefde geweest. Denk daarom niet meer aan de dingen die ik verkeerd heb gedaan, aan de keren dat ik ongehoorzaam aan U was toen ik nog jong was. Want U houdt immers van mij, Heer.

Then shalt thou understand righteousness, and judgment, and equity; yea, every good path.

En je zal begrijpen wat eerlijk en rechtvaardig is. Je zal weten hoe je op de goede weg kan blijven.

Be not deceived: evil communications corrupt good manners.

Houd jezelf niet voor de gek! Als jullie met slechte mensen omgaan, gaan jullie vanzelf net zulke slechte dingen doen als zij.

Who gave himself for us, that he might redeem us from all iniquity, and purify unto himself a peculiar people, zealous of good works.

Hij heeft zijn leven voor ons gegeven om ons te bevrijden van het kwaad. Zo heeft Hij van ons een zuiver volk gemaakt. En dat volk is zijn eigendom. Het is de bedoeling dat dat volk zijn best doet om het goede te doen.

In like manner also, that women adorn themselves in modest apparel, with shamefacedness and sobriety; not with broided hair, or gold, or pearls, or costly array; But (which becometh women professing godliness) with good works.

Ook wil ik dat de vrouwen zich fatsoenlijk kleden, keurig en bescheiden. Ze moeten niet willen opvallen door ingewikkelde kapsels, veel sieraden en mooie kleren. Het is beter als ze mooi en aantrekkelijk zijn door goed te zijn voor anderen, zoals dat past bij vrouwen die zeggen dat ze God dienen.
Be not wise in thine own eyes: fear the Lord, and depart from evil. It shall be health to thy navel, and marrow to thy bones.
Personal Bible reading plan
Create an account to configure your Bible reading plan and you will see your progress and the next chapter to read here!
Read more...