«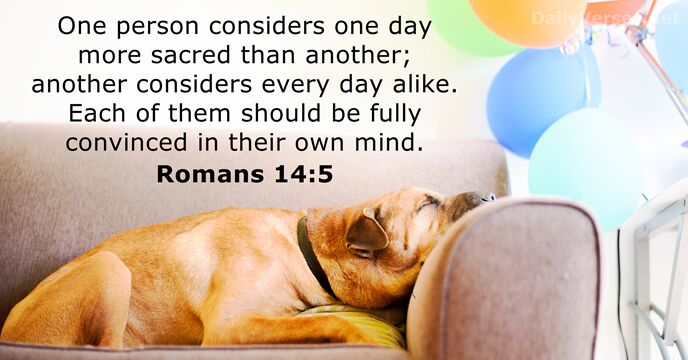 »
But the one who does not know and does things deserving punishment will be beaten with few blows. From everyone who has been given much, much will be demanded; and from the one who has been entrusted with much, much more will be asked.

Therefore, my brothers and sisters, make every effort to confirm your calling and election. For if you do these things, you will never stumble, and you will receive a rich welcome into the eternal kingdom of our Lord and Savior Jesus Christ.

One person considers one day more sacred than another; another considers every day alike. Each of them should be fully convinced in their own mind.

For he guards the course of the just
and protects the way of his faithful ones.

Let us, therefore, make every effort to enter that rest, so that no one will perish by following their example of disobedience.

If you follow my decrees and are careful to obey my commands, I will send you rain in its season, and the ground will yield its crops and the trees their fruit.

Then Peter began to speak: "I now realize how true it is that God does not show favoritism but accepts from every nation the one who fears him and does what is right."

You are the salt of the earth. But if the salt loses its saltiness, how can it be made salty again? It is no longer good for anything, except to be thrown out and trampled underfoot.

Be sure to keep the commands of the L

ord

your God and the stipulations and decrees he has given you.

For physical training is of some value, but godliness has value for all things, holding promise for both the present life and the life to come.

Therefore say to them, 'This is what the Sovereign L

ord

says: None of my words will be delayed any longer; whatever I say will be fulfilled, declares the Sovereign L

ord

.'
"Abba, Father," he said, "everything is possible for you. Take this cup from me. Yet not what I will, but what you will."

I will make your descendants as numerous as the stars in the sky and will give them all these lands, and through your offspring all nations on earth will be blessed, because Abraham obeyed me and did everything I required of him, keeping my commands, my decrees and my instructions.

Oh, that their hearts would be inclined to fear me and keep all my commands always, so that it might go well with them and their children forever!

Keep his decrees and commands, which I am giving you today, so that it may go well with you and your children after you and that you may live long in the land the L

ord

your God gives you for all time.
God sets the lonely in families,
he leads out the prisoners with singing;
but the rebellious live in a sun-scorched land.
You will have these tassels to look at and so you will remember all the commands of the L

ord

, that you may obey them and not prostitute yourselves by chasing after the lusts of your own hearts and eyes.
Do not add to what I command you and do not subtract from it, but keep the commands of the L

ord

your God that I give you.

Therefore anyone who sets aside one of the least of these commands and teaches others accordingly will be called least in the kingdom of heaven, but whoever practices and teaches these commands will be called great in the kingdom of heaven.

Not everyone who says to me, 'Lord, Lord,' will enter the kingdom of heaven, but only the one who does the will of my Father who is in heaven.

But I, with shouts of grateful praise,
will sacrifice to you.
What I have vowed I will make good.
I will say, 'Salvation comes from the L

ord

.'

They devoted themselves to the apostles' teaching and to fellowship, to the breaking of bread and to prayer.

The L

ord

said to Moses, "Come up to me on the mountain and stay here, and I will give you the tablets of stone with the law and commandments I have written for their instruction."

When you make a vow to God, do not delay to fulfill it. He has no pleasure in fools; fulfill your vow.
How great you are, Sovereign Lord! There is no one like you, and there is no God but you, as we have heard with our own ears.
Personal Bible reading plan
Create an account to configure your Bible reading plan and you will see your progress and the next chapter to read here!
Read more...