«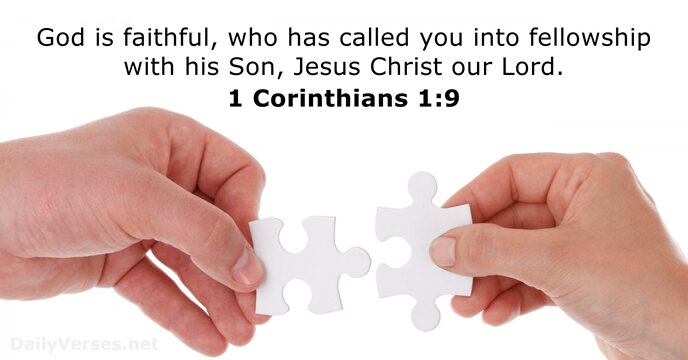 »
God is faithful, who has called you into fellowship with his Son, Jesus Christ our Lord.

Let your eyes look straight ahead;
fix your gaze directly before you.
Truly he is my rock and my salvation;
he is my fortress, I will never be shaken.
May the L

ord

our God be with us as he was with our ancestors; may he never leave us nor forsake us.
"Though the mountains be shaken
and the hills be removed,
yet my unfailing love for you will not be shaken
nor my covenant of peace be removed,"
says the L

ord

, who has compassion on you.

But, "Let the one who boasts boast in the Lord." For it is not the one who commends himself who is approved, but the one whom the Lord commends.

So is my word that goes out from my mouth:
It will not return to me empty,
but will accomplish what I desire
and achieve the purpose for which I sent it.
Now I am about to go the way of all the earth. You know with all your heart and soul that not one of all the good promises the L

ord

your God gave you has failed. Every promise has been fulfilled; not one has failed.
Here is a trustworthy saying:
If we died with him,
we will also live with him.

'You shall not murder, you shall not commit adultery, you shall not steal, you shall not give false testimony, honor your father and mother,' and 'love your neighbor as yourself.'

'Return to me,' declares the L

ord

Almighty, 'and I will return to you,' says the L

ord

Almighty.
See, the enemy is puffed up;
his desires are not upright—
but the righteous person will live by his faithfulness.
Therefore say to them, 'This is what the Sovereign L

ord

says: None of my words will be delayed any longer; whatever I say will be fulfilled, declares the Sovereign L

ord

.'
The L

ord

detests lying lips,
but he delights in people who are trustworthy.
For who is God besides the L

ord

?
And who is the Rock except our God?

For truly I tell you, until heaven and earth disappear, not the smallest letter, not the least stroke of a pen, will by any means disappear from the Law until everything is accomplished.

The L

ord

loves righteousness and justice;
the earth is full of his unfailing love.
All your words are true;
all your righteous laws are eternal.
The way of the L

ord

is a refuge for the blameless,
but it is the ruin of those who do evil.
An honest witness does not deceive,
but a false witness pours out lies.
Surely the Sovereign L

ord

does nothing
without revealing his plan
to his servants the prophets.
God is not human, that he should lie,
not a human being, that he should change his mind.
Does he speak and then not act?
Does he promise and not fulfill?
Teach me your way, L

ord

,
that I may rely on your faithfulness;
give me an undivided heart,
that I may fear your name.
Do not love the world or anything in the world. If anyone loves the world, love for the Father is not in them.
Personal Bible reading plan
Create an account to configure your Bible reading plan and you will see your progress and the next chapter to read here!
Read more...