Bible Verses about 'Being'
«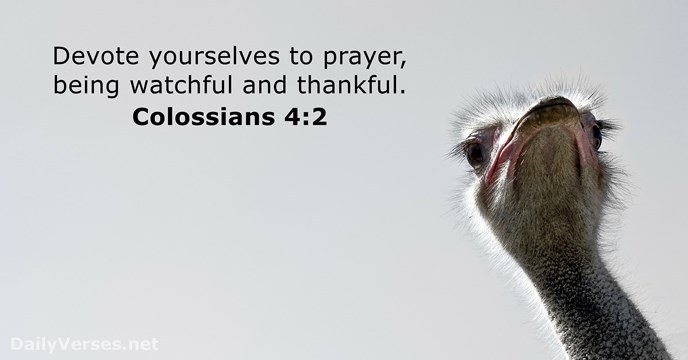 »
Devote yourselves to prayer, being watchful and thankful.

Therefore we do not lose heart. Though outwardly we are wasting away, yet inwardly we are being renewed day by day.

Who, being in very nature God,
did not consider equality with God something to be used to his own advantage;
rather, he made himself nothing
by taking the very nature of a servant,
being made in human likeness.
And being found in appearance as a man,
he humbled himself
by becoming obedient to death—
even death on a cross!

'For in him we live and move and have our being.' As some of your own poets have said, 'We are his offspring.'

For the message of the cross is foolishness to those who are perishing, but to us who are being saved it is the power of God.

I pray that out of his glorious riches he may strengthen you with power through his Spirit in your inner being, so that Christ may dwell in your hearts through faith. And I pray that you, being rooted and established in love.

Can a man walk on hot coals
without his feet being scorched?
Praise the L

ord

, my soul;
all my inmost being, praise his holy name.

Surely no one can stand in the way of their being baptized with water. They have received the Holy Spirit just as we have.

I wait for the L

ord

, my whole being waits,
and in his word I put my hope.

Being confident of this, that he who began a good work in you will carry it on to completion until the day of Christ Jesus.

And we all, who with unveiled faces contemplate the Lord's glory, are being transformed into his image with ever-increasing glory, which comes from the Lord, who is the Spirit.

Every day they continued to meet together in the temple courts. They broke bread in their homes and ate together with glad and sincere hearts, praising God and enjoying the favor of all the people. And the Lord added to their number daily those who were being saved.

When tempted, no one should say, "God is tempting me." For God cannot be tempted by evil, nor does he tempt anyone.

The Son is the radiance of God's glory and the exact representation of his being, sustaining all things by his powerful word. After he had provided purification for sins, he sat down at the right hand of the Majesty in heaven.

Do not lie to each other, since you have taken off your old self with its practices and have put on the new self, which is being renewed in knowledge in the image of its Creator.

God is not human, that he should lie,
not a human being, that he should change his mind.
Does he speak and then not act?
Does he promise and not fulfill?

You intended to harm me, but God intended it for good to accomplish what is now being done, the saving of many lives.

For since the creation of the world God's invisible qualities—his eternal power and divine nature—have been clearly seen, being understood from what has been made, so that people are without excuse.

Jesus answered, "Very truly I tell you, no one can enter the kingdom of God unless they are born of water and the Spirit."

Through him all things were made; without him nothing was made that has been made.

I know what it is to be in need, and I know what it is to have plenty. I have learned the secret of being content in any and every situation, whether well fed or hungry, whether living in plenty or in want.

When all the people were being baptized, Jesus was baptized too. And as he was praying, heaven was opened and the Holy Spirit descended on him in bodily form like a dove. And a voice came from heaven: "You are my Son, whom I love; with you I am well pleased."

For in Christ Jesus neither circumcision nor uncircumcision has any value. The only thing that counts is faith expressing itself through love.

You, God, are my God,
earnestly I seek you;
I thirst for you,
my whole being longs for you,
in a dry and parched land
where there is no water.
And forgive us our debts, as we also have forgiven our debtors.
Personal Bible reading plan
Create an account to configure your Bible reading plan and you will see your progress and the next chapter to read here!
Read more...