Bible Verses about 'Desire'
«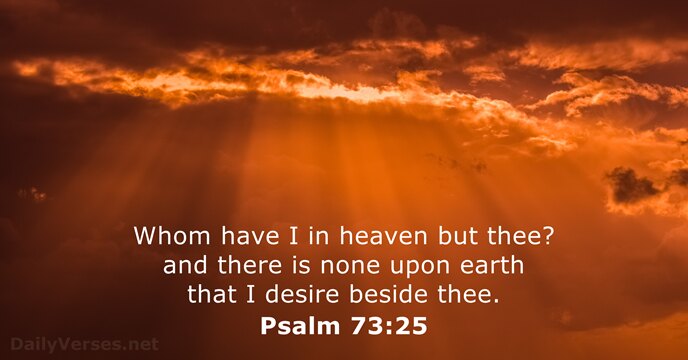 »
Whom have I in heaven but thee?
and there is none upon earth that I desire beside thee.
Hope deferred maketh the heart sick:
but when the desire cometh, it is a tree of life.
Lord, all my desire is before thee;
and my groaning is not hid from thee.

As newborn babes, desire the sincere milk of the word, that ye may grow thereby.

Yea, in the way of thy judgments,
O L

ord

, have we waited for thee;
the desire of our soul is to thy name,
and to the remembrance of thee.
The desire of a man is his kindness:
and a poor man is better than a liar.

Ye lust, and have not: ye kill, and desire to have, and cannot obtain: ye fight and war, yet ye have not, because ye ask not.

For I am in a strait betwixt two, having a desire to depart, and to be with Christ; which is far better: Nevertheless to abide in the flesh is more needful for you.

Grant thee according to thine own heart,
and fulfil all thy counsel.

Therefore I say unto you, What things soever ye desire, when ye pray, believe that ye receive them, and ye shall have them.

And he sat down, and called the twelve, and saith unto them, If any man desire to be first, the same shall be last of all, and servant of all.

But go ye and learn what that meaneth, I will have mercy, and not sacrifice: for I am not come to call the righteous, but sinners to repentance.

Yea, and all that will live godly in Christ Jesus shall suffer persecution.

Mortify therefore your members which are upon the earth; fornication, uncleanness, inordinate affection, evil concupiscence, and covetousness, which is idolatry.

But they that will be rich fall into temptation and a snare, and into many foolish and hurtful lusts, which drown men in destruction and perdition.

Father, I will that they also, whom thou hast given me, be with me where I am; that they may behold my glory, which thou hast given me: for thou lovedst me before the foundation of the world.

Delight thyself also in the L

ord

:
and he shall give thee the desires of thine heart.

If ye abide in me, and my words abide in you, ye shall ask what ye will, and it shall be done unto you.

And if we know that he hear us, whatsoever we ask, we know that we have the petitions that we desired of him.

So shall my word be that goeth forth out of my mouth:
it shall not return unto me void,
but it shall accomplish that which I please,
and it shall prosper in the thing whereto I sent it.
One thing have I desired of the L

ord

,
that will I seek after;
that I may dwell in the house of the L

ord


all the days of my life,
to behold the beauty of the L

ord

,
and to enquire in his temple.
With my soul have I desired thee in the night;
yea, with my spirit within me will I seek thee early:
for when thy judgments are in the earth,
the inhabitants of the world will learn righteousness.
I thank thee, and praise thee, O thou God of my fathers,
who hast given me wisdom and might,
and hast made known unto me now what we desired of thee:
for thou hast now made known unto us the king's matter.

Whereby are given unto us exceeding great and precious promises: that by these ye might be partakers of the divine nature, having escaped the corruption that is in the world through lust.
Then shall ye call upon me, and ye shall go and pray unto me, and I will hearken unto you.
Personal Bible reading plan
Create an account to configure your Bible reading plan and you will see your progress and the next chapter to read here!
Read more...