Bible Verses about 'Filled'
«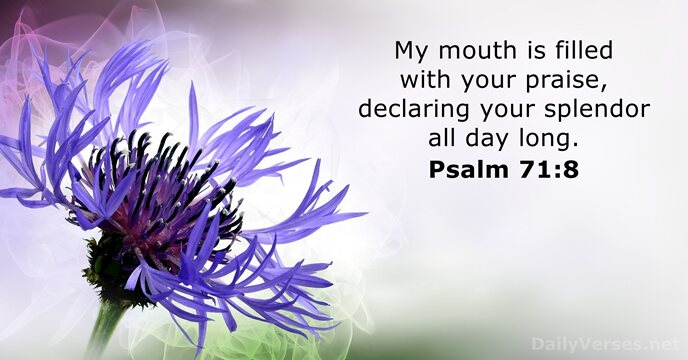 »
My mouth is filled with your praise,
declaring your splendor all day long.
Blessed are those who hunger and thirst for righteousness,
for they will be filled.

After they prayed, the place where they were meeting was shaken. And they were all filled with the Holy Spirit and spoke the word of God boldly.

When the day of Pentecost came, they were all together in one place. Suddenly a sound like the blowing of a violent wind came from heaven and filled the whole house where they were sitting.

They saw what seemed to be tongues of fire that separated and came to rest on each of them. All of them were filled with the Holy Spirit and began to speak in other tongues as the Spirit enabled them.

Then Peter said, "Ananias, how is it that Satan has so filled your heart that you have lied to the Holy Spirit and have kept for yourself some of the money you received for the land? Didn't it belong to you before it was sold? And after it was sold, wasn't the money at your disposal? What made you think of doing such a thing? You have not lied just to human beings but to God."

Though you have not seen him, you love him; and even though you do not see him now, you believe in him and are filled with an inexpressible and glorious joy, for you are receiving the end result of your faith, the salvation of your souls.

When anxiety was great within me,
your consolation brought me joy.
The L

ord

is righteous in all his ways
and faithful in all he does.

Taking the five loaves and the two fish and looking up to heaven, he gave thanks and broke them. Then he gave them to the disciples to distribute to the people. They all ate and were satisfied, and the disciples picked up twelve basketfuls of broken pieces that were left over.

I will be glad and rejoice in you;
I will sing the praises of your name, O Most High.
The L

ord

is compassionate and gracious,
slow to anger, abounding in love.

I have told you this so that my joy may be in you and that your joy may be complete.

For in Christ all the fullness of the Deity lives in bodily form, and in Christ you have been brought to fullness. He is the head over every power and authority.

And walk in the way of love, just as Christ loved us and gave himself up for us as a fragrant offering and sacrifice to God.

The L

ord

is my strength and my shield;
my heart trusts in him, and he helps me.
My heart leaps for joy,
and with my song I praise him.
Rend your heart
and not your garments.
Return to the L

ord

your God,
for he is gracious and compassionate,
slow to anger and abounding in love,
and he relents from sending calamity.

Jesus, full of the Holy Spirit, left the Jordan and was led by the Spirit into the wilderness, where for forty days he was tempted by the devil. He ate nothing during those days, and at the end of them he was hungry.

Hope deferred makes the heart sick,
but a longing fulfilled is a tree of life.

For the entire law is fulfilled in keeping this one command: "Love your neighbor as yourself."

Let no debt remain outstanding, except the continuing debt to love one another, for whoever loves others has fulfilled the law.

Therefore say to them, 'This is what the Sovereign L

ord

says: None of my words will be delayed any longer; whatever I say will be fulfilled, declares the Sovereign L

ord

.'
Now I am about to go the way of all the earth. You know with all your heart and soul that not one of all the good promises the L

ord

your God gave you has failed. Every promise has been fulfilled; not one has failed.
In God, whose word I praise— in God I trust and am not afraid. What can mere mortals do to me?
Personal Bible reading plan
Create an account to configure your Bible reading plan and you will see your progress and the next chapter to read here!
Read more...