Bible Verses about 'Heard'
«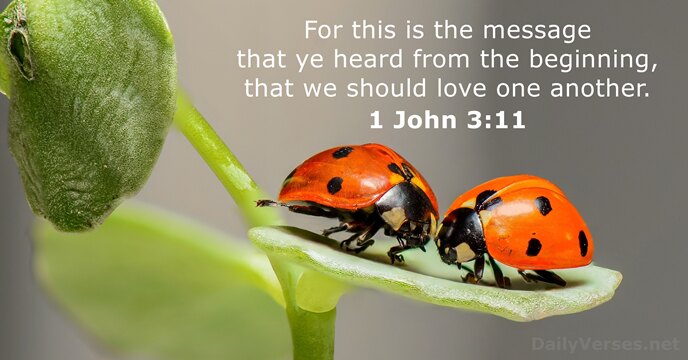 »
For this is the message that ye heard from the beginning, that we should love one another.

And I fell unto the ground, and heard a voice saying unto me, Saul, Saul, why persecutest thou me?

This poor man cried, and the L

ord

heard him,
and saved him out of all his troubles.

Let that therefore abide in you, which ye have heard from the beginning. If that which ye have heard from the beginning shall remain in you, ye also shall continue in the Son, and in the Father.

This then is the message which we have heard of him, and declare unto you, that God is light, and in him is no darkness at all.

But when Jesus heard that, he said unto them, They that be whole need not a physician, but they that are sick.

I sought the L

ord

, and he heard me,
and delivered me from all my fears.

And the shepherds returned, glorifying and praising God for all the things that they had heard and seen, as it was told unto them.

Those things, which ye have both learned, and received, and heard, and seen in me, do: and the God of peace shall be with you.

In my distress I called upon the L

ord

,
and cried unto my God:
he heard my voice out of his temple,
and my cry came before him, even into his ears.
Wherefore thou art great, O L

ord

God: for there is none like thee, neither is there any God beside thee, according to all that we have heard with our ears.

But when Jesus heard it, he answered him, saying, Fear not: believe only, and she shall be made whole.

But when ye pray, use not vain repetitions, as the heathen do: for they think that they shall be heard for their much speaking.

I love the L

ord

, because he hath heard
my voice and my supplications.
Because he hath inclined his ear unto me,
therefore will I call upon him as long as I live.

But as it is written, Eye hath not seen, nor ear heard, neither have entered into the heart of man, the things which God hath prepared for them that love him.

Therefore whatsoever ye have spoken in darkness shall be heard in the light; and that which ye have spoken in the ear in closets shall be proclaimed upon the housetops.

Hast thou not known?
hast thou not heard,
that the everlasting God, the L

ord

,
the Creator of the ends of the earth,
fainteth not, neither is weary?
there is no searching of his understanding.

Ye have heard that it was said by them of old time, Thou shalt not commit adultery: But I say unto you, That whosoever looketh on a woman to lust after her hath committed adultery with her already in his heart.

And at midnight Paul and Silas prayed, and sang praises unto God: and the prisoners heard them.

Turn again, and tell Hezekiah the captain of my people, Thus saith the L

ord

, the God of David thy father, I have heard thy prayer, I have seen thy tears: behold, I will heal thee: on the third day thou shalt go up unto the house of the L

ord

.

And every creature which is in heaven, and on the earth, and under the earth, and such as are in the sea, and all that are in them, heard I saying, Blessing, and honour, and glory, and power, be unto him that sitteth upon the throne, and unto the Lamb for ever and ever.

When they heard this, they were baptized in the name of the Lord Jesus. And when Paul had laid his hands upon them, the Holy Ghost came on them; and they spake with tongues, and prophesied.

And I heard a great voice out of heaven saying, Behold, the tabernacle of God is with men, and he will dwell with them, and they shall be his people, and God himself shall be with them, and be their God. And God shall wipe away all tears from their eyes; and there shall be no more death, neither sorrow, nor crying, neither shall there be any more pain: for the former things are passed away.

Let us hear the conclusion of the whole matter: Fear God, and keep his commandments: for this is the whole duty of man.

He therefore that ministereth to you the Spirit, and worketh miracles among you, doeth he it by the works of the law, or by the hearing of faith?
Let your conversation be without covetousness; and be content with such things as ye have: for he hath said, I will never leave thee, nor forsake thee.
Personal Bible reading plan
Create an account to configure your Bible reading plan and you will see your progress and the next chapter to read here!
Read more...