Bible Verses about 'Must'
«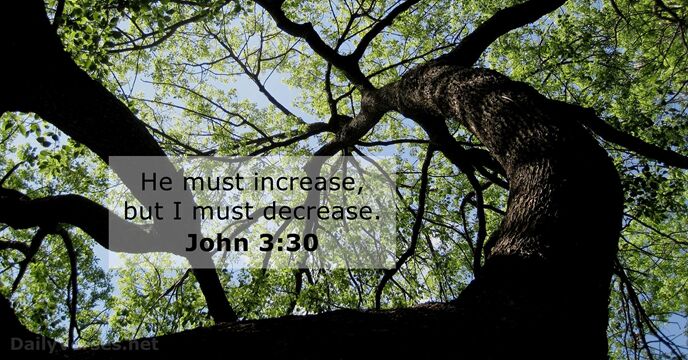 »
He must increase, but I must decrease.

God is a Spirit: and they that worship him must worship him in spirit and in truth.

Neither is there salvation in any other: for there is none other name under heaven given among men, whereby we must be saved.

A man that hath friends must shew himself friendly:
and there is a friend that sticketh closer than a brother.

But without faith it is impossible to please him: for he that cometh to God must believe that he is, and that he is a rewarder of them that diligently seek him.

Then went in also that other disciple, which came first to the sepulchre, and he saw, and believed. For as yet they knew not the scripture, that he must rise again from the dead.

He is not here, but is risen: remember how he spake unto you when he was yet in Galilee, Saying, The Son of man must be delivered into the hands of sinful men, and be crucified, and the third day rise again.

And this commandment have we from him, That he who loveth God love his brother also.

But it shall not be so among you: but whosoever will be great among you, let him be your minister; And whosoever will be chief among you, let him be your servant.

Therefore be ye also ready: for in such an hour as ye think not the Son of man cometh.

Be ye therefore perfect, even as your Father which is in heaven is perfect.

Forbearing one another, and forgiving one another, if any man have a quarrel against any: even as Christ forgave you, so also do ye.

For the customs of the people are vain: for one cutteth a tree out of the forest, the work of the hands of the workman, with the axe. They deck it with silver and with gold; they fasten it with nails and with hammers, that it move not. They are upright as the palm tree, but speak not: they must needs be borne, because they cannot go. Be not afraid of them; for they cannot do evil, neither also is it in them to do good.

And he sat down, and called the twelve, and saith unto them, If any man desire to be first, the same shall be last of all, and servant of all.

If any man serve me, let him follow me; and where I am, there shall also my servant be: if any man serve me, him will my Father honour.

But fornication, and all uncleanness, or covetousness, let it not be once named among you, as becometh saints.

Nevertheless let every one of you in particular so love his wife even as himself; and the wife see that she reverence her husband.

If thy brother trespass against thee, rebuke him; and if he repent, forgive him. And if he trespass against thee seven times in a day, and seven times in a day turn again to thee, saying, I repent; thou shalt forgive him.

Every man according as he purposeth in his heart, so let him give; not grudgingly, or of necessity: for God loveth a cheerful giver.

For he that will love life, and see good days, let him refrain his tongue from evil, and his lips that they speak no guile: Let him eschew evil, and do good; let him seek peace, and ensue it.

But speak thou the things which become sound doctrine.

Ye shall walk after the L

ord

your God, and fear him, and keep his commandments, and obey his voice, and ye shall serve him, and cleave unto him.

Let love be without dissimulation. Abhor that which is evil; cleave to that which is good.

Let not him that eateth despise him that eateth not; and let not him which eateth not judge him that eateth: for God hath received him.

A new commandment I give unto you, That ye love one another; as I have loved you, that ye also love one another.
And this is the confidence that we have in him, that, if we ask any thing according to his will, he heareth us.
Personal Bible reading plan
Create an account to configure your Bible reading plan and you will see your progress and the next chapter to read here!
Read more...